Death Valley Could Reach 130 Degrees for 2nd Time This Weekend, 30M Remain Under Heat Warning
Death Valley, California, on Sunday could reach a scorching 130 degrees Fahrenheit for the second time this weekend, as 30 million people in the West remain under excessive heat warnings.
The National Weather Service (NWS) in Las Vegas predicted that Death Valley has a 1 in 3 chance of reaching 130 degrees by Sunday. If that occurs, it will be the second time in just two days that the Mojave Desert location has reached temperatures that high, after it recorded 130 degrees shortly before 5 p.m. on Friday.
According to the NWS, those scorching hot numbers could possibly become the highest reliably measured temperatures ever observed. A previous world record of 134 degrees was recorded in Death Valley in 1913, though meteorologists tend to dispute that milestone as older temperature readings are not as accurate as today's.
"In more modern times, the hottest that we have seen with some of the more reliable equipment is peaking around that 130 range here for Death Valley," Chris Outler, lead meteorologist at the NWS in Las Vegas told NPR.
Regardless, the excessively high temperatures in Death Valley are around 13 degrees hotter than the average for July, as an extreme heatwave continues to make its way across the western United States.
By Sunday, more than 30 million people remained under either excessive heat warnings or heat advisories across the West, with "extremely dry conditions" continuing for the rest of the weekend, the NWS said.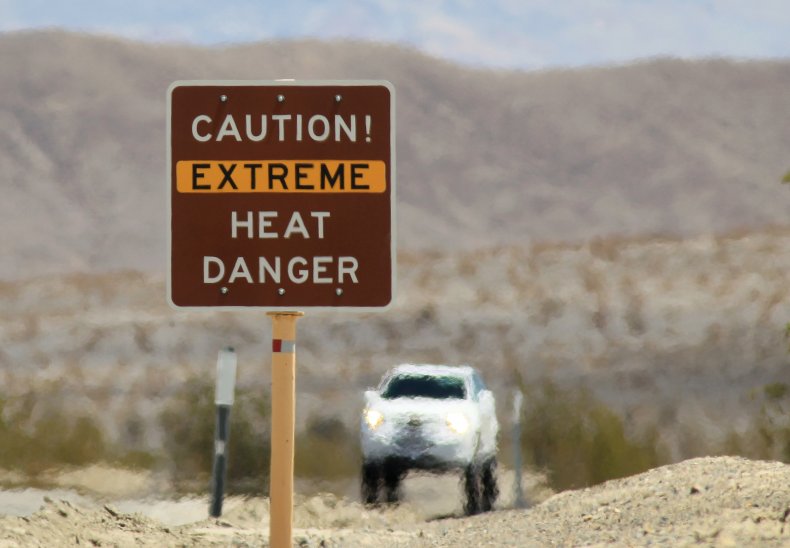 In Las Vegas, the McCarran International Airport tied with the city's previous all-time record highest temperature of 117°F on Saturday evening. As reported by Axios, some flghts were canceled at the airport Friday as the temperature hit 116°F.
Other California areas to reach triple-digit temperatures on Saturday included Pine Flat, with 113 degrees, as well as Fresno, with 110 degrees.
In Phoenix, the temperature hit a high of 112 degrees on Saturday.
The NWS in Las Vegas warned on Sunday that Lake Havasu City, Arizona, could reach temperatures as high as 120 degrees, and warned individuals to "limit time outdoors and stay hydrated."
Other areas that will likely see nearly record-breaking temperatures include Las Vegas and Kingman, Arizona, as well as Twentynine Palms and Bishop in California.
In response to the extreme heat, both California's power regulator and Nevada public utility NV Energy asked people to conserve power indoors this weekend.
The scorching temperatures have also sparked wildfires across several U.S. states and Canada, causing weekend evacuations in California, Oregon, Idaho and British Columbia.
To stay safe during excessively hot weather events, the NWS recommends that individuals eliminate or reduce outdoor activities, eat light, cool, easy-to-digest foods, drink plenty of water, and use air conditioners or fans when possible.
Newsweek contacted the NWS for additional comment.