Deaths of 1,000 Pigs Leads to Woman's Arrest
An Iowa woman is in police custody and faces charges following the discovery of more than 1,000 dead pigs.
On June 30, deputies responded to a report concerning scores of animals found dead in two different hog confinement sites, according to the Sac County Sheriff's Office.
Once on the scene, deputies found the animals in various stages of decomposition.
Additionally, deputies learned that Elana Laber, 33, was the individual hired to care for the pigs. Initially, Laber told authorities that the night before the gruesome discovery was reported someone else had shut off the breakers that control the electricity to the two sites.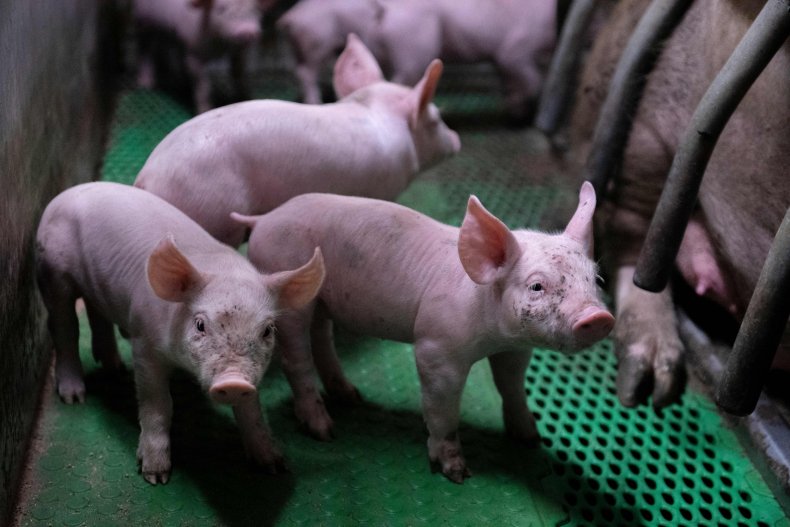 However, a veterinarian working on behalf of law enforcement determined Laber's timeline to be incorrect. The animal specialist stated that the animals had been dead for at least a week.
Laber later changed her earlier story, eventually telling deputies that the pigs had, in fact, been dead for a week. Laber also indicated she was unsure of what to do next.
Deputies went on to mention that the farm animals were left without access to both food and water during this time period.
Laber was transported to the Sac County Jail. She faces a number of charges in connection to the animal deaths, including two counts of criminal mischief and two counts of livestock neglect.
The animals were owned by Corey AGR Inc. The estimated monetary loss of the dead pigs has been estimated at more than $150,000 by deputies.
Newsweek reached out to the Sac County Sheriff's Office for comment.
Many on social media reacted with outrage and disgust to the alarming uncovering and Laber's arrest.
One person suggested that Laber should be treated similarly to the now-deceased pigs.
"Let her rot in the 90°+ heat with no food or water," one woman wrote on Facebook.
"Unbelievable, torture to the highest degree. Disgusting and evil," someone else posted.
"It makes me so sad to think how those animals needlessly suffered! NO EXCUSE! Hope she is never allowed to take care of animals ever again!" another person commented on social media.
In a somewhat similar incident, a horrific discovery was made on June 25 near an apartment complex in Georgia.
Authorities were alerted after someone came across the corpses of decapitated animals in bags in a wooded area.
The Athens-Clarke Police Department stated officers found more than 20 bags with "various dead domestic farm animals." Some of the bags also contained the bodies of multiple dead animals.
The bodies of chickens, pigeons, goats and pigs were among the animals found dead.
Last weekend's ghastly find came after several months after a "decaying smell" was detected by some of the apartment complex's residents. Residents first began detecting the hideous odor as far back as November 2021.