Deaths From Cancer and Heart Disease Surge in Developing Countries, But Funding Hasn't Caught Up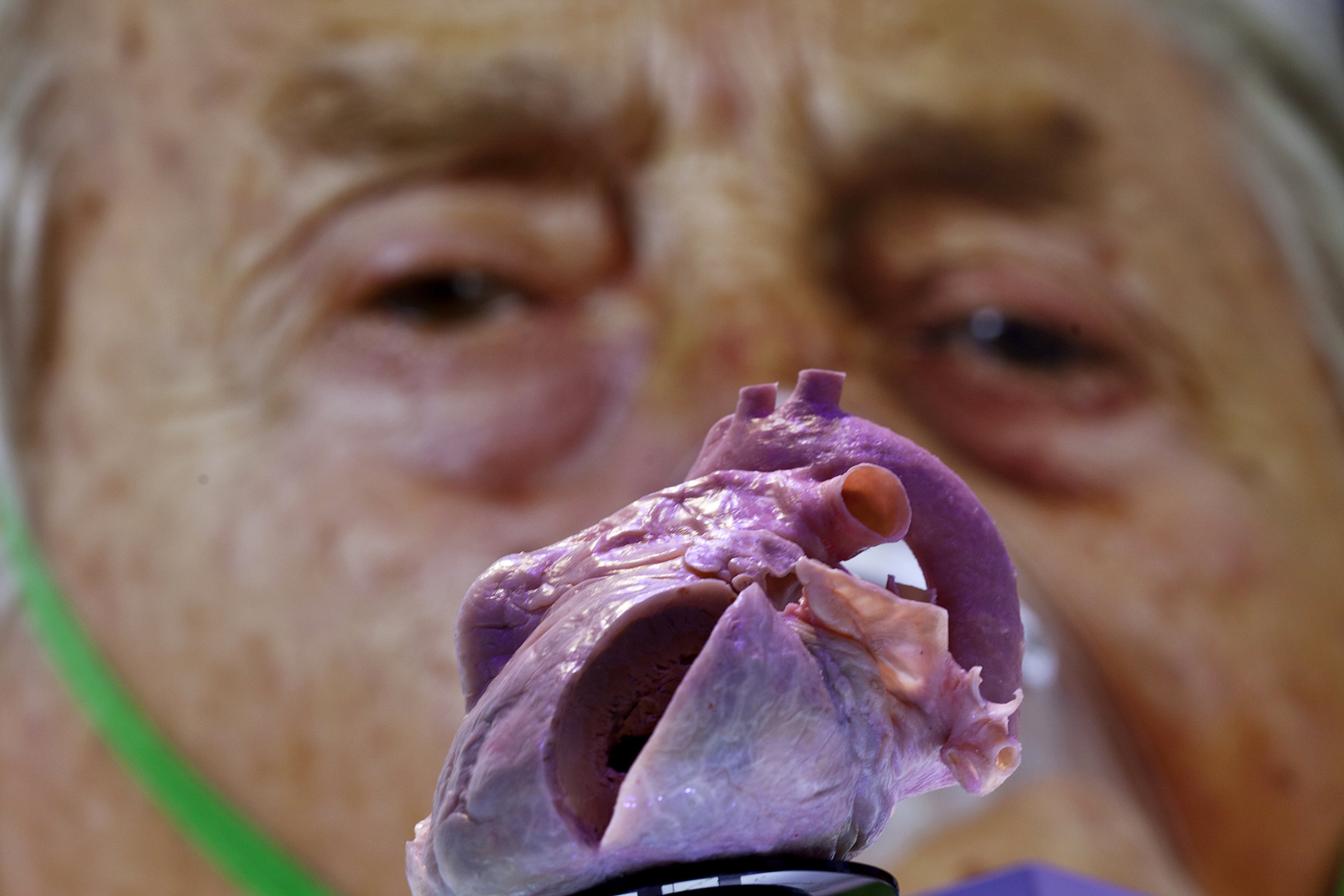 Noncommunicable diseases like heart disease, cancer, and diabetes killed 38 million people last year, most of them in developing countries, but the majority of donor dollars for poorer countries are still being pumped into the targeting of infectious diseases. Millions more people died from noncommunicable diseases than infectious illnesses in 2012, yet they receive a quarter of the funding, showing that aid needs to quickly account for this monumental shift in global health.
A new World Health Organization report published today shows that countries have been making "insufficient and uneven" progress in tackling noncommunicable diseases, and that an emerging divide is growing among wealthy and poor nations. While many high-income countries have largely curbed rates of illnesses like heart disease, the burden is now shifting to low-income countries. The WHO called deaths from heart disease, cancer, lung disease and diabetes "still unacceptably high."
Interestingly, the WHO states on its own website that noncommunicable diseases kill three times more people than infectious diseases globally, including communicable, maternal, neonatal and nutrition issues, and have actually increased by 8 percent from 2000 to 2012. So why is so much more money going to treat infectious diseases?
Dr. Timothy Armstrong, coordinator in prevention of noncommunicable diseases at the World Health Organization, told Newsweek that there's a lack of political commitment and recognition that noncommunicable disease are a major global health issue and a dearth of resources being allocated to noncommunicable diseases by WHO donors. Cultural perceptions of noncommunicable diseases mean that many see heart disease and cancer as "disease of affluence and that which affects developed countries," Armstrong says. But as the vast majority of deaths, 28 million, are in developing countries, that view is now void.
"In the past decade we've come to understand that this is not the case—the burden is increasing most rapidly in low- and middle-income countries and is greater in some middle-income countries than it is in high-income countries," Armstrong says, adding that blaming an individual's behavior on their contracting a noncommunicable disease is "simplistic."
Funding for tackling noncommunicable diseases is another reason for disappointing progress. Noncommunicable diseases were not included in the U.N.'s Millennium Development Goal program—reducing child mortality and combating communicable diseases like HIV/AIDS are included—and they're not included the overseas development aid budgets of many donor countries, Armstrong says.
While there has been a "modest" increase from the WHO for noncommunicable disease, a bump from 6 percent to 8 percent, it's still paltry considering that 39 percent of the organization's budget goes to infectious diseases, including polio eradication, says Thomas Bollyky, a senior fellow for global health, economics, and development at the Council on Foreign Relations.
"Membership dues for WHO have effectively flatlined since the 1990s. Increasing amount of its funding comes from earmarked donor aid," Bollyky says. "80 percent of WHO's budget now comes from three sources: the U.S. government, the Bill and Melinda Gates Foundation, and the U.K. government. The limited amount of funding available for [noncommunicable diseases] reflects the quite modest priority that donors are giving to [them]."
And while deaths from noncommunicable diseases have increased every year since 2000, they've surged the most in Southeast Asia and the Western Pacific regions.
"The Western Pacific has notoriously high rates for obesity, so I expect that the rates of overweight and obesity have driven the increases," Bollyky says. WHO country profiles show that in American Samoa, for instance, more than 62 percent of people are physically inactive, and more than 86 percent have low fruit and vegetable consumption. In Tonga, nearly 42 percent of people are reported to be physically inactive.
Progress on noncommunicable diseases can been seen in individual countries like Mongolia, Morocco, Iran and Kuwait, but Armstrong says that, "overall at a global level, more needs to be done, and urgently."
Globalization
The effect globalization on developing countries has highlighted their inability to take care of people with noncommunicable diseases. Until the past 15 of 20 years, health services in these countries were largely taken up with more fundamental issues such as maternal health and children, instead of treating chronic issues that people are living long enough to encounter.
"You are seeing rapid rates of urbanization, rapid shifts in retailing and integration of consumer markets, you have a greater number of people surviving childhood to healthcare systems that haven't adapted to the needs of adults," Bollyky says.
For the younger generation, there are three diseases that dominate: strokes and heart disease, cancer and chronic respiratory diseases. Diabetes causes a "fraction" of global deaths at 2.7 million, but it is increasing at the fastest rate worldwide due to lifestyle factors like obesity, physical inactivity and smoking, Bollyky says. In low-income countries, people can be "considerably less fat" and still develop diabetes.
The Cardiovascular Conundrum
"One of the things that a lot of people don't understand about [noncommunicable diseases] is how much progress has been made in high-income countries, particularly in addressing the premature burden of these diseases, and the death and disability that would result, and how little that has filtered to low-income countries," Bollyky said.
While cardiovascular disease rates in high-income countries have plummeted, they've surged in low-income countries. The country profiles show that in the Philippines, deaths from cardiovascular disease increased from just under 350 per 100,000 in 2000 to more than 450 in 2012. In Armenia, a lower-middle country, there was a spike from 500 deaths to 700 deaths per 100,000 in two years, and the country is once again seeing rates creep back up.
The report also illustrates how the myriad health consequences of tobacco use infiltrate the cadre of noncommunicable diseases. In low-income countries, smoking rates are troubling and increasing.
"Smoking rates in the U.S. have declined from 42 percent in the 1960s to 18 percent. You've seen similar declines in most high-income countries," Bollyky says.
Tobacco use in middle-income countries tripled from the 1970s to 2000, but started to flatline, but there are still pockets of high use. Southeast Asia is one area of risk, as is Africa.
"You're starting to see rates increase, particularly among youth. People are concerned that that may be a precursor to an increase in general," Bollyky says, citing increasing marketing efforts by tobacco companies and evidence of women smoking as much as men when female rates have traditionally been much less, as signs of an impending epidemic.
The link between developing countries and noncommunicable diseases is still relatively new, and proof of its devastation has only recently been realized. The WHO no doubt hopes that today's report will move countries to action.
"I believe with more evidence, advocacy and political commitment around the issue of [noncommunicable diseases] we will see an increasing investment by donors," Armstrong says. "Donor countries also have to address the agenda of [noncommunicable diseases] burden within their own borders as well as giving consideration to overseas development aid."
But for now, developing countries will still be bearing the burden of deaths from these relatively new diseases.