Researchers Warn of 'Deaths of Despair' as Hardship and Grief in COVID-19 Lockdowns Create Mental Health Crisis
The coronavirus pandemic, which has so far claimed the lives of at least 78,794 people nationwide, could lead to tens of thousands of "deaths of despair" from suicide and drug and alcohol abuse tied to the fallout of the pandemic, a new study has warned.
The study, conducted by Well Being Trust and the Robert Graham Center and which was not peer-reviewed, found that as many as 75,000 additional people could potentially die "deaths of despair."
"These are uncertain times, unprecedented. Unfortunately, for too many, this uncertainty may lead to fear, and fear may give way to dread," said Jack Westfall, the director of the Robert Graham Center, in a statement published online. "We try to provide as much certainty as possible to shed some light on our path. We must also make our relationships certain, regardless of the uncertain facts and figures of the day."
The study reached its findings by combining information on deaths of despair from 2018 as a baseline, with projected levels of the unemployed from 2020 to 2029. Researchers then estimated the additional annual number of deaths "based on economic modeling."
"Across nine different scenarios, the additional deaths of despair range from 27,644 (quick recovery, smallest impact of unemployment on deaths of despair) to 154,037 (slow recovery, greatest impact of unemployment on deaths of despair), with 75,000 being the most likely," researchers found, according to a press release on the study. "When considering the negative impact of isolation and uncertainty, a higher estimate may be more accurate."
"Deaths of despair are tied to multiple factors, like unemployment, fear and dread, and isolation," Benjamin Miller, the chief strategy officer for the Well Being Trust told CBS News. "Prior to the COVID-19 pandemic, there were already an unprecedented number of deaths of despair. We wanted to estimate how this pandemic would change that number moving forward."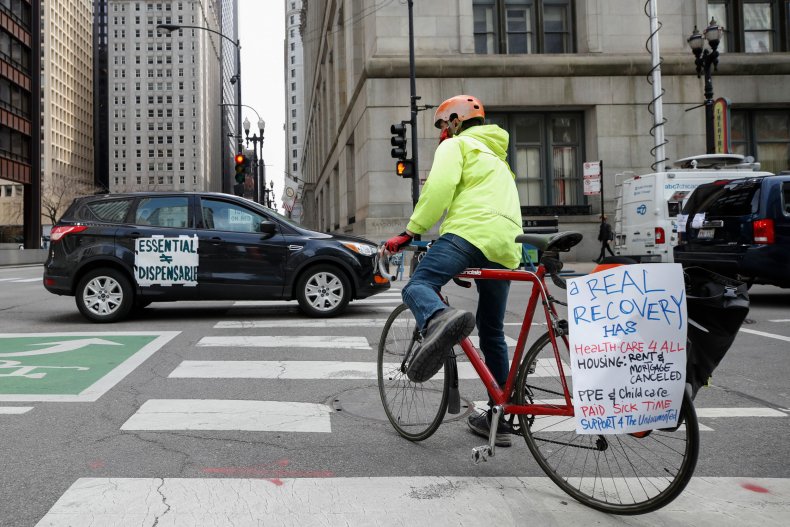 The Well Being Trust previously reported that more lives had been lost due to deaths of despair in 2017 than ever before.
"The primary response at the time was to look at the opioid epidemic, but that didn't even come close to cracking all of the issues of mental health related to deaths of despair," Miller said.
In order to "prevent a disastrous wave of deaths of despair," the study put forward several policy solutions, including "figuring out how to ameliorate the effects of unemployment, making access to care easier, and how best to integrate care."
"In fact," the Well Being Trust said in its press release, "these solutions should also serve to prevent drug and alcohol misuse and suicide during more normal times."
Newsweek has contacted the Well Being Trust for further comment.