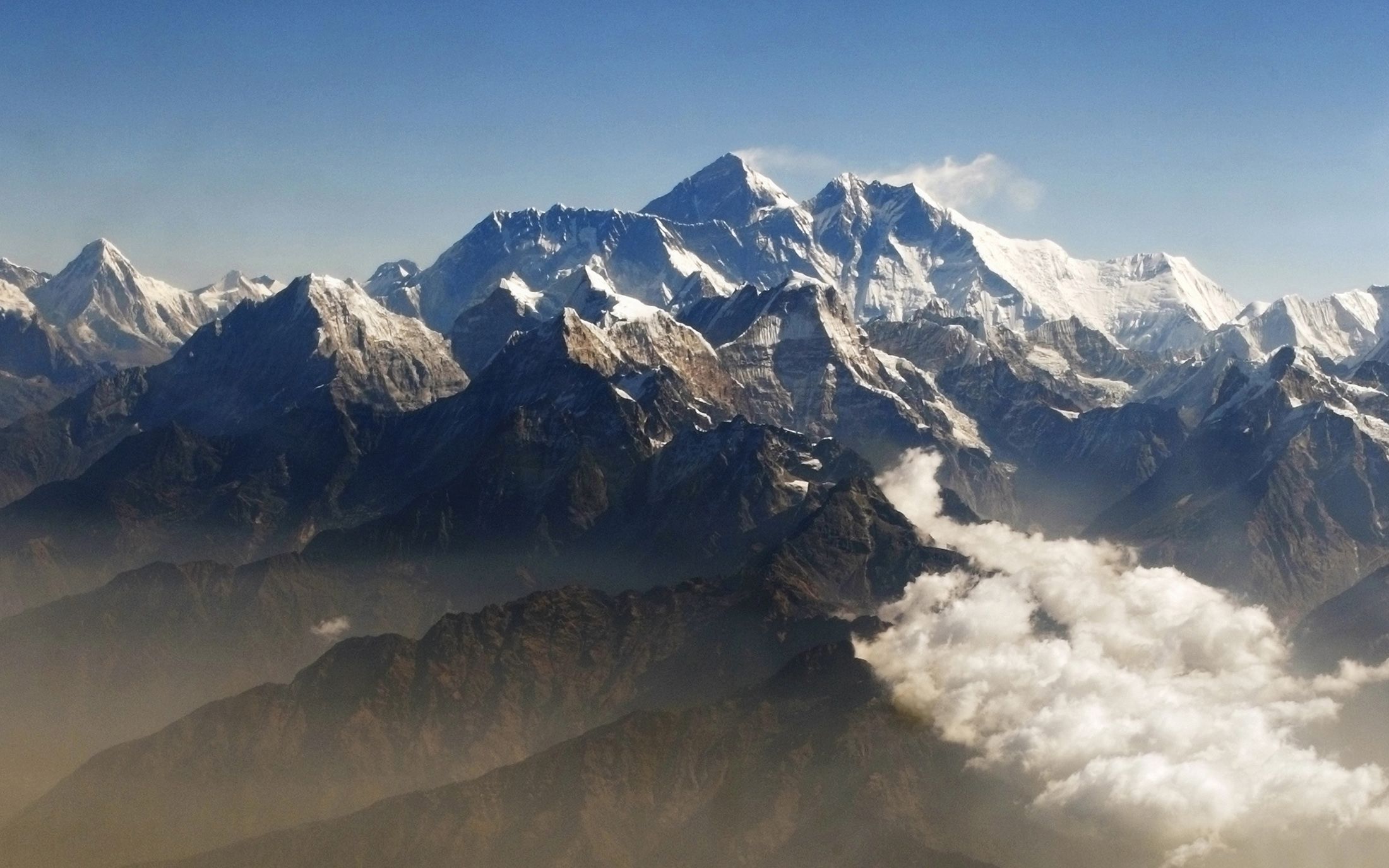 Jake Norton, a climber and photographer, has stood on the top of the world three times. He's been on Mount Everest seven times in total, made more than two dozen trips to Nepal, and even studied abroad there. And he knows the fear that a part of the mountain between Base Camp and Camp 1, called the Khumbu Icefall, instills. The ice there moves quickly—perhaps three feet daily—in a place that's "essentially a waterfall in the glacier."
"From a gut-feeling standpoint, I think it's the part that induces the most sheer terror in people, because it's in your face all the time—you know that for however many hours it takes you to get through there, there's the constant threat of something falling on your head or collapsing beneath your feet," Norton says. It's dangerous, even if it's not the most dangerous part of Everest, statistically, he says. "It's the biggest place on the mountain where you really have no say in your life or death."
It was in the Khumbu Icefall that 16 Nepali expedition workers, most of them ethnic Sherpas, were killed last Friday. "To me, it's horrifically tragic. To see any deaths on the mountain, whether it's one or a dozen, is always horrible and awful. It sounds callous, it makes it even worse when it's the Sherpa that gets killed. They tend to get killed more often," Norton says. "They're the guys and few gals up there, generally working the hardest, making the least, busting their asses in harm's way, and so when they have to pay the ultimate price for it, it makes it even more tragic. It just makes me sick to my stomach."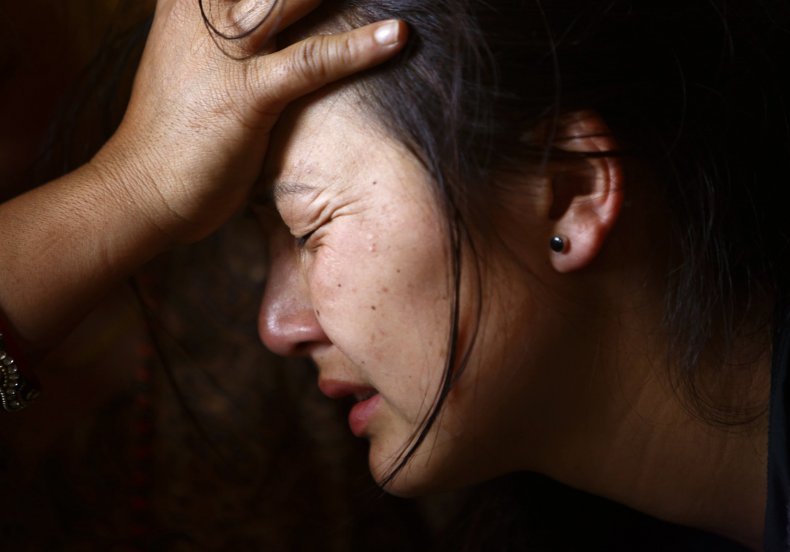 The climbing season is not closed, David Morton, a mountaineering guide, told Newsweek via satellite phone from Everest Base Camp. Officials from the government of Nepal flew into the camp on Thursday, he says, and told people their permits would still be valid in future years—meaning climbers can leave and come back later. "Many of the bigger teams have decided to leave, including ours," he says. "Most of the Sherpas are sort of encouraging people to go home, and so my inclination is that there might be a couple teams that stay, but most will probably leave," he added. The Sherpas have made some demands, and the government officials who flew to Base Camp said they would try to honor them but aren't making promises, Morton says.
The deaths have ignited a debate about the way the Sherpas are treated and cast a spotlight on the relationship between Westerners and Nepali workers. But first, a point of clarification: Sherpa is an ethnic group, and a language; it's one of more than 100 in Nepal. Some of those killed last week were not in fact ethnically Sherpa—Asman Tamang was probably from the Tamang ethnic group, and Aash Bahadur Gurung, who was listed as missing, has a surname indicating he's Gurung.
The word Sherpa has been used to describe "trekking guides, mountain climbers, porters," and others, says Pasang Yangjee Sherpa, a lecturer at Penn State University and an anthropologist who grew up in Nepal, "because historically most of the people who did these jobs were Sherpas. But today, everyone who's doing this job is not an ethnic Sherpa. There are people from other ethnic backgrounds too." At the blog Reclaiming Sherpa, the author points out in a suggested tweet that "#Sherpa does not mean a guide in Tibetan. Your ignorance is an affront to us. #Sherpafordummies." The name, in fact, means "easterner," says Mark Turin, the program director of the Yale Himalaya Initiative. Sherpas originally came from eastern parts of Tibet.
Most of those killed were in fact ethnic Sherpas. And it's a not a big community, Pasang Sherpa says. "The first reaction, and the main reaction, is just sadness," she says. "The first thought that came to my mind is, What's the widow going to do, what's the children going to do?" This moment, she says, is an opportunity to discuss the way the local workers are treated. They're exploited, she says. "The first thing that should happen is that people who are involved in this industry should acknowledge the hard work the expedition workers do on the mountain. I think that's where we can start." But that's not enough, she says: What needs to come next is a conversation involving the government of Nepal, travel companies, and others, touching on issues like safety measures and insurance.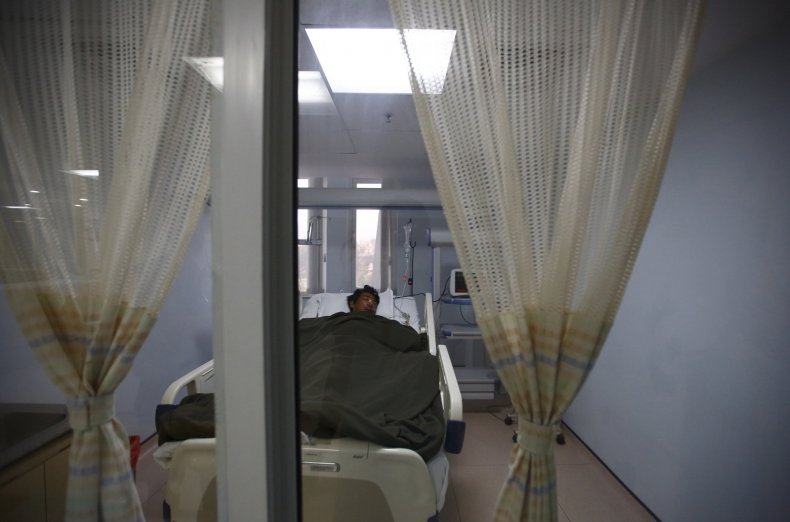 Pasang Sherpa says that Sherpas on the mountain who threaten strikes can put their jobs at risk. "This is why someone like me, and my friends, we are talking about this issue," noting that with education, "we now have different options, and we don't need to be on the mountain."
Morton says the situation is complex; he says Sherpas are not exploited, even if the job is dangerous—they're paid well by local standards, and are doing the job willingly and are aware of the risks. "At the same time, it's become, I feel, a pretty professionalized industry with a lot of money involved," he says, and so he'd like to see improvements to the standards and safety nets for local workers. "Things should change, and those things should be addressed." He says that one culprit is Nepali companies operating on a low budget that charge clients less—but pay their local workers less, too.
He emphasized that the situation on the ground there is not a black-and-white issue. "I look at the deaths over here, I look at the way the whole thing works," Morton added, "I think it's easy to try to pinpoint a reason people are dying, or that it's all for rich Westerners' ego to get up a mountain…but I think that it's much more complicated. There's the ambitions of maybe-wealthy foreigners; there's the ambitions of the Sherpa [who] really are willing participants, and really trying to get ahead on their own; it's a lot of messy human aspirations that all end up… that can be tragic." Yesterday The New York Times reported that some Western climbers reported a threatening atmosphere at Base Camp.
Morton and a friend established a charity called The Juniper Fund—set up before this incident—that aims to push the insurance payment for deceased expedition workers to a higher figure, will distribute funds to families of the workers who were killed (including one earlier this year) and also focuses on education.
"I don't think anyone really did anything wrong in this situation," says Norton. "The icefall is just an awful place, where s*** goes wrong all too often."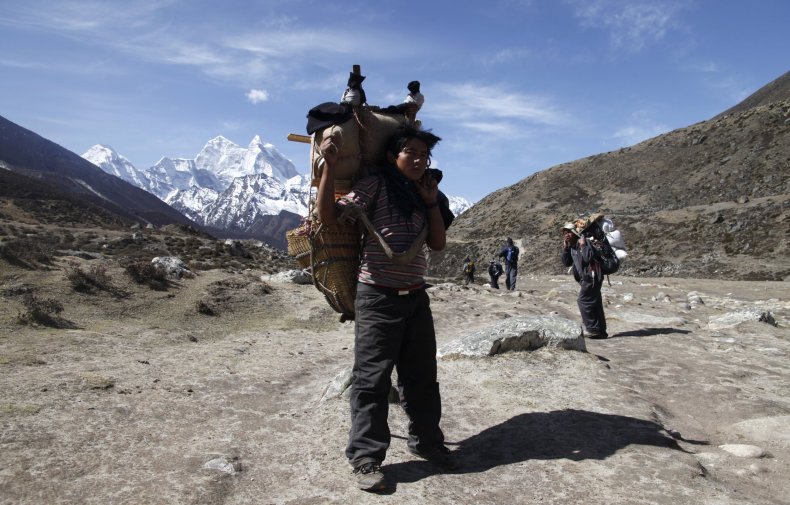 As for that fraught issue of Westerner and Nepali expedition worker, he thinks it should be more like the guide-client relationship that's common in the West—there's a hierarchy and the complications that come with it, sure, but there's respect, too. "I would love to see that total respect back and forth between both parties. For me, that entails clients wanting to know the names of the people they're working with, and a little bit about their story and who they are, and just not seeing the Sherpa and Gurung and the Tamang and all the people working there as 'oh, there's that guy carrying my bag today.'"
He says he's not sure exactly how to do that, though. But there's plenty at stake. He added: "As we all know, when people are not humanized, they become more expendable; and as soon as they are humanized, you treat them and perceive them differently, and I think that really needs to happen with the Sherpa and other Nepalis."