Deaths of Photographers Hetherington and Hondros Up Stakes in Libya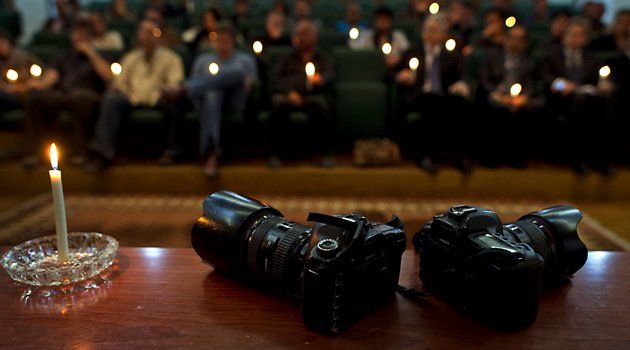 We depend on them for truth, for glimpses into human vileness, even as we cut their jobs and cut their space and treat their work as if it's the most disposable part of the ever-shrinking media. When photojournalists Tim Hetherington and Chris Hondros were killed last week in Libya, it made you furious. First, furious at the madmen who took their lives. Then furious at a world so bloody fatigued by war that Tim and Chris were two of the last on the scene to see it to its horrible conclusion. War correspondents—in particular, combat photographers—have always worked with their lives on the line. But in the last few decades the body count has risen dramatically. Since 1992, 861 journalists have been killed in the field, according to the Committee to Protect Journalists. The worst years were 2006 and 2007, when more than 200 journalists died, most of them in Iraq. But this year is shaping up to be morbidly historic in its own right. Of the 21 media deaths so far this year, almost half were photographers or cameramen, many of them freelancers.
New York Times photographer João Silva lost both legs to a land mine while embedded with U.S. troops in Afghanistan. Speaking from Walter Reed Army Medical Center in Washington, D.C., where he is recovering, Silva recalled his first firefight—the exhilaration, the terror, and the clarity that kept drawing him back to the front lines. "My motivation was always to be on the edge of history, to get the message out," he said, even as he admitted that this reason was an attempt at self-justification. "If I could go back and do it all again, would I do it? Yeah, most certainly, because this is what I do…I'm fortunate enough to get to see people's lives in some of the most intimate moments, and record history."
The deaths of two vital young photographers serve as reminders of mortality—and reminders, too, that in the chaos of war, not even the most experienced combat journalists are safe. On the murky front lines of contemporary conflicts, they are no longer considered untouchable observers but rather legitimate targets for kidnappings and killings. "When something like this happens, of course I pause and think, is it worth it?" says Lynsey Addario, a friend of Hondros and a longtime war photographer who was captured with three New York Timesjournalists in Libya last month and held under often brutal conditions for days. "Do people really care? Is it worth one of our lives? Is it worth anyone's life?"
Both Hetherington and Hondros would undoubtedly have answered yes. They were surely motivated by many things: wanderlust, the thrill of seeing history through the shutter, a curious feeling of comfort in conflict zones. But above all, say colleagues, they were driven by a sense of mission, dedicated to the principle of truth-through-proximity.
Hetherington, by birth a Brit, was nominated for an Academy Award for Restrepo, an impassioned 2010 documentary about American troops in Afghanistan's Korengal Valley. But he first attracted notice almost a decade earlier in Sierra Leone, where he won a World Press Award for a moving photo essay about blind children. "A lot of the children had their eyes gouged out or were blinded by the rebels," recalls Corinne Dufka, a former photojournalist. "[Tim] had a relationship with these kids…He kept going back there for years."
James Brabazon, a documentary filmmaker who met Hetherington in Liberia in 2003, recalls the photographer's steady nerves. "I've seen people witnessing combat for the first time soil their pants…run away, scream, melt down, have terrible and understandably normal visceral reactions to the prospect that they're about to get killed," Brabazon says. "He just kept working." After days of being ambushed while filming close-range combat, Hetherington and Brabazon leapt from a vehicle that had come under machine-gun fire. Ducking behind a wall, Hetherington remembered he'd left videotapes in the car, containing all his footage. "He jumped over the wall and ran into an arc of fire," Brabazon says. "As far as he was concerned, if we didn't have the tapes, there was no point being there in the first place."
Hondros, an American whose career spanned war zones from Kosovo to Baghdad, was also in Liberia during the 2003 meltdown. Known for his intimate, empathetic images of both victims and perpetrators, Hondros later wrote about being on a bridge with a platoon of "drugged-up…militiamen" who were firing on rebels on the opposite bank of the river. Hondros's photo of a commander jumping for joy after shooting a rocket-propelled grenade catapulted him to the top ranks of combat photographers. Two years later, he returned to Liberia during peacetime and tracked down the 28-year-old commander, Joseph Duo, now decommissioned and jobless. Hondros revisited the bridge with Duo—then found him a place in a computer-training school and paid his tuition. "Maybe the scars of a lifetime of horror and bloodshed are too deep to heal," Hondros wrote in an essay for The Digital Journalist. "But maybe not. And in any case, the future of Joseph Duo is, for the first time ever, in his own hands."
During the media crash of the last decade, major newspapers have cut not only statehouse reporting but reams of overseas coverage as well. Eighteen newspapers (including The Boston Globe, The Philadelphia Inquirer, and The Miami Herald) and two chains have shuttered their foreign bureaus, according to a 2011 study by the American Journalism Review, and the vast majority of the cuts have occurred since the U.S. invasion of Iraq. Even the most august publications have cut back in recent years, relying more on an army of backpack journalists who patch together funding from grants, fellowships, and freelance contracts.
Big photo agencies have shifted their editorial focus away from foreign news, and several have gone out of business altogether. Hondros and Hetherington were the lucky ones—shooters with dependable gigs, Hetherington as a photographer for Vanity Fair, Hondros as a staffer for Getty—in a community now dominated by struggling freelancers. "Work for hire" contracts have become an industry norm, turning photographers into "day laborers," as one Columbia Journalism Review piece put it.
The lack of money and institutional backing intensifies competition and risk, and sends droves of young, inexperienced journalists into combat zones without support or preparation.
At the same time, these photographers are doing extraordinary work. "These are pictures that are an attempt to get the world to pay attention," says Bruce Shapiro, executive director of the DART Center for Journalism and Trauma.
Even for those who survive, bearing witness to the forgotten conflicts often comes at a terrible personal cost. Continuous exposure to combat has left many photographers struggling with nightmares and broken relationships. Chris Hedges, a former New York Timeswar correspondent, once leapt the counter at an airport in Costa Rica and beat an airline employee to the floor. "War's sickness had become my own," Hedges explained in his memoir, War Is a Force That Gives Us Meaning.
Anthony Feinstein, a professor of psychiatry at the University of Toronto, has plumbed the psyches of some 350 veteran combat journalists, finding that nearly a third suffer from posttraumatic stress disorder, sparked in part, he believes, by the tension between being an actor and an observer, seeing suffering but not helping. Many are burdened with a sense of alienation, unable to explain to friends in the "straight world" what they've seen and why it keeps drawing them back. Some have lost all perspective on what they've experienced. War reporters are unique, Feinstein concludes in his 2006 book Journalists Under Fire, because for them alone, "war is the catalyst, not the nemesis, to their creativity."
For Hondros, war held an almost elegiac quality, which he captured by staging concerts, setting classical music to exhibits of his work from the front lines. "There might be a stereotype of conflict photojournalists as these macho, gung-ho kind of guys," says Alan Chin, another combat photographer. "But here's a guy who was really thoughtful." Away from the battlefield, Hondros and Addario usually talked about love.
Both Hondros and Hetherington had begun to explore the possibility of life beyond combat photography. Hondros had become engaged a few months before. "The last time I saw him was at his New Year's party in Brooklyn," recalls Addario. "Chris and I went off into the kitchen. He told me he was getting married. He was so excited." Matthew McAllester, a longtime war correspondent, says that Hetherington, too, had began to talk about "how this kind of work fits in with having a family, which he was keen on doing."
But he would never find out.
Hetherington and Hondros went to Misrata to document scenes of appalling suffering. Rebels and government forces pounded each other with mortars and rocket-propelled grenades. Hundreds of civilians had died in the crossfire. But, in a world with an ever-shortening attention span, few seemed to be taking notice. Shortly after arriving by boat, Hetherington wrote in his last tweet, on April 19: "In besieged Libyan city of Misrata. Indiscriminate shelling by Gaddafi forces. No sign of NATO." The next day they traveled to Tripoli Street, at the front lines of the battle. During an intense firefight a rocket-propelled grenade hit nearby, spraying lethal shrapnel. Hetherington died soon after. "He had lost a lot of blood. The doctors, they tried to reanimate him for about 15 minutes, but no," says photographer André Liohn, who was with them. Shards of shrapnel struck Hondros's forehead and burrowed through his brain. He went into a coma and died overnight. On April 21 the Iona Spirit carried their bodies back to Benghazi, where they were memorialized by other journalists and Libyans in a candlelight ceremony.
Editor's Note: The original article misstated the relationship between Chris Hondros and Lynsey Addario as "close friends." Hondros and Addario were friends and colleagues. In addition, the article said that Hondros and his friends never discussed work away from the battlefield. Hondros did discuss work with his friends; however, he and Addario usually discussed their personal lives.
With Mike Giglio and Tony Dokoupil