Deb Haaland Confirmation as Interior Secretary Likely, as 2nd GOP Senator Supports Nomination
Representative Deb Haaland's chances for a successful confirmation to President Joe Biden's Cabinet just got a little better, with a second key Republican senator voicing support for her nomination.
Senator Lisa Murkowski of Alaska joined Democrats in voting Haaland out of the Energy and Natural Resources Committee on Thursday, setting up her final confirmation vote in the upper chamber.
"I have decided to support this nomination today, to support the first Native American to hold this position," Murkowski said, adding: "I am going to place my trust in Representative Haaland and her team despite some very real misgivings."
Her remarks came after fellow Republican Susan Collins of Maine also said she would vote to approve Haaland's nomination. Collins told Huffpost that despite their "different views on some issues," she appreciated Haaland's "willingness to support issues" important to Maine and her "deep knowledge of tribal issues."
"Representative Haaland promised to be bipartisan in her new role at the Department of the Interior, and I look forward to working with her," Collins said.
The support of the two GOP members gives Haaland a buffer in the split 50-50 Senate, where a Cabinet nominee needs only a majority of votes to be confirmed. Senator Joe Manchin, a moderate Democrat and critical swing vote, has also said he will support Haaland's nomination.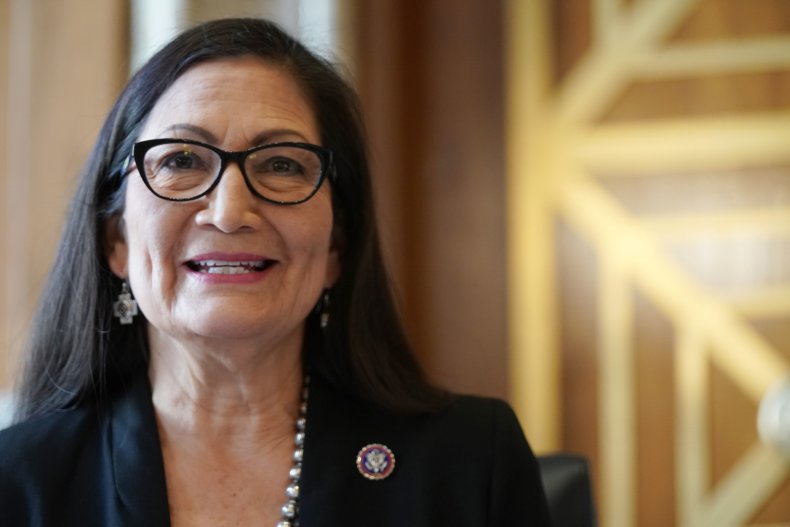 Biden tapped Haaland to lead the Department of the Interior, an agency responsible for overseeing public and federal lands and their natural resources as well as the Bureau of Indian Affairs.
Haaland made history when she was elected to serve New Mexico in the House of Representatives in 2018. She was one of the first two Native American women to serve in Congress. If she is confirmed, she would be the first Native American Cabinet secretary.
Manchin hailed the significance of her nomination during Thursday's panel hearing, stating that "230 years after Washington called his first Cabinet meeting, it is long past time to give a Native American woman a seat at the Cabinet table."
During her opening statement before the committee last week, Haaland said, "If an indigenous woman from humble beginnings can be confirmed as secretary of the interior, our country holds promise for everyone."
She added, "I believe we all have a stake in the future of our country, and I believe that every one of us, Republicans, Democrats and independents, shares a common bond, our love for the outdoors and a desire and obligation to keep our nation livable for future generations."
Newsweek reached out to the White House for comment on Murkowski's support of Haaland but did not receive a response prior to publication.