Deb Haaland Defends Suggestion That Federally Legal Marijuana Could Fund Schools Nationwide
U.S. Interior Secretary nominee Deb Haaland believes that alternative revenue sources could replace education funding currently supported by oil and gas industries.
When asked if she backs a previously shared idea to use tax dollars on cannabis for this purpose, should legalization become more widespread, President Joe Biden's Cabinet pick neither expressly affirm nor dispute the suggestion.
The Democratic federal lawmaker, who has represented New Mexico's first congressional district in the U.S. House since 2019, fielded questions from senators during the second day of hearings preceding her expected confirmation to lead the U.S. Department of the Interior.
Haaland, one of three Native American women ever elected to Congress, would be the country's first indigenous Cabinet chief if confirmed.
"In 2018, you campaigned on eliminating oil and gas production in New Mexico. and you were specifically asked how you would make up for the loss of oil and gas royalties, which the state uses to fund public schools. And your answer was cannabis," said Wyoming Republican Senator John Barrasso while questioning Haaland during Wednesday's hearing. "Is selling marijuana among what the Biden administration calls the 'better choices' that the Biden administration has promised to give displaced oil and gas workers?"
"Well I think the point of that, ranking member, was to say that we should diversify our funding streams for education, and not just rely on one," Haaland replied, adding, "I honestly don't know what President Biden's stance is on cannabis, currently."
Haaland is an environmental advocate, and has endorsed the Green New Deal as
"a needed bold solution to protect the future of our communities, country, and planet."
During her 2018 congressional campaign, she pushed for an end to oil and gas production in New Mexico and suggested that legalizing marijuana could create a new source of revenue to fill the gap in education funding provided by fossil fuel industries. She continued to discuss the environmental and economic benefits of this proposal after taking office.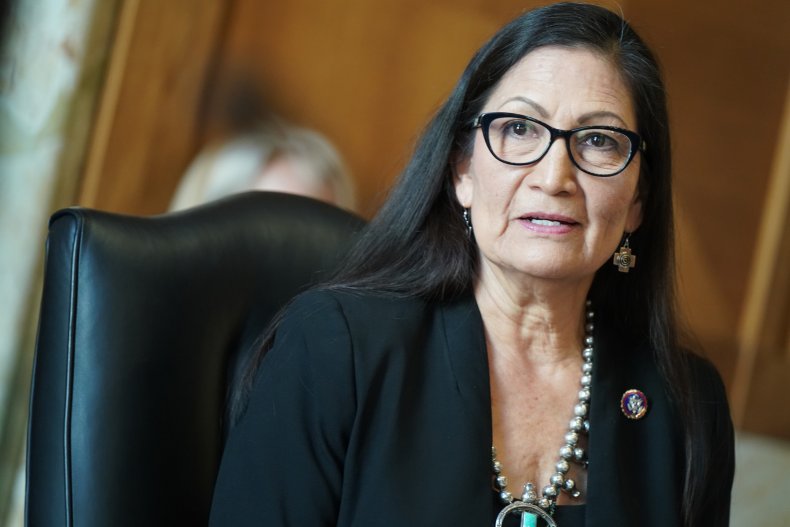 "Renewable energy is one route to building a new day for our state—another game changer would be legalizing recreational marijuana," the congresswoman said in 2019. "It would open up a new revenue stream for our state, and a whole new economy and the jobs that come with it."
"The revenues can help us meet the constitutional obligation to fund schools appropriately, so teachers get paid what they deserve and all our children have a quality public education and the brightest futures," she added.
Newsweek reached out to Haaland's office for further comment, but did not receive a reply in time for publication.