Pete Buttigieg Says Republicans Have 'Lost All Claim' To Invoke Religious Language in Politics
South Bend, Indiana, Mayor Pete Buttigieg said that Republicans have "lost all claim to ever use religious language again" after using scripture to defend their policy of separating migrant children from their parents at the U.S. southern border, during the Democratic primary debate on Thursday evening.
"Now, our party doesn't talk about that as much, largely for a good reason which was, we are committed to the separation of church and state and stand for people for any religion and people of no religion," said Buttigieg. "But we should call out hypocrisy."
The 37 year-old Christian and presidential candidate added that, "for a party that associates with Christianity to say it is OK to suggest that God would smile on the division of families at the hands of federal agents, that God would condone putting children in cages, has lost all claim to ever use religion language again."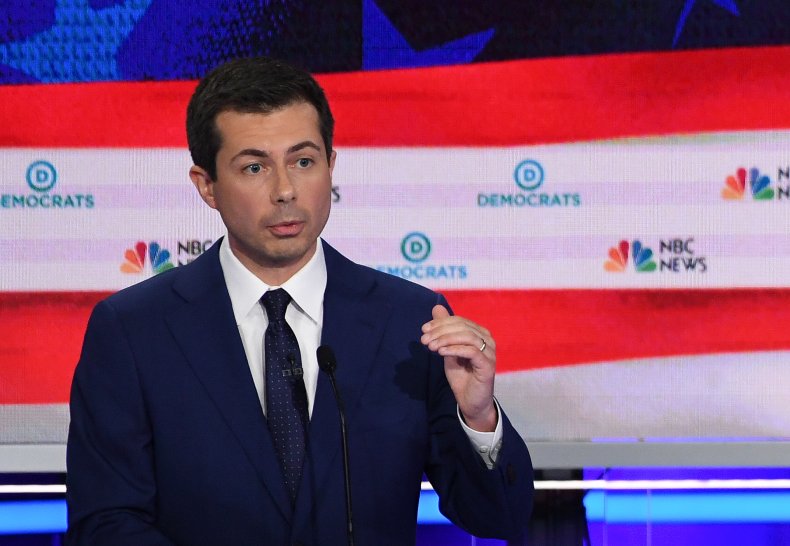 The line went over well with the crowd, who cheered loudly at Buttigieg's answer.
Even Frank Luntz, a Republican pollster, praised him. "Mayor Pete just delivered his best lines of the Dem Debate by contrasting the GOP's purported religious values with their support of forcibly separating children from their parents at the border," he tweeted. "It is worthy of a 30 second ad."
Katie Couric also applauded the line. "The senior superlative for most articulate debater goes to...Pete Buttigieg," she wrote.
This is not the first time the candidate has called out the right for religious hypocrisy. During a March town hall at South by Southwest in Austin, Texas, he asked how Vice President Mike Pence could go from a supporter of "religious liberty" to the "cheerleader of the porn star presidency." Buttigieg also asked the crowd if Pence "stopped believing in scripture when he started believing in Donald Trump? I don't know."
Buttigieg also said that the vice president uses his religion "as an excuse to harm people."
Buttigieg, an openly gay Episcopalian, hired a faith engagement director to work on his campaign to connect his campaign with religious communities around the country and had made his religion a significant part of his campaign platform.