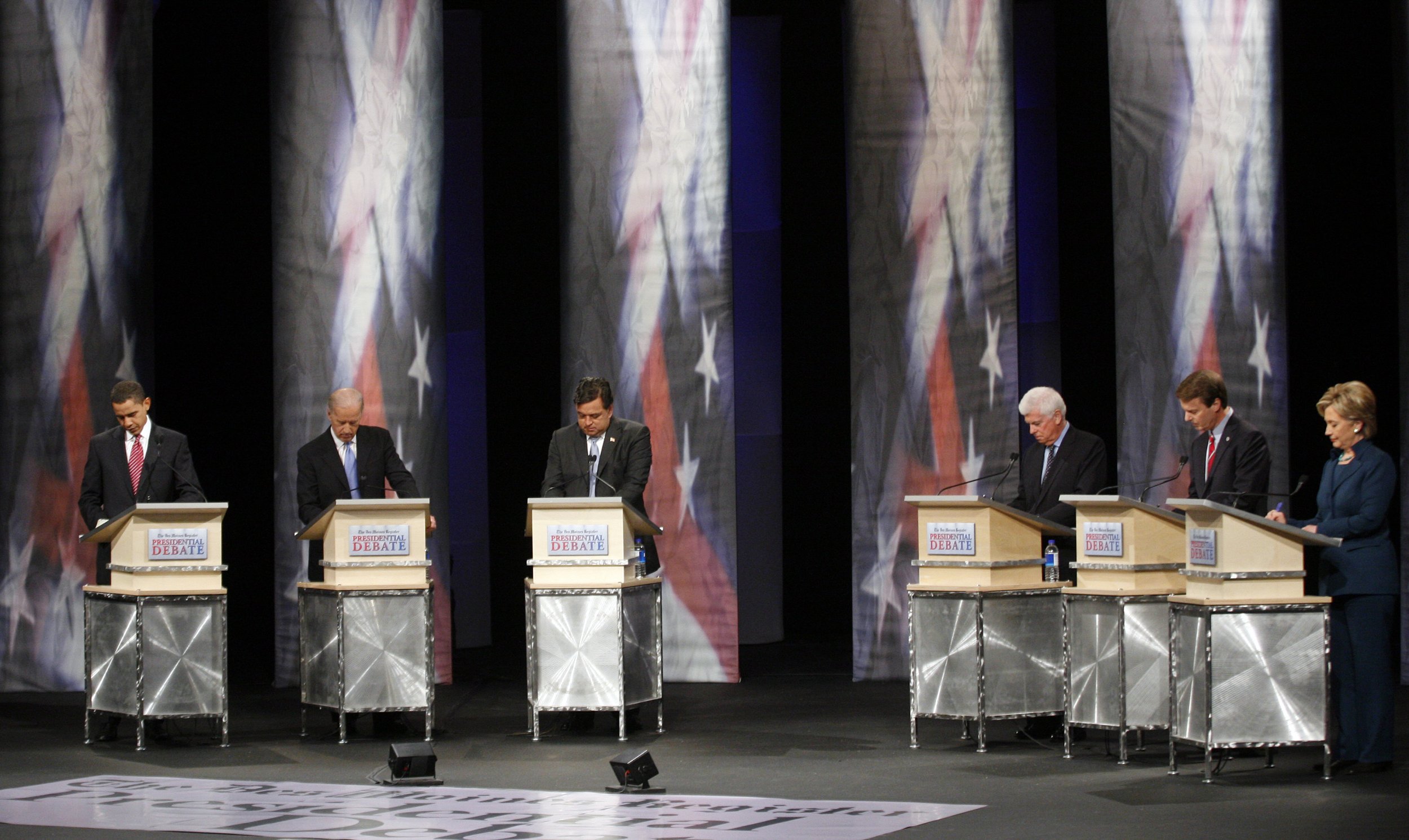 In the race for 2016 Democratic presidential nod, Sen. Bernie Sanders only wants to debate if all Democratic candidates (including Hillary Clinton) participate. But the Vermont Independent wasn't always so adamant about ensuring his debates were all-inclusive. It's yet another reminder that, when it comes to the time-honored tradition of debating debates, candidates have a funny way of blurring fairness, democratic principle and naked self-interest. That will all be on display this week in Minneapolis, where debates are bound to be hot topic at the Democratic National Committee's summer meeting.
In his victorious independent 1990 run for Congress against Republican Rep. Peter Smith, Sanders pushed mightily for a one-on-one debate with the incumbent, excluding Democratic candidate Dolores Sandoval and the nominee for the leftist Liberty Union party, Peter Diamondstone. "The people should hear us go one-on-one, to challenge each other, to really get to the root of what we stand for," Sanders told an audience of Ludlow sportsmen, the Rutland Daily Herald reported in October 1990. Sanders argued at the time that the other two candidates would participate in all the other debates and forums, but "it's not good for serious political debate in Vermont that the two candidates who will receive 90 percent of the vote don't have an opportunity to go one-on-one," he told the paper.
That's a far cry from the anti-establishment position Sanders took in the 1970s as a leading member of the anti-war, anti-capitalist Liberty Union party. As the party's gubernatorial candidate in 1976, he professed outrage that he was excluded from debates between the Democrat and Republican nominees and threatened court action, according to multiple press reports at the time. Diamondstone, his one-time ally in the party, confirmed to Newsweek that Sanders was an outspoken proponent of including what they liked to call "alternative candidates" in major candidate forums.
"Way back then he did support all the candidates being included, because we were being excluded, but as he became a more dominant figure he became less inclined to insist on that," said Diamondstone, who fell out with Sanders after the latter began to embrace more mainstream politics, for instance campaigning for Democratic presidential nominee Walter Mondale in 1984. Sanders' demand in the '90s for more exclusive debates infuriated Diamondstone, who clobbered his estranged friend for violating a Vermont tradition, established by the late Jim Jeffords, then a Republican Congressman, of refusing to participate in debates unless they included all the candidates running for the office.
But Diamondstone also told Newsweek that Sanders began to repent later in his political career, and noted that he participated in a number of multi-candidate debates in his successful runs for the Senate. "I think he's begun to … see the merit" of open debates, Diamondstone said. "That's the way you get the people to vote and he's a proponent of expanding the voter population." The Sanders campaign did not respond to a request to comment.
It's a practice that has certainly given Vermonters exposure to a colorful range of views. In one 2012 Senate debate aired on C-SPAN, United States Marijuana Party nominee Cris Ericson introduced herself by displaying her Native American Indian accessories, family heirlooms she said she wore "to remind me to tell you tonight that we have to take care of Mother Earth." A 2014 gubernatorial debate got The Daily Show treatment after one of the candidates had a momentary memory lapse on his place of birth.
Sanders is an advocate of that same "big tent" approach now as a Democratic primary candidate, though it seems aimed less at including the also-rans than targeting the front-runner, former Secretary of State Hillary Clinton. Former Maryland Gov. Martin O'Malley, who is polling around 1 or 2 percent in national surveys, has been howling about the small number of Democratic debates—just six compared to more than a dozen in 2008—and urging other candidates to participate in other debates, even if they're not endorsed by the DNC. Sanders has also criticized the slim debate schedule , but according to a report in Time this week, is refusing to join additional fora that don't include Clinton.
All three candidates are speaking at the DNC's summer meeting on Friday. It's hard to imagine the debate debate doesn't come up.