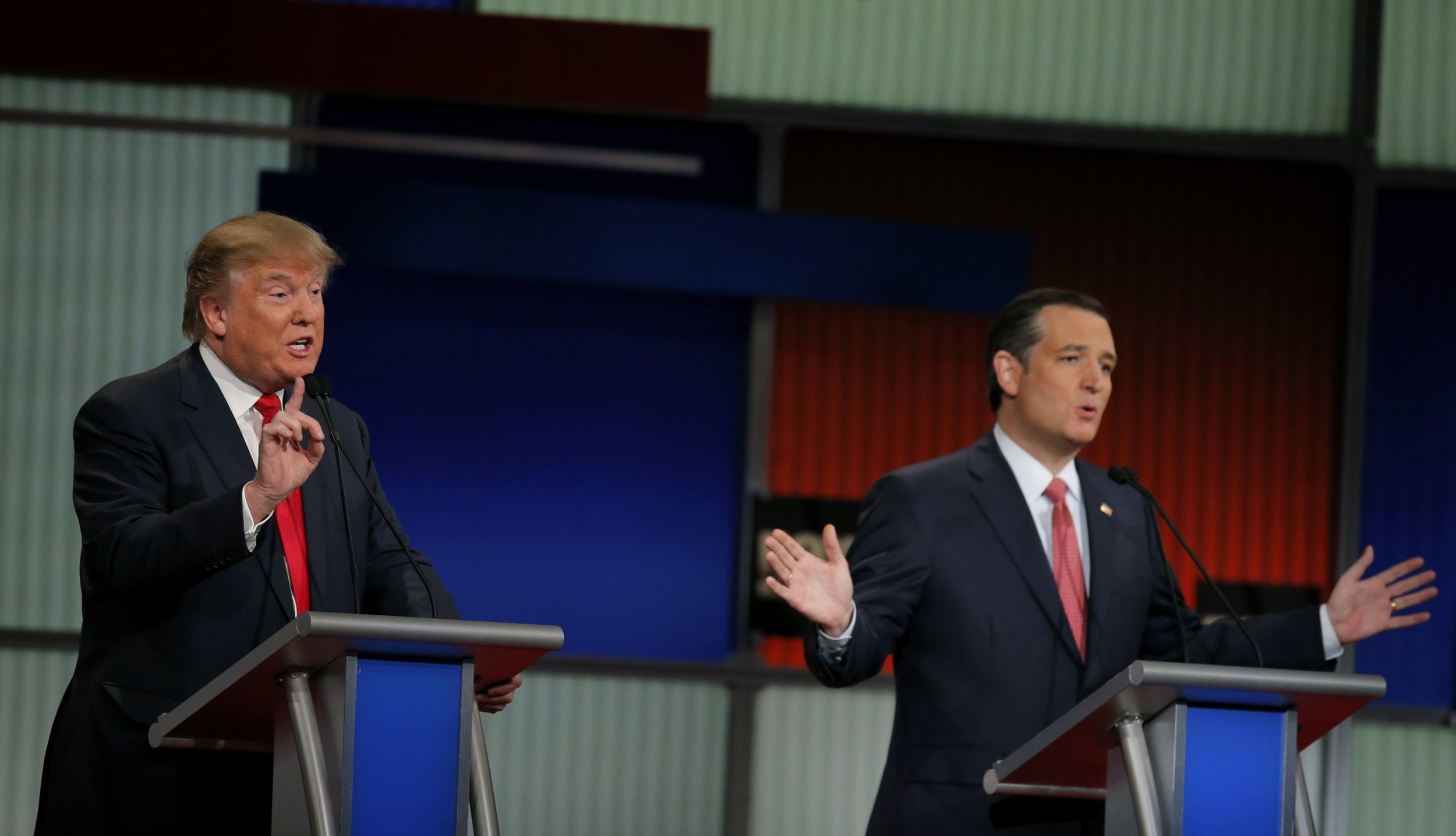 On Thursday night, seven Republicans gathered onstage at the North Charleston Coliseum in Charleston, South Carolina, for the sixth debate of their party's primary campaign. Though much money has been spent, and many words spoken by all of them, little has changed since last they met in December.
New York business mogul Trump remains the strong leader in national polls, while Senator Ted Cruz of Texas has made serious gains on Trump in Iowa, where voting begins in February. Retired neurosurgeon Ben Carson, who once rivaled Trump atop the heap, continues to slip in the polls as his campaign sheds one key staffer after another. Former Florida Governor Jeb Bush and Senator Marco Rubio of Florida continue their rivalry, the tone of which grew increasingly acerbic last week after Right to Rise, a Super PAC supporting Jeb Bush, released three attack ads targeting Rubio's voting record in the Senate (Rubio has missed around one third of all votes), some of his past policy positions on immigration and amnesty, and even his boots. Governors Chris Christie of New Jersey and John Kasich of Ohio also made the cut for the mainstage debate, but Senator Rand Paul did not: Fox Business relegated the outspoken libertarian from Kentucky to the undercard debate. Paul ultimately chose to skip the debate entirely, preferring instead to make himself heard on Twitter. (At one point, protesters shouting "We want Rand!" interrupted moderator Neil Cavuto. "Alright," Cavuto responded, perplexed).
Fox Business Network, which broadcast Thursday's debates, promised a night of sober, business-centric discussion, but the candidates focused primarily on topics outside the economy. Cruz opened by calling President Barack Obama's recent State of the Union address "heartbreaking" because Obama "didn't so much as mention" a group of American sailors who were captured by Iran after they drifted into Iranian waters Tuesday. "The good news is the next commander-in-chief is standing on this stage," Cruz said. He also defended himself against a recent report in The New York Times that showed Cruz failed to disclose large loans from Goldman Sachs and Citibank during his senate campaign. "If that's the best hit The New York Times has got they'd better go back to the well," Cruz said.
Democratic front-runner Hillary Clinton received her fair share of criticism, as well. "Every person here is better than Hillary Clinton," former Florida Governor Jeb Bush said. "If she gets elected, she's under investigation by the FBI right now," he added, referencing the ongoing scandal over Clinton's use of a private email server during her time as secretary of state. "She might be going back and forth between the White House and the courthouse" during her first 100 days in office, Bush added.
"I would go one step further," Rubio said. "Hillary Clinton is disqualified from being commander-in-chief of the United States."
As the field narrows, the remaining seven main candidates are increasingly keen to differentiate themselves, and past ceasefires were called off as the debate's moderators pitted Cruz and Trump—each jockeying for the evangelical vote—against one another. Asked by moderator Neil Cavuto to respond to Trump's repeated insinuation that Canadian-born Cruz is ineligible to be president, the Texas senator hit back hard, arguing that, under some Constitutional theories, Trump himself is ineligible to be president because his mother was born in Scotland. Cruz's remarks earned enthusiastic cheers, while Trump's response—"But I was born here"—was drowned out by applause. Trump then suggested he might pick Cruz for his vice president; Cruz riposted that he might choose Trump and, if Trump is right on the citizenship question, he could be president anyway.
In Charleston, where an armed attacker killed nine churchgoers over the summer, gun control is a sensitive issue. But the candidates had no patience for the president's plans for gun control on Thrusday. "We don't need to add new rules," Bush said, "we need to make sure the FBI does its job."
"The first impulse of Barack Obama and Hillary Clinton is to take rights away," he added.
"I am convinced that this president would confiscate every gun in this country if he could," Rubio said. "Criminals don't buy their guns from a gun show." Obama's plan, announced last week, would tighten loopholes that allow buyers at gun shows to avoid background checks. Terrorists and criminals "don't get their guns from gun stores," Rubio added. (Dylann Roof, the alleged shooter in Charleston, did in fact purchase his weapon from a licensed seller.)
Whether the Republican establishment would support Cruz, Trump or Carson remains to be seen, and some within the GOP have expressed fears that, should any of the three become the nominee, the party may experience a schism between its far-right and moderate wings—a scenario that could only benefit the Democrats.
Further, some analysts believe that, should Trump become the nominee, the party would experience worse than a schism: The bombastic hype man's bigoted statements toward minorities, immigrants and woman, all of whom make up an increasing slice of the American electorate, could turn the party radioactive, unable to win on the national stage, for a generation or more.
But Trump remained unapologetic about his past statements, particularly his call to ban the immigration of Muslims. Asked by moderators if the firestorm created by those comments had changed his mind on the issue, Trump's response was concise: "No."
"I hope you reconsider this," Bush interjected. "This policy makes it impossible to build the coalition we need....Sending that signal makes it impossible for us to be serious about taking out ISIS and restoring democracy in Syria." Barring Muslims wholesale alienates Muslim countries in the Middle East, Bush added. Instead of a ban, he said, immigrants from areas of the world where terrorists are known to operate should be subjected to stricter scrutiny.
But Trump was unfazed. "I want security for this country," he said. "We have a serious problem with radical Islam."
The other candidates seemed to prefer Bush's approach, but Trump's rhetoric. "I think a pause on Syrian refugees has been exactly right," Ohio Governor John Kasich said. Rubio and Cruz both said they understood Trump's comments, but wouldn't go so far as to endorse his policies. "If we do not know who you are are, we do not know where you are coming from, when I am president you are not getting into the United States of America," Rubio said. Cruz said Congress should pass legislation he has introduced that would make it more difficult for refugees from countries controlled by ISIS or al-Qaeda to enter the United States.
Moderators also questioned whether Trump has the patience to stick it out through the grueling presidential race or through the presidency itself. Trump shot back that, if elected, he "couldn't care less" about his company. "It's peanuts," he said.
The debate ended with closing statements, the last of which came from Trump. If elected, he promised that "we will win on everything we do."