Debate Commission Defends Muting Trump and Biden's Mics, Says It's 'Not A New Rule'
Allowing the candidates' microphones during the upcoming presidential debate to be muted does not constitute a new debate rule, according to Tuesday remarks by Frank Fahrenkopf, Jr., co-chair of the Commission on Presidential Debates (CPD).
The first debate between President Donald Trump and Democratic presidential nominee Joe Biden, which took place in September, was marred by overlapping conversations. Trump and Biden spoke over each other, sometimes losing focus and getting off-topic. In an effort to prevent interruptions, the CPD announced Monday that it would selectively turn off Biden and Trump's microphones in order to provide each candidate with two minutes of uninterrupted speaking time at the beginning of each section. Trump's re-election campaign has criticized what it has referred to as "last-minute rule changes" to the Thursday debate.
"It's not a new rule," Fahrenkopf, Jr. told Brian Kilmeade on Fox News Radio on Tuesday. "The campaigns agreed early on, going back to June of this year when we announced what the formats were going to be for the campaigns, for the debates. And they both agreed to live with it. It provides, very clearly, that the first four minutes on each of the six segments—each candidate gets to speak for two minutes without interruption. So that's the rule. And that's been the rule."
Newsweek reached out to the Biden campaign and the Trump re-election campaign for comment.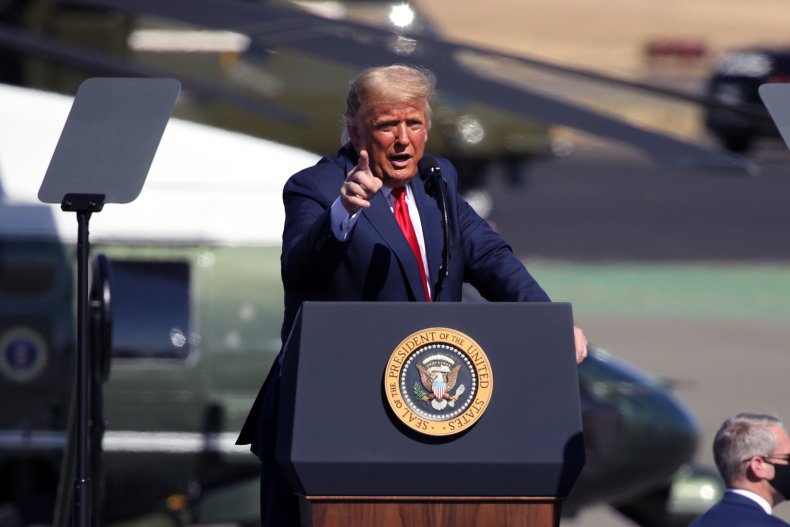 Although only one candidate at a time will be permitted to speak during the opening remarks of each segment, the microphones of both candidates are expected to be open during the discussion portions.
Trump re-election campaign manager Bill Stepien said in a Monday letter to the CPD that the power to mute a candidate was "completely unacceptable" and that "a decision to proceed with that change amounts to turning further editorial control of the debate over to the Commission which has already demonstrated its partiality to Biden."
On its website, the CDP describes itself as a "nonpartisan" commission.
Originally, three presidential debates were scheduled for the 2020 election cycle. However, the second debate was canceled after Trump announced his coronavirus diagnosis. In an effort to curb the potential spread of the virus, the CPD announced in October that the second debate would be held virtually with a moderator asking questions from a central location. Trump and Biden were expected to answer the questions separately. Trump declined to participate in the virtual debate.
Trump's campaign has also been critical of the topics chosen for discussion by moderator Kristen Welker for Thursday's debate. According to the Trump camp, the final debate is normally reserved for discussions about each candidate's foreign policy platforms. Some of Welker's topics include "Fighting COVID-19" and "Race in America."
White House Press Secretary Kayleigh McEnany said during a Fox News interview on Tuesday that the CPD had "basically hand-selected" the debate topics to favor Biden. "It's appalling what we're seeing," McEnany said.
Belmont University in Nashville, Tennessee is slated to be the host site for the Thursday debate between Trump and Biden, beginning at 9:00 p.m. EST.