No, Mr. Trump, the Debate Schedule Wasn't Fumbled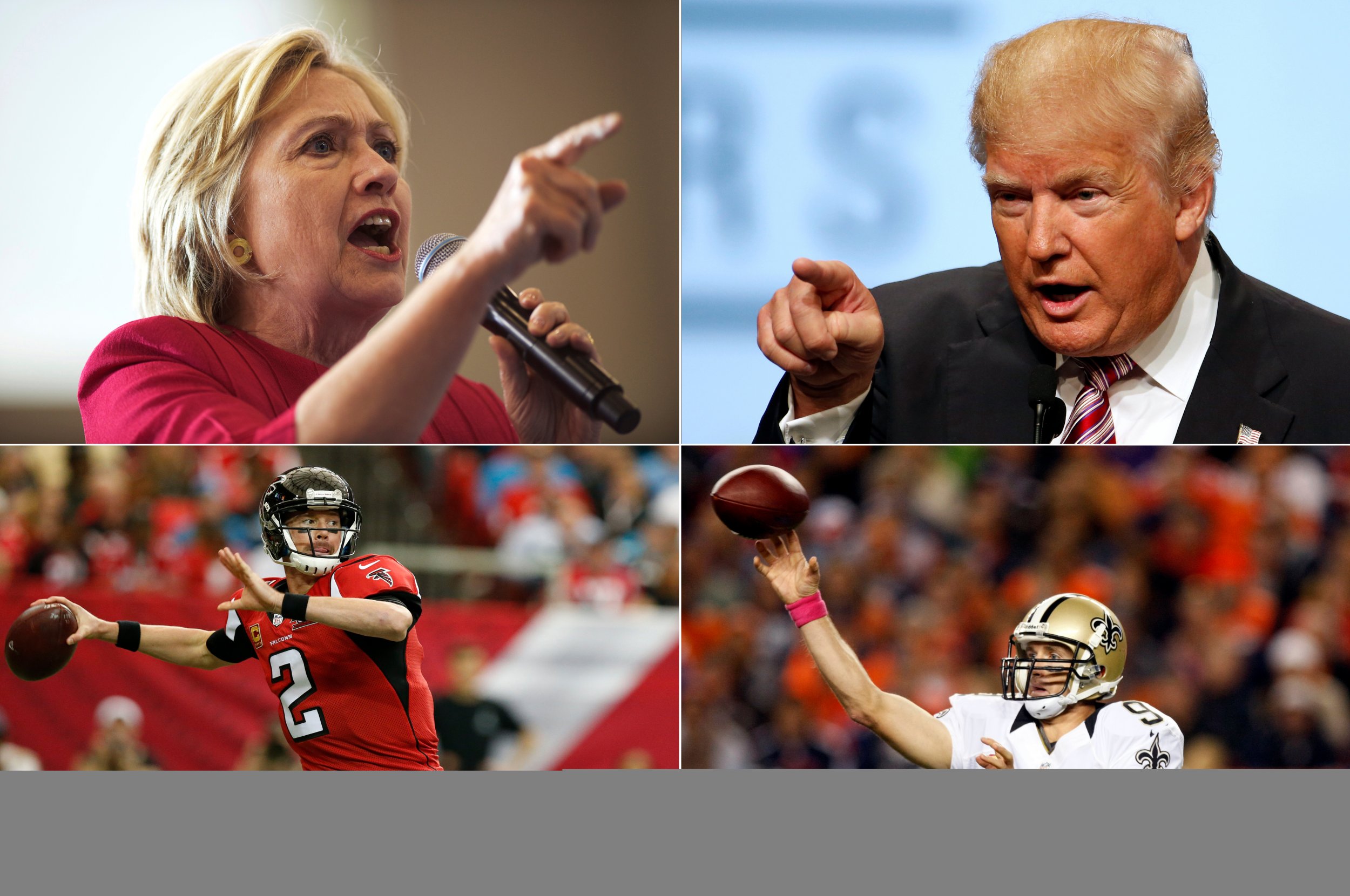 Donald Trump has questioned the fairness of the scheduling for the upcoming presidential debates—when he will face off against Democratic rival Hillary Clinton—because two of the three forums are slotted to overlap with nationally televised National Football League games. Last month, the Republican presidential nominee went so far as to say he had received a letter from the NFL calling the timing "ridiculous." (The NFL since has disputed the real estate mogul's claim about the existence of the letter.)
Trump's complaints prompted speculation that he is looking for an excuse to boycott a debate or debates. It wouldn't be the first time: In January, he refused to attend a Republican primary debate because it was co-hosted by Megyn Kelly, the Fox News anchor with whom he was feuding. Instead, he held a fundraiser for veterans at the same time his rivals faced off on a stage in Iowa.
Boycotting a chance to stand opposite his general election foe on national television would be risky, as debates have the potential to decide the fate of a candidate's campaign. That has been apparent since the first televised U.S. general election presidential debate—between John F. Kennedy and Richard Nixon on September 26, 1960. Kennedy was a little-known Massachusetts senator until he faced off against Nixon at 9:30 p.m. ET at WBBM-TV in Chicago. That night, Nixon—who was the vice president at the time and was recovering from the flu and suffering from a knee injury—was visibly sweating and looked nervous, while Kennedy appeared relaxed and calm. To the many Americans watching on TV, Kennedy appeared the clear winner. Less than two months later, he won the election.
Despite Trump's complaints, the Commission on Presidential Debates, a nonpartisan organization that has sponsored general election debates since 1988, so far has refused to alter this year's dates. Perhaps in a nod to the importance of the forums, the CPD pointed out that in every four-year period, there are four general election debates and about 1,000 NFL games.
"It is impossible to avoid all sporting events, and there have been nights on which debates and games occurred in most election cycles. A debate has never been rescheduled as a result," the organization said in a July 31 statement.
On September 26, Clinton and Trump are scheduled to take the stage just 30 minutes into the Monday Night Football match-up between the Atlanta Falcons and New Orleans Saints at the Mercedes-Benz Superdome in Louisiana. And on October 9, the candidates are slated to meet as the Green Bay Packers host the New York Giants at Lambeau Field in Wisconsin.
But 2016 isn't the first year when debates and regular season NFL games have taken place simultaneously. Here are others we've found, with debate dates and start times provided by the CPD; football matchups by the NFL; and kickoff times by Pro-Football Reference and the Pro Football Hall of Fame. All times are Eastern.
Monday, October 22, 2012 (Presidential Debate)
Barack Obama (D) vs. Mitt Romney (R) @ Lynn University in Boca Raton, Florida
Faceoff: 9 p.m.
Detroit Lions @ Chicago Bears
Kickoff: 8:40 p.m.
Thursday, October 11, 2012 (Vice Presidential)
Joe Biden (D) vs. Paul Ryan (R) @ Centre College in Danville, Kentucky
Faceoff: 9 p.m.
Pittsburgh Steelers @ Tennessee Titans
Kickoff: 8:29 p.m.
Sunday, October 6, 1996 (Presidential)
Bill Clinton (D) vs. Bob Dole (R) @ The Bushnell in Hartford, Connecticut
Faceoff: 9 p.m.
Houston Oilers @ Cincinnati Bengals
Kickoff: 8:05 p.m.
Monday, October 19, 1992 (Presidential)
Bill Clinton (D) vs. George Bush (R) vs. Ross Perot (I) @ Michigan State University in East Lansing, Michigan
Faceoff: 9 p.m.
Cincinnati Bengals @ Pittsburgh Steelers
Kickoff: 9:05 p.m.
Thursday, October 15, 1992 (Presidential)
Bill Clinton (D) vs. George Bush (R) vs. Ross Perot (I) @ University of Richmond in Richmond, Virginia
Faceoff: 9 p.m.
Detroit Lions @ Minnesota Vikings
Kickoff: 7:35 p.m.
Sunday, October 11, 1992 (Presidential)
Bill Clinton (D) vs. George Bush (R) vs. Ross Perot (I) @ Washington University in St. Louis
Faceoff: 8 p.m.
Los Angeles Rams @ New Orleans Saints
Kickoff: 7:35 p.m.
Sunday, October 21, 1984 (Presidential)
Walter Mondale (D) vs. Ronald Reagan (R) @ Municipal Auditorium in Kansas City, Kansas
Faceoff: 8 p.m.
New Orleans Saints @ Dallas Cowboys
Kickoff: 9:45 p.m.
Programming Note: General election debates between and among the leading presidential candidates aren't necessarily a requirement of campaigns: After the four Kennedy-Nixon debates in 1960, there were no such general election forums for 16 years. In 1964, Democrat Lyndon Johnson declined to participate, without pressure from Republican Barry Goldwater, says Alan Schroeder, professor at Northeastern University and author of the 2016 book, Presidential Debates: Risky Business on the Campaign Trail. In 1968 and 1972, Nixon, whose reputation had been damaged during his debates with Kennedy, refused. At that time, Americans weren't thinking of debates yet "as a ritual or as a standard piece of a presidential election," Schroeder tells Newsweek.
General election presidential debates resumed in 1976, with Democrat Jimmy Carter and Republican Gerald Ford. There has been at least one general election presidential debate in every four-year cycle since 1976.
The CPD announced the sites and dates for the 2016 presidential debates almost a year ago—on September 23, 2015; the NFL released its lineup nearly seven months later, on April 14. On Twitter, Trump accused Clinton and other Democrats of rigging the debate dates to conflict with the NFL.
The debates will take place on September 26 at Hofstra University in Hempstead, New York (this was originally scheduled to be held at Wright State University in Dayton, Ohio); on October 9 at Washington University in St. Louis; and on October 19 at the University of Nevada in Las Vegas. There also will be a vice presidential debate, between Democrat Tim Kaine and Republican Mike Pence, on October 4 at Longwood University in Farmville, Virginia.
"The CPD selects the debate dates a year in advance in order for the television networks to have maximum lead time and predictability in scheduling these extremely important civic education forums," the organization said in its July statement. "The CPD believes the dates for the 2016 debates will serve the American public well."
Trump's advisers have argued they want as many Americans as possible to view the debates, and point to the conflict with nationally televised NFL games on two nights.
But NFL games are played on Sundays, Mondays and Thursdays throughout the fall. And the football season isn't the only logistical concern: Other potential conflicts include the Major League Baseball postseason games, which typically last through at least October and can be played on any day of the week, religious and federal holidays and weekends.
"We wish the Debate Commission could have found another night, but we respect that the Commission has a difficult job balancing a number of competing interests," Brian McCarthy, an NFL spokesman, says in a statement.
Meanwhile, Clinton's campaign chairman tweeted that the Republican's outcry is "just more Trump debate malarkey."
The CPD hasn't yet made public who will moderate each 90-minute event, which will run from 9 p.m. to 10:30 p.m. without commercial breaks. That announcement is expected by early September.