Debate: Is Now the Right Time for the U.S. to Formally Recognize Taiwan? | Opinion
As the COVID-19 pandemic refocuses attention on the dynamics and complexities of U.S.-China relations, many have looked back to reconsider how it is that we arrived at our present crossroads. It has now been 48 years since President Richard Nixon's famous trip to meet Chairman Mao Zedong in Beijing, during which time the U.S. joined the Shanghai Communique and acknowledged a version of the so-called "One-China Policy." The Communique stated, in relevant part, that "there is but one China and that Taiwan is a part of China." Seven years later, President Jimmy Carter furthered the "One-China Policy," cutting off all formal diplomatic relations with Taiwan to bolster relations with mainland China. Today, 41 years after Carter's 1979 diplomacy, the lack of formal diplomatic relations remains the prevailing status quo between the U.S. and Taiwan.
But amidst the global threat that is Xi Jinping's modern, hegemonic Chinese Communist Party, perhaps now is the time to revisit those 1970s-era decisions. Should the U.S. now formally establish relations with Taiwan—or would doing so risk an unprecedented, disastrous conflict with a rising People's Republic of China?
For the latest Newsweek "Debate of the Week," author, commentator and Newsweek columnist Gordon G. Chang debates Council on Foreign Relations adjunct senior fellow and NYU School of Law professor Jerome A. Cohen on an urgent, much-discussed question: Is now the right time for the U.S. to formally recognize Taiwan?
We hope you enjoy this highly pertinent Debate.
Josh Hammer, Newsweek opinion editor, is also a syndicated columnist and of counsel at First Liberty Institute.
The United States should immediately extend diplomatic recognition to the Republic of China. This move will advance the interests of 23.8 million people of Taiwan, help defend 331.0 million Americans and deter one angry and increasingly dangerous tyrant in Beijing.
On January 1, 1979, the United States switched recognition from Taipei to Beijing as the sole government of China. American strategists thought they needed the help of the People's Republic of China in the Cold War.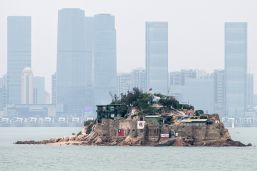 This is a time of great tension and uncertainty in U.S.-China relations. Beijing and Washington are engaged in increasing controversies over trade, technology, investment and cyber regulation. Beijing's construction of military bases in disputed areas of the South China Sea and its refusal to accept the decision of a UN Law of the Sea tribunal rejecting its vast claims over that body of water have heightened military apprehensions in Asia. The intensifying coercion imposed on the Chinese people by the Xi Jinping regime during the past eight years, suppressing all dissent and punishing human rights advocates and their lawyers, has magnified the concerns of liberal democracies. Moreover, the world's growing awareness of the regime's multifaceted "transformation" of millions of Muslims in China's Xinjiang region has gradually produced revulsion in Washington and other major capitals. There is also a broad international challenge to Beijing's recent enforcement of an oppressive National Security Law in Hong Kong and beyond.
Immediate prospects for resolving any of these disputes are slim. After veering from pillar to post on various aspects of China policy, the Trump administration has finally decided to mobilize the American people against the "People's Republic of China" (PRC) or, as the Trump group now sometimes calls it, "the Chinese Communist Government." Trumpists hope that dramatizing their "whole of government" campaign will bolster Trump's chances for re-election. In 1972, President Nixon also made China the focus of his re-election campaign, but he sought to improve a long-hostile relationship. Trump, by contrast, is playing the China card to "decouple" the U.S. from the PRC. And Xi Jinping's government, while expressing concern about this disturbing trend, refuses, unlike Deng Xiaoping's government of the 1970s, to brook any compromise.