Debate: Should the U.S. Implement a New 'Assault Weapon' Ban? | Opinion
As November's presidential election inches ever closer, it is an appropriate time to revisit the stakes for a myriad of issues that divide our increasingly divided citizenry.
The gun issue has, for decades, served as one of our nation's most clearly demarcated partisan battle lines. The Supreme Court, in the landmark 2008 decision of District of Columbia v. Heller, established for the very first time an individual constitutional right to possess firearms in "common use" for lawful/defensive purposes. But the scope of the Court's holding continues to be litigated, and gun control advocates have continued to advance many of their preferred policies—perhaps especially so, in the aftermath of a wave of high-profile mass shootings in recent years. These debates will not subside soon, but they continue to inflame the passions of those on all sides.
This week, Rep. Eric Swalwell, a California Democrat, debates Rep. Jody Hice, a Georgia Republican, on one of America's true hot-button culture war issues: Should we ban civilian possession of—and perhaps even have the government mandatorily buy back—"assault weapons?"
We hope you enjoy the exchange.
Josh Hammer is Newsweek opinion editor, a syndicated columnist, a research fellow at the Edmund Burke Foundation and of counsel at First Liberty Institute.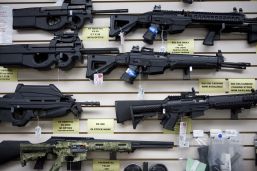 It's been more than two years since I first called for a ban and national mandatory buyback of all military-style assault weapons, and the body count has only continued to rise since then.
Americans will be safer if our communities are once and for all free from weapons of war. In the synagogues of Pittsburgh, Pennsylvania and Poway, California, gunmen used AR-15-style semiautomatic assault rifles; 11 died and six were injured in Pittsburgh, and one died and three were injured in Poway. A gunman toting an AK-47-style rifle with a 75-round drum killed three and injured 17 at California's Gilroy Garlic Festival. The same kind of rifle was used days later to kill 23 and injure 23 during an anti-Latino murder spree in El Paso, Texas. The very next day, a man with a modified AR-15-style weapon and a 100-round drum killed nine and injured 17 outside a nightclub in Dayton, Ohio. Later that month, an AR-15-style weapon once again was used to kill seven and injure 25 in Midland and Odessa, Texas.
America has tragically suffered many unspeakable acts of violence in recent years. Heart-wrenching mass shootings have become a seemingly regular occurrence in our society and, in the immediate wake of each terrible event, the mainstream media and politicians rush to politicize the narrative in an almost predictable fashion.
Long before getting involved in politics and coming to Congress, I was a pastor for many years, and I view these events through the lens of my faith. I believe these acts of violence are symptoms of a deep moral crisis in America. How did Americans massacring other Americans become almost commonplace? How did it come to this?