Debate: Should We Legalize Marijuana? | Opinion
Drug overdoses in America have inexplicably skyrocketed over the past five years. We are, it seems, facing terrible societal crises of mass despondency and lonely atomization. What's more, the stuff peddled to kids today, more potent in terms of THC level than ever before, ain't exactly your grandpa's weed from Woodstock. But on the other hand, surely the War on Drugs has been an abject failure, needlessly ruining lives and locking up youngsters who wouldn't otherwise have a chance at success in live. And as American public opinion shifts, is it finally time to fully legalize recreational marijuana?
This week, Major Neill Franklin (Ret.) of Law Enforcement Action Partnership debates Dr. Kevin Sabet of Smart Approaches to Marijuana on one of the perennial questions facing the American populace. We hope you enjoy the detailed, lively exchange.
Josh Hammer, Newsweek opinion editor, is also a syndicated columnist and of counsel at First Liberty Institute.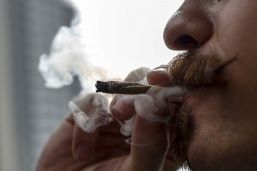 I spent 34 years as an officer with the Maryland State Police and Baltimore Police Departments, mostly working narcotics cases, so Kevin Sabet and I once stood on the same side of this debate. I retired in 2000, shortly after my friend and co-worker was murdered while buying drugs undercover. After more than three decades on the front lines, I realized that our efforts to eradicate marijuana are not only futile, but are actively counterproductive to public safety. Legalization, not decriminalization, is the only option that will actually effect change.
At this point, most people who have studied this issue (including Mr. Sabet) agree that the prohibition of marijuana has been a catastrophe. Police make hundreds of thousands of marijuana arrests each year—663,000 in 2018 alone—wasting time that could be spent solving and preventing serious crime. Black people are arrested at many times the rate of white people, though both groups use marijuana at about the same rates. And these arrests follow young people for life, preventing them from finding jobs, housing, college scholarships and eligibility for loans. Their opportunities to succeed become greatly reduced, often pushing them down the wrong path. It's a disaster.
Our nation is currently standing at a crossroads to find ways to reform and mitigate decades of harm that have been experienced by communities of color. One argument put forth is to legalize and commercialize marijuana as a way to address the disproportionate impacts.
But the data gleaned so far from states that have legalized the drug tell us this policy approach will greatly exacerbate existing social justice issues, bring about further health and safety harms, and enrich overwhelmingly white investors and corporate funders. Thankfully, legalization is not our only choice.