Final Debate Will Put Trump on the Spot on Immigration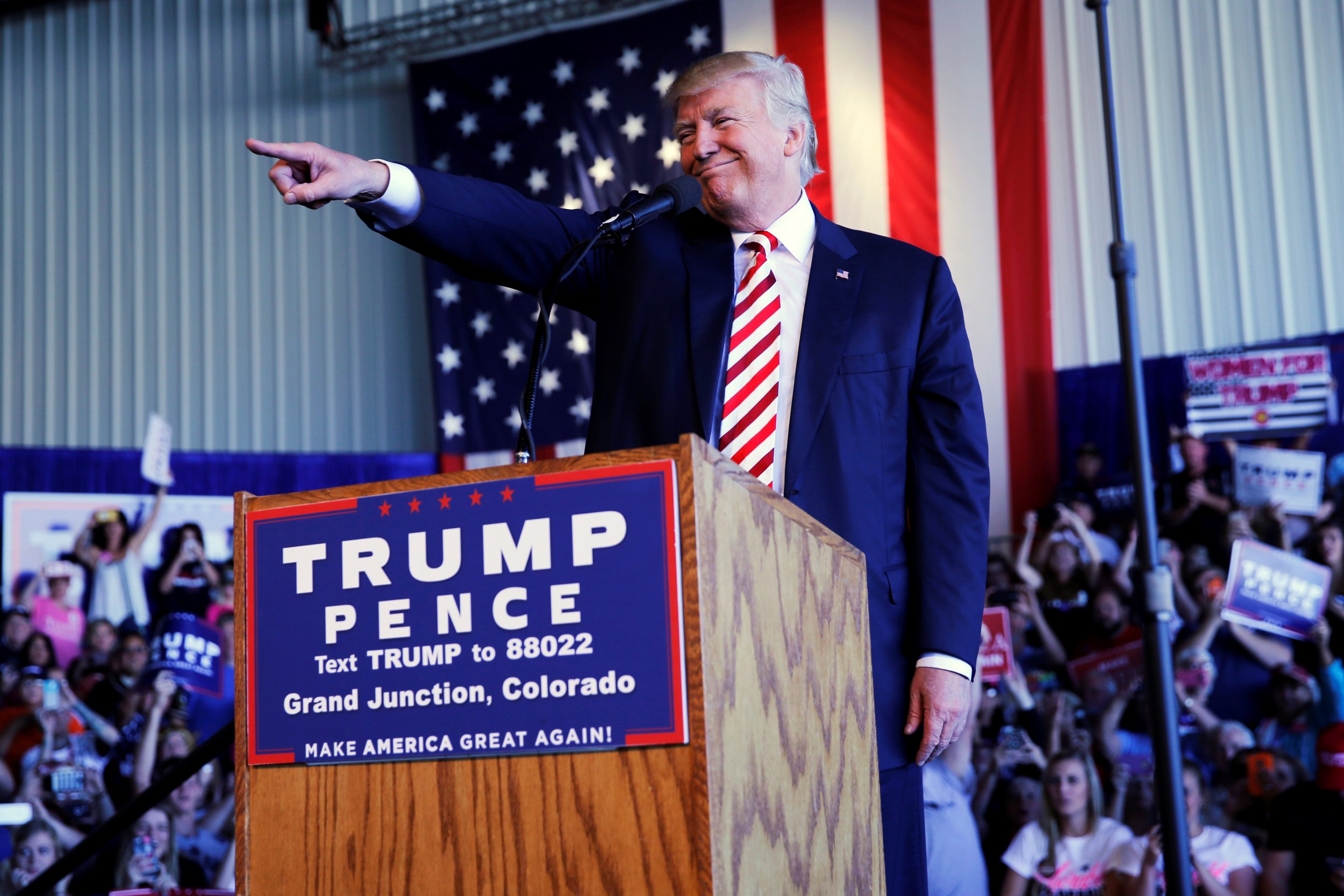 For a man who built his unlikely political rise on his hardline opposition to immigration, Donald Trump hasn't talked much about the issue lately—not since a surprise trip to Mexico and a scorching speech in Arizona in late August that put to rest speculation he was "softening" his tone. The issue hardly got a mention in the first two presidential debates, despite Trump's farfetched promise to build a wall along the southern border and to make Mexico pay for it.
Immigration will be front and center, however, at Wednesday night's debate in Las Vegas, the third and final of the presidential election. And it figures to be a major factor for voters in host-state Nevada as they begin to head to the polls next week (early voting starts October 22), with the presidential race, a Senate seat and some competitive House contests at stake.
The Trump campaign is well aware that his harsh immigration rhetoric doesn't play as well with a general election audience as it did in the Republican primary, which explains why he's stopped talking up plans for a deportation force to drive undocumented immigrants out of the country. But the billionaire businessman has left unclear exactly how he'd handle the roughly 12 million people in the country illegally, if he were not to try to deport them en masse. He'll have to face up to that ambiguity on the debate stage, with moderator Chris Wallace of Fox News having named immigration one of six themes he plans to focus on. That's appropriate, given the debate's locale: Nevada is a melting pot of immigrant communities, with one-fifth of its population foreign born and roughly half non-white. Hispanics are the biggest minority, at 28 percent, and many of them are recent migrants.
Democrat Hillary Clinton will need them to turn out and vote if she hopes to win the state—polls show the former secretary of state pulling ahead of Trump in Nevada in recent days, but polling in the transient state is notoriously difficult, as is estimating turnout. Hispanics make up roughly 17 percent of eligible voters but are historically an unreliable voting bloc.
More than their counterparts in other battleground states, Nevada's Hispanics say immigration reform is their highest political priority, according to new data released Tuesday from the polling firm Latino Decisions. "It's not an abstract issue here," says professor David Damore, a political scientist at the University of Nevada at Las Vegas and analyst for Latino Decisions. When his organization has done polling asking people whether they know someone who is undocumented, roughly two-thirds of Nevada's registered Latino voters typically say yes, notes Damore. It's no surprise then, that Clinton and her allies are blanketing the airwaves and internet with ads that underscore her promises to overhaul the nation's immigration system and keep families together, rather than threatening to deport parents or other family members who are undocumented.
There are indicators that Hispanics are particularly engaged this election cycle. Las Vegas's powerful Culinary Union teamed with immigrant advocates to help 2,000 legal residents apply for naturalization in 2016 so they could vote in this fall's election, and noted that there was a 65 percent jump in the state's naturalization applications in the first half of the year. And Latino Decisions's weekly tracking poll has consistently found that, nationally, three-quarters or more of Latinos say they plan to vote in November. (That would be a jump from 2012, when only about half of eligible Latino voters showed up at the polls.)
To counter that trend, Trump needs to energize his base. To that end, he could return to his primary form on immigration Wednesday night, with positions on deportation that appeal to his most anti-immigrant supporters. But that tack could also risk bleeding more independents, who make up about 20 percent of Nevada's registered voters. And it could cause headaches for fellow Republicans running in Nevada, particularly Representative Joe Heck, who's locked in a tight race for the state's open Senate seat. Heck was one of a handful of Republican Senate candidates who disavowed Trump after the release of the 2005 Access Hollywood tape that caught the GOP nominee boasting about mistreating women. And he's taken a softer tone than Trump on immigration, speaking favorably about immigration reform even as he opposed President Obama's executive orders protecting some undocumented residents from deportation. "He's tried to thread the needle" on the issue, Damore says. He's also been doing outreach in Spanish-language media.
It's helped Heck outperform Trump among Hispanic voters in the polls—he trails Democrat Catherine Cortez Masto among Latino voters by roughly 30 percent, which is far better than Trump's 55 percent gap with Clinton among the state's Latinos. But a surge in Latino turnout to vote against Trump, or an exodus of GOP voters who stay home on Election Day in disgust, could also cost Heck and other down-ballot Republicans. Wednesday night will be Trump's last, best chance to shape how those voters behave.