Representative Debbie Dingell, a Michigan Democrat, warned her party on Tuesday to take former President Donald Trump's chances of winning the state in 2024 seriously.
Trump is currently the leading nominee for the 2024 Republican presidential nomination by a considerable margin, regularly pulling in nearly 50 percent support on average in national polls. A rematch between him and President Joe Biden is therefore widely expected to take place in next year's general election, with polls showing the two candidates neck-and-neck in a hypothetical matchup.
In the 2016 general election, Michigan went for Trump over Hillary Clinton by a slim margin of around 10,000 votes. In 2020, the state flipped and voted Biden over Trump by over 150,000 votes. Those results, and a number of other successes for Democrats across the ballot in the state, led many to reason that Michigan was transitioning from a battleground state to a solidly blue one.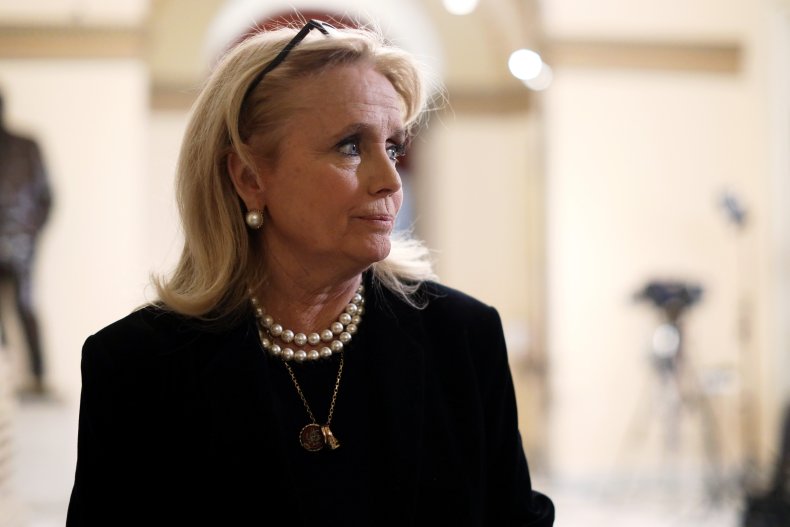 During a Tuesday appearance on CNN, Dingell, who has represented parts of Michigan in Congress since 2015, warned the Democratic Party not to presume victory in 2024.
"Everybody says Michigan's a blue state. Michigan is not. It is purple," Dingell said when pressed about how well Trump would do against Biden in the state if an election were held now. "It is a very competitive state. And Donald Trump would do well in Michigan right now."
"The election is a year away," she said. "We're in a very volatile time, but I'm not taking Michigan for granted. I've said that very strongly to many people."
Dingell was non-committal when asked whether Biden's re-election team should be putting a greater focus on Michigan ahead of 2024, but did say she believes the state has their attention.
Newsweek reached out to Dingell's office via email for comment.
Michigan Secretary of State Jocelyn Benson said last week that there is a "strong case" to be made that Trump is ineligible to hold office again under the 14th Amendment, an idea gaining steam in a few states. The amendment bars individuals from holding office if, during the course of holding a prior elected position, they engaged in, plotted, or aided an insurrection against the government.
"This is a really important discussion. I think the arguments for disqualification are quite strong but we also have to recognize we are in uncharted territory here and there are counterarguments on the other side that need to be explored," Benson said while urging that the decision to disqualify Trump must not be politically motivated.