'Safer at Home' Still Makes Sense Says Dr. Deborah Birx: 'We Can Make Public Spaces Safer'
The White House coronavirus response co-ordinator Dr. Deborah Birx has urged Americans to be "extra vigilant" by limiting their gatherings going into the Thanksgiving holiday and said that staying at home will make them safer from the coronavirus.
A month-long curfew banning all but essential gatherings in 41 counties in California between 10 p.m. and 5 a.m. starts on Saturday, affecting more than 90 percent of the Sunshine State's population.
When asked whether there was scientific evidence proving that curfews worked in curbing the spread of COVID, Birx told the Fox 11 podcast The Issue Is: "I don't ever second guess the governor."
"Governors know their unique situations in their states," she said, "we are seeing significant spread throughout California and something needs to be done now."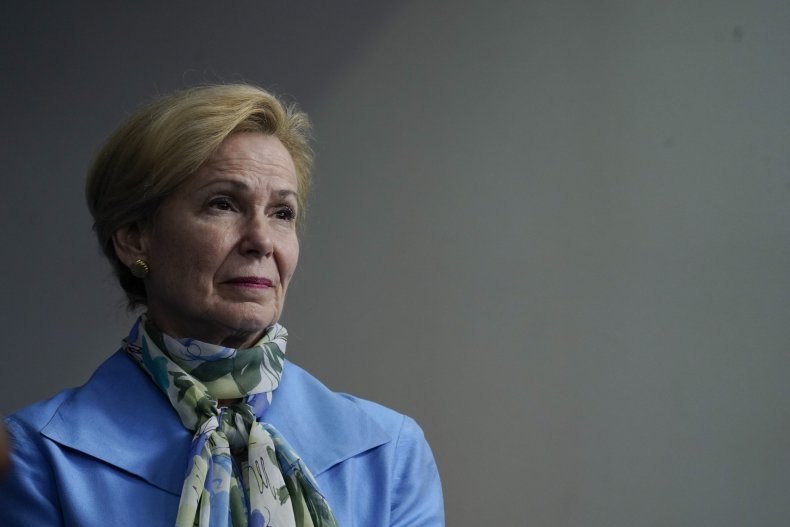 Birx believed that measures imposed nationally over the summer, such as limiting indoor dining, closing bars and restricting gyms as well as stopping personal social gatherings in households, did help stop the spread of the virus.
"We can do that again and we know that works," she said.
Questioned again about the scientific basis for curfews, she described how such restrictions worked in Miami where COVID was spreading in personal gatherings and "they weren't taking precautions."
"So It is really important, independent of whether you have a curfew or not have a curfew, we know what the drivers of these infections are and it does take each individual to decide that their family is special to them."
Host Elex Michaelson asked Birx about the efficacy of a "safer at home" model, which involved a "mass shutdown" such as that in Los Angeles county, or whether there should be "a more targeted approach."
Birx replied: "We learned across the south, that a very targeted approach works but it requires everyone buying into that. We can make public spaces safer, governors and mayors can do that —but they can't make your private space safer and that is really on all of us."
She said that it was important to physically distance and if people were going to be with others, "make sure it is outside with masks on" adding "that every time you go inside with people who are not part of your immediate household, you could be creating a viral spreading event."
Birx also admitted that she had not been in communication with the transition team of President-elect Joe Biden, telling Michaelson, "I haven't had that opportunity yet" but said that she was "available if they think I am useful."
When asked about her advice to the people of California, she said: "I know you want to see your friends and families, I know you want to get together but now is the moment to be extra vigilant."
The graphic below by Statista shows the number of coronavirus cases in the U.S.