Deborah Gibson is Moving on From Roy Moore by Running a Progressive Campaign for the Florida House
Four months ago, Florida resident Deborah Wesson Gibson found herself unexpectedly involved in an Alabama candidate's bid for Senate. That politician was Roy Moore, a Republican Gibson had dated when she was 17-year-old high school student and he was a 34-year-old assistant district attorney.
Gibson was hounded by major news outlets and, after the Washington Post published a story revealing a graduation card she said Moore wrote to her in 1981, she received a barrage of death threats that forced her into hiding for a week.
But Gibson would rather not dwell on all of that, even though it thrills her that Moore's campaign failed. She'd rather talk about her own campaign: Gibson is running to be a Florida state legislator.
The story of why she decided to run, however, isn't completely divorced from the story of how Gibson, who owns a company that provides sign language interpretation services, got implicated in a national political controversy. The 54-year-old said confronting her teenage relationship with Moore, and becoming part of the country's reckoning with sexual abuse, is part of what inspired her bid.
"Last fall was a touchpoint where we began to see the shift away from patriarchy and gender inequality and toward the realization that women are half of the population, but not half of our government representatives," Gibson told Newsweek. "I thought, why not?"
With #MeToo and the record number of women running for office in 2018, Gibson said she figured she'd take advantage of the current political climate, seeing her potential victory as the "silver lining" of the notoriety she gained from speaking out against Moore.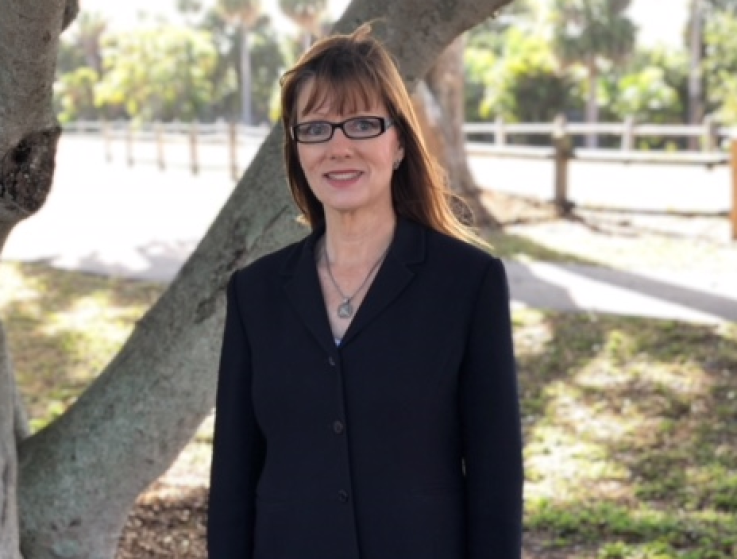 Gibson will be running for the Florida House as a non party-affiliated candidate, though she had hoped to renounce her longtime party affiliation—on paper, she was a Republican up until last month—to run on the Democratic ticket. Gibson said she learned that she'd missed the deadline to file the paperwork to run with Democrats, but that doesn't change her plans to run a progressive campaign.
Gibson hasn't identified with the Republican Party since the election of George W. Bush, she told Newsweek. And she especially doesn't identify with today's GOP, whose leaders have thrown their support behind not just Moore, but President Donald Trump, another man accused of sexual abuse. Plus, Gibson said she's always believed in equality, a principle she now sees as belonging more to the Democratic Party. She supports progressive causes and policies like single-payer health care, DACA and gun control — especially since a mass shooter in Parkland, Florida, just one county over, claimed 17 lives.
If elected, Gibson will focus on the deaf and hard of hearing community. She has already co-authored legislation advocating regulating sign language interpreters, some of whom she says provide services without a certification and end up perpetrating "an egregious level of harm" the general population knows little about. She's also ready to tackle local issues like beach nourishment, condominium height and overdevelopment in District 89.
Gibson said she feels solidarity with the other thousands of women across the country who have stepped up to run for office since Trump's election.
"Women find their voices individually, but collectively, the greatest push we can make against the Trump agenda is to jump into the arena," Gibson said.
Calling back to her Alabama roots, Gibson used a football metaphor to describe her hopes for the country's growing women's movements to create a permanent shift in politics and change a culture that has allowed sexual abuse to thrive.
"I'm from Alabama, where football rules," Gibson said. "We're third and short inside the 20—I don't want the field goal. I want the touch down."
Deborah Gibson is Moving on From Roy Moore by Running a Progressive Campaign for the Florida House | U.S.