Debt Collectors Would Be Blocked From Taking Stimulus Checks Under Proposal From Senate Dems
Debt collectors hoping to take the $1,400 stimulus checks from the bank accounts of those who owe them money could be out of luck if Senate Democrats are successful in passing a bill to prevent the practice.
Democratic Senators Ron Wyden (Ore.), Sherrod Brown (Ohio), Bob Menendez (N.J.) and Chris Van Hollen (Md.) introduced the bill on Wednesday. While many Americans have already received the $1,400 payments or are expected to soon, lawmakers and advocates have expressed concerns that those with debts could be vulnerable to garnishment from debt collection companies while they desperately need the relief that the checks are intended to provide amid the COVID-19 pandemic.
"For many families, the stimulus checks are a lifeline to help pay rent or a mortgage and put food on the table," Menendez said in a statement. "No predatory debt collector should be able to sweep in and swipe these funds from those who need it most. Congress must pass this bill without delay."
"Relief payments are intended for struggling families, not predatory private debt collectors," added Wyden. "Our legislation would ensure help gets to the folks who need it to pay rent and buy groceries. Senate Republicans supported this critical protection in the December relief package, and we hope to pass our bill right away."
Brown urged the House to "immediately" pass the bill, an amendment to President Joe Biden's $1.9 trillion American Rescue Plan. Van Hollen framed the amendment as part of a larger effort "to rein in predatory lenders and unscrupulous debt collection practices on a more permanent basis going forward."
It is not clear whether or when the House intends to address the proposed amendment. Newsweek reached out to the office Speaker of the House Nancy Pelosi (D-Calif.) for comment.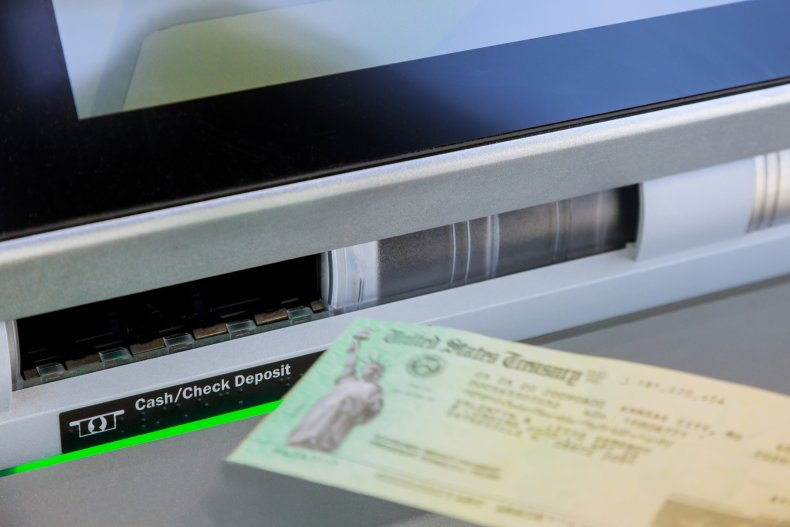 The new stimulus checks remain vulnerable to debt collectors that have already obtained court rulings against debtors pending the passage of any legislation that would prevent the practice. No protections were in place for the $1,200 payments passed last spring under the Coronavirus Aid, Relief and Economic Security Act, while a bill intended to add protections after the fact was not taken up by the Democratic-controlled House. Congress did include protections against garnishment for the $600 payments that passed late last December.
Similar protections were not already in place for the new round of payments because the bill was passed along strictly partisan lines, with no Republicans voting for the payments or anything else in the American Rescue Plan. The relief package was passed using the budget reconciliation process, which does not allow lawmakers to include provisions that have no impact on the federal budget.
While there are not yet any federal protections against debt collectors taking the $1,400 checks, some states have already imposed their own safeguards. The American Rescue Plan also did not include provisions regarding debts owed to the Internal Revenue Service, although the agency announced this week that it would use its discretion to not withhold the payments from those owing back taxes.
Correction 3/18, 4:59 p.m.: An earlier version of this story suggested that Congress had passed protections preventing debt collectors from seizing the $1,200 relief payments issued under the Coronavirus Aid, Relief and Economic Security Act in 2020. This article has been updated to reflect that no such protections were passed.