Debunking Conspiracy Theorists Who Believe the Dayton, Ohio Shooting Never Happened
For fire and conspiracy theories to start, a spark is required. On Sunday, the name and actions of Connor Betts was the match that struck an irrational theory based on coincidences and incoherent conjecture.
Outfitted with a tactical vest and a rifle with a high-capacity magazine equipped to hold up to 100 rounds, Connor Stephen Betts, 24, of Bellbrook, Ohio, was shot dead after police officers said he tried to enter a local bar, Ned Peppers. In his wake, nine people were left dead, including his sister, Megan Kathleen Betts, 22; while another 27 were injured — 14 by gunshot wounds, police officials said Monday.
But a fire needs fuel and oxygen to spread, and if Betts was the strike and spark, then the systemic belief of government-sponsored false flags and staged mass shooting were the kerosene-soaked rags that would spread the flame. The Mockingbird Internet fringe supplied the air as it did after other American tragedies in places like Newtown, Connecticut, and Parkland, Florida.
Mere moments after Connor Stephen Betts was identified as the gunman by news publications and law enforcement officials, fringe political influencers and individuals peddling the sprawling rightwing hoax known as QAnon took to the Internet to claim the shooting had been a manufactured ruse.
A false flag operation designed to deceive and manipulate. Others invoked President Donald Trump's "fake news" rhetoric and news organizations from CBS News to the New York Post were accused of being shoddy propagandists in the deception operation — and they had the evidence to prove it.
The conspiracy theorists had found an obituary for Connor D. Betts, 22, of Suffield, Connecticut. The article was written on February 23, 2014, by reporters of the Hartford Courant, a Pulitzer Prize-winning daily newspaper.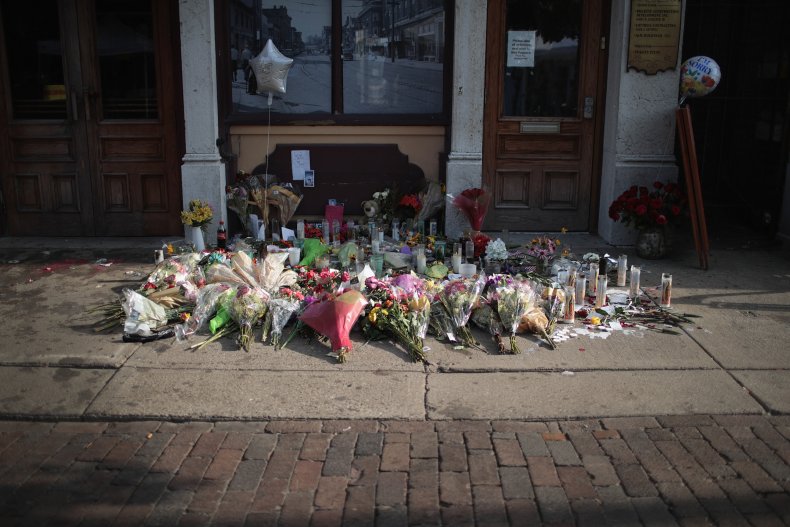 Robert D. Betts, the father of Connor D. Betts, was unaware that his son's death was being used to discredit Sunday's mass shooting when Newsweek contacted him by telephone on Monday.
"The names are just a coincidence," Robert D. Betts told Newsweek. "He died five years ago in a construction accident. It's unfortunate that people are linking my son's death to the Ohio shooting."
Robert D. Betts on Monday told Newsweek his son's death was well documented by journalists in 2014.
Connor D. Betts was killed on February 19, 2014, in South Windsor, Connecticut, after being electrocuted when attempting to clean out snow from the dump truck he was driving, according to NBC Connecticut, who reported the story back in February 2014.
Witnesses at the time said when the open-box bed of the dump truck was raised to clean out the snow, the bed made contact with live wires and energized the vehicles.
"The driver [Connor D. Betts] had exited the vehicle and made contact with his energized truck and was stricken and went down," South Windsor Police Lieutenant Scott Custer told NBC Connecticut in 2014.
Lloyd Folsom, Jr., 55, the owner of Folsom Construction, jumped out of his truck to help Connor D. Betts but was also electrocuted when he too touched the vehicle. Paramedics were unable to save either man. NBC Connecticut's reporting matched what Robert D. Betts told Newsweek via telephone on Monday.
The water continues to be poured on the proverbial fire when examining the family history of the two men and basic information about both Connor Stephen Betts, the Ohio gunman, and Connor D. Betts of Connecticut.
Connor Stephen Betts is 24 years old and was born in 1994, according to the Dayton Police Department, LexisNexis public record searches and electoral rolls, where he was registered to vote in Greene County, Ohio. Connor Stephen Betts took part in elections both before and after the death of Connor D. Betts.
Individuals advancing the phony theory bolstered their claim by suggesting the Megan Betts listed as the sister of Connor D. Betts in the obituary was the same Megan Betts gunned down on Sunday by Connor Stephen Betts.
While the first and last names of Megan Betts are the same, they are two separate people.
Megan Kathleen Betts was 22 at the time of her death. She was born in 1997 and resided at the same address as Connor Stephen Betts, her brother and the Ohio gunman, according to both the Dayton Police Department and LexisNexis public record searches.
Conversely, Megan B. Betts was born in 1984 and is more than a decade older than Megan Kathleen Betts, according to news archives, court records and LexisNexis public record searches. Newsweek also confirmed through Robert D. Betts, the father of Connor D. Betts.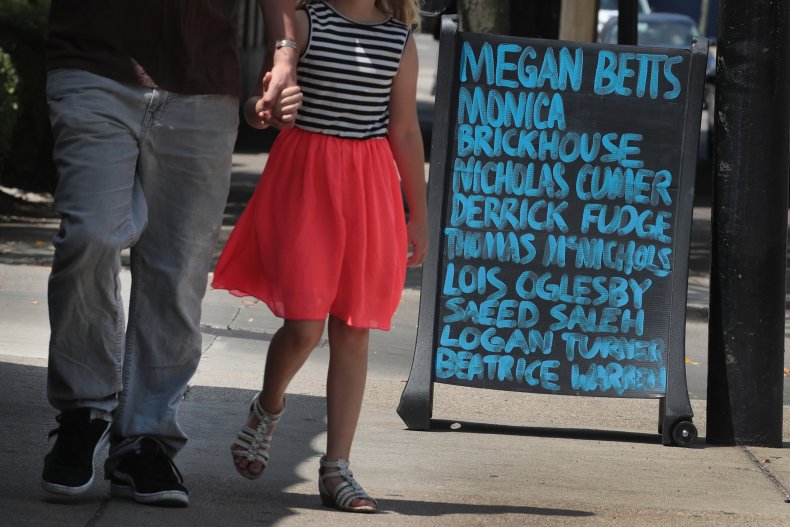 The theory also claimed that Connor D. Betts and Connor Stephen Betts had the same facial features and bone structure. On Monday, Newsweek reviewed a photographic tribute video dedicated to Connor D. Betts on the occasion of his untimely death in 2014. The full viewing of the video shows the distinction between the two men and further extinguishes the flames of absurdity.
The YouTube tribute video was taken down as of Tuesday morning. Google, which owns YouTube, told Newsweek via email that, "the video is unavailable because it was set to private by the user, not because of any action taken by YouTube."
The obituary on Legacy.com for Connor D. Betts was taken down by Carmon Community Funeral Homes of Windsor, Connecticut on Monday after an onslaught of rude and obscene comments were left on the obituary.
On Tuesday, a receptionist for the funeral home told Newsweek they had been fielding hundreds of calls from people inquiring about the similarities between Connor D. Betts and Connor Stephen Betts, the Ohio gunman, amid serving other grieving Connecticut families preparing to bury their loved ones — a task nine families in Dayton, Ohio share.
"It has been very frustrating," Frank Carmon, the owner of Carmon Community Funeral Homes told Newsweek on Tuesday by telephone. "We were forced to take down the obituary and contacted other newspapers and asked them to take it down because of the hundreds of hateful messages being left on this poor man's obituary."
"No family should have to read those hateful comments when reflecting on the loss of a loved one," said Carmon.
James LaPorta reports on national security and the Defense Department for Newsweek. In 2018, he covered the mass shooting at Marjory Stoneman Douglas High School from Parkland, Florida. You can follow him on Twitter @JimLaPorta.