Decapitated Alligator Found on Side of Florida Road, Local Says Chainsaw Was Used to Cut Head Off
Wildlife authorities in Florida are seeking information after a decapitated alligator was found on the side of a road—its head believed to be torn away with a chainsaw.
The Division of Law Enforcement with the Florida Fish and Wildlife Conversation Commission (FWC) is investigating the crime after receiving reports of the discovery on the side of Lorraine Road in Saratoga County on Monday.
Kimberly Kukich, a local television host and producer, was one of those to make the discovery. She took to Facebook to share her shock and outrage.
"I am appalled to see this," she said. "Driving to my parents I saw this. I stopped because I thought it was a large gator. It turned out to be someone decapitated the gator. Up close it looks like a chainsaw did it."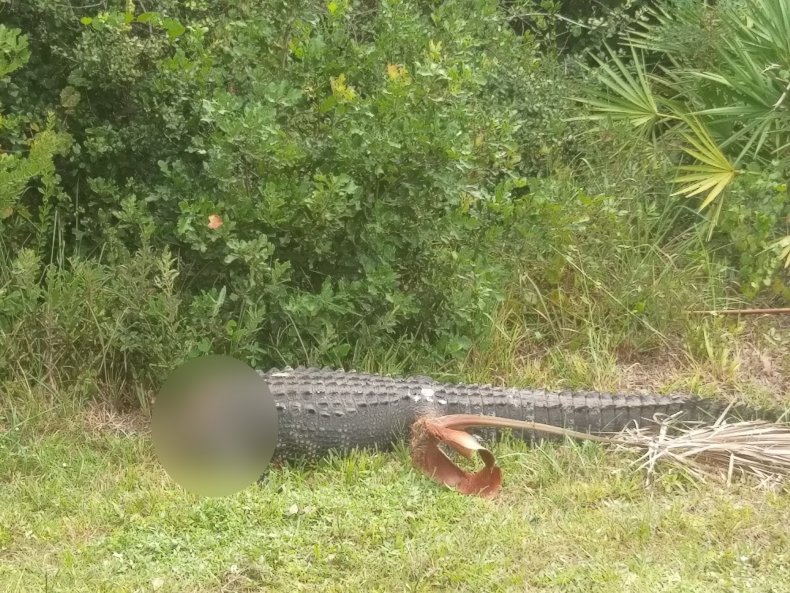 It is against the law to intentionally kill an alligator or be in possession of alligator parts, including the head, without proper authorization, the FWC reminded the public following the discovery.
The FWC does grant permits for hunting alligators where they are deemed to be a nuisance on private lands, in addition to hiring specialized contractors known as "nuisance alligator trappers" to hunt the reptile in state-wide areas where they are "unwanted or unwelcome."
It is estimated that 1.3 million American alligators live in Florida, with an additional 4 million thought to be living elsewhere in the southeast U.S.
Between 2012 and 2016, the FWC received an average of a 15,000 nuisance alligator complaints a year, according to a report by Channel 8 News in Florida. They prompted the wildlife authority to exterminate 7,000 alligators a year.
Kukich added that, in this instance, she believed that the culprits did not kill for animal control reasons, but simply to "show off."
"I think they wanted the head as a trophy," she said. "Anyone from Florida would have killed it and kept the whole thing. The gator meat, the gator leather, et cetera. They would have used it all.
"This is why I am so fired up. I don't want to start seeing this happening from copy cats."
She added that awareness of this type of incident will hopefully prevent others in the future from doing the same.
The FWC is calling for members of the public with information to come forward and call the FWC Wildlife Alert Hotline on 1-888-404-3922. It added that callers can remain anonymous and could be eligible for a reward.