Decapitated Animals Found in Texas Park Leave Locals Baffled
A series of gruesome discoveries found in a small neighborhood park has left residents baffled and demanding answers.
Since the beginning of this month, the heads of various animals have been reported by unsuspecting passersby in Briarbend Park, a community park located 10 miles west of Houston.
Last week, a woman said she found the head of a goat wrapped in a white dress next to a bag containing the heads of three roosters in a divot in the dirt.
"Right below the surface was a severed baby young goat's head, a package with three rooster heads and an egg, and a long white woman's cotton sundress that was burned," the woman, who asked not to be identified, told KHOU11.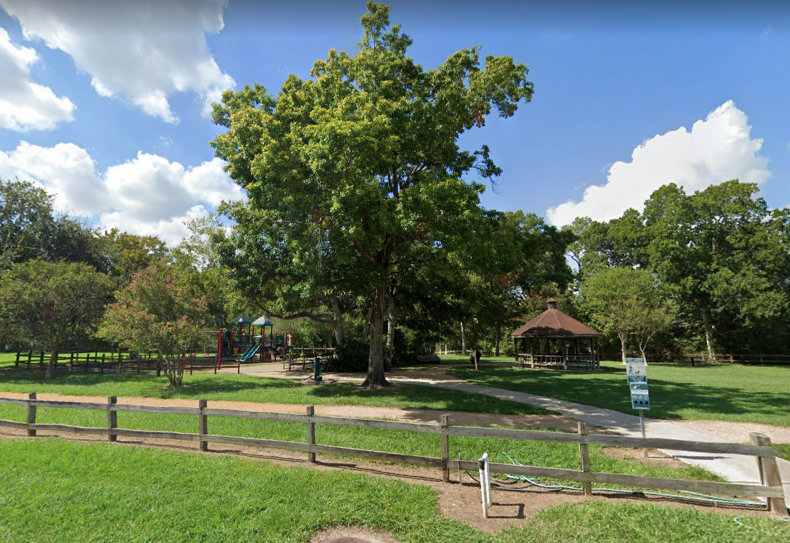 "I was obviously very shaken up. I couldn't believe my eyes. I ran up and called 911 right away."
A dispatcher advised the woman to call the city's parks and recreation department. Shortly after her report, she said a man from the department came out, took pictures and left. The animal body parts were gone soon after that.
After posting the grisly discovery on her Nextdoor app, others in the community replied they had also found dead animals in the area.
One neighbor posted a picture which he said was the body of a goat in a black trash bag, KHOU11 reported.
"Ritals?" the man asked alongside a photo of a black trash bag lying in the underground. "What kind of rituals are done in the bayou? (Briarbend Park). This looks like a goat but I hear that sometimes people leave dead chickens."
Another local woman said she had made similar discoveries in a park 11 miles west of Briarbend Park.
"I found a decapitated goat and two chickens laid with a bowl of fruit near the Bayou in George Bush park last month," the woman said in response to the recent reports. "I think this practice is Santeria."
"It's a safety concern," another neighbor added. "Not just for myself but everyone that lives in this community."
Houston police said the discoveries could fall under an animal cruelty investigation, adding they did not have any records of similar reports from Briarbend Park.
The park is a popular spot for families and young children, prompting concern among residents who are now calling for more lights and surveillance cameras in the park.
Newsweek has contacted the Houston parks and recreation department for comment.