Decapitated Animals Keep Getting Dumped at Neighborhood Intersection
Residents in a Houston, Texas, neighborhood have complained about decapitated animals being placed at an intersection and have called for the incidents to stop.
The bodies of a headless chicken and goat were found at the Tanglewilde and Fairdale intersection on Thursday night.
Residents told local media that they were confused by the act and said they don't understand why it has occurred in their neighborhood.
"8 o'clock we are walking and there is a box in the street," resident Callie Markantonis told KPRC-TV's Click 2 Houston.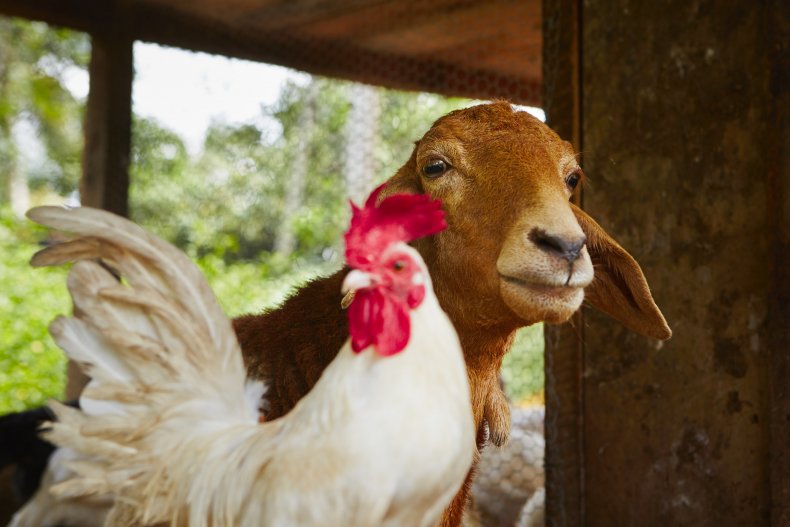 "I go over to look in the box, there is newspaper and I spread the newspaper and I see fur.
"There was a goat and chicken in the box, both of them headless. We don't know if it is a religious thing."
Markantonis also said that this incident is not a new issue and has been plaguing the area for over two years now.
"About two years ago, on this corner, two headless chickens, giant headless chickens in plastic bags on the street and we were all like 'okay that is strange.'
"Then it started happening every two or three months. Please stop dumping this in our neighborhood."
Other residents commented on the strangeness of the incident and the fact it was ongoing.
"It seems like some voodoo magic that somebody is doing, it doesn't belong over here," resident Jamal Erif said.
"Where are they cutting the heads off, right? Where are the heads at? Where are they doing it and why here?" a man, who did not give his name, told the outlet.
Security footage seen by the outlet shows a white car pull up at the intersection with the box on top of the car. A person then got out, took the box off the car and placed it on the floor.
They then got back into the car as it sped off down the street.
The Houston Society for the Prevention of Cruelty to Animals (SPCA) has also now launched an investigation into the incident, according to the Click 2 Houston report.
The Houston SPCA website details the organization's determination to ensure animals are free from exploitation and suffering.
"Community leaders established Houston SPCA nearly 100 years ago to meet the needs of animals in Houston, and we have always put their care and wellbeing first in everything we do.
"An iconic Houston nonprofit, our organization has grown along with our beloved city, and we have continually adapted our efforts to help the animals in our community best. Since our inception, Houston SPCA has saved and provided services for millions of animals."
Newsweek has contacted the Houston SPCA for comment.