Decapitated Carcass Left at DHS Staffer's Door Amid Heightened Threats
As the Trump administration continues to face widespread backlash over its "zero tolerance" immigration policy, which has seen thousands of families separated at the southern U.S. border, the Department of Homeland Security (DHS) has said its workers have faced an increasing number of violent threats.
In one recent case, a DHS staffer found a burned and decapitated animal carcass left on their front porch, an agency official confirmed to Newsweek.
In a memo to staffers on Saturday, Deputy DHS Secretary Claire Grady warned of an increase in the number of security threats against DHS employees, The Hill reported.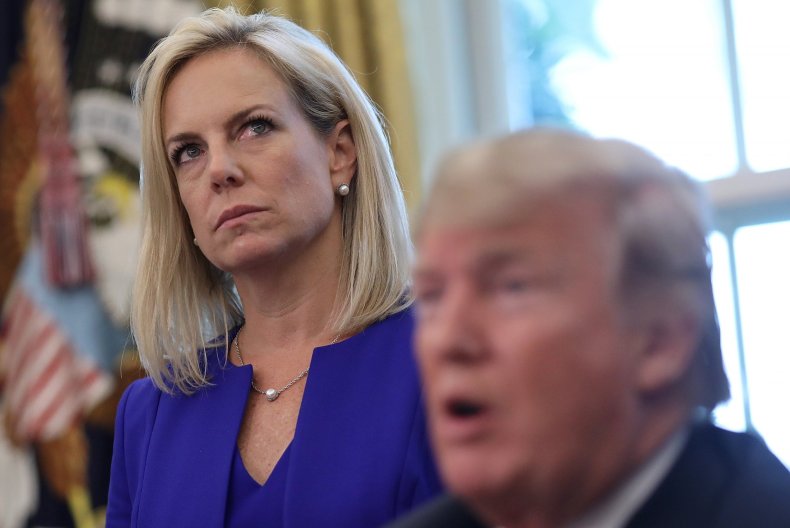 "Unfortunately, there are those who misconstrue your work in a negative way or seek to disrupt your work to advance outside agendas. As a result, sometimes our employees face threats," Grady wrote in the email, which was first obtained by Government Executive.
"In recent days, DHS has determined there may be a heightened threat against DHS employees in response to U.S. government actions surrounding immigration," Grady said in the memo.
She encouraged employees to reach out to law enforcement if they feel threatened and advised DHS workers to remove their agency badges while in public and exercise caution around what they post on social media.
The Trump administration has faced growing outrage over its hardline crackdown on undocumented immigrants, with President Donald Trump forced to rescind his administration's "zero tolerance" family separation policy last week after it sparked mass protests and received widespread condemnation from across the U.S. and around the world.
Just two days before the family separation policy was brought to an end, DHS Secretary Kirstjen Nielsen was heckled by a group of protesters while dining at Mexican restaurant in Washington, D.C.
Activists shouting "How do you sleep at night?" and "If kids don't eat in peace, you don't eat in peace," surrounded the DHS secretary as her security detail blocked them from reaching her table.
Nielsen eventually left the restaurant, later writing on Twitter: "I will work tirelessly until our broken immigration system is fixed, our borders are secure and families can stay together."
Despite her insistence that only Congress could fix the situation, Trump signed an executive order on June 20 bringing family separations to an immediate halt.
Representative Maxine Waters, a California Democrat, has faced criticism for comments made over the weekend encouraging supporters to confront and harass Trump administration officials spotted in public over the policy.
Speaking at a rally in Los Angeles over the weekend, Waters said: "Let's make sure we show up whenever we have to show up. And if you see anybody from that Cabinet in a restaurant, in a department store, at a gasoline station, you get out and you create a crowd. And you push back on them. And you tell them they're not welcome anymore, anywhere."
Trump responded to the comments on Monday, writing on Twitter: "Congresswoman Maxine Waters, an extraordinarily low-IQ person has become, together with Nancy Pelosi, the Face of the Democrat Party. She has just called for harm to supporters, of which there are many of the Make America Great Again movement. Be careful what you wish for, Max!"