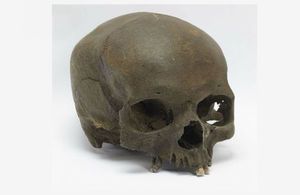 The head of a middle-aged woman who likely died more than 2,200 years ago during the Iron Age—and may have been decapitated as part of a prehistoric ritual—has been found in England.
A man named Roger Evans found the skull while walking his dog by the Sowy River in Somerset in March. The river is one in name only; it's part of a drainage channel created after serious flooding in 1960. After the skull was discovered, the government worked to get the water levels down to see if there was anything else hiding out. Unfortunately—or, perhaps, fortunately?—they didn't find any other human remains. But there were wooden posts; samples are currently been analyzed to see if they are also very old.
The water levels have been raised again "to provide a measure of protection to the timber posts and any other archaeological remains still in the channel," according to a press release from the U.K. Environment Agency.
Even before winding up in a drainage channel, the life of the woman, who archaeologists believe was older than 45 when she died, appeared to have been difficult by modern standards. She had severe gum disease and had lost a few teeth and wore down the rest. She also had serious arthritis in her jaw.
Then there's the matter of how she died. "The woman's head appears to have been deliberately removed at, or shortly after death," the press release stated.
Severed heads "are not an unusual discovery for the Iron Age, but the placement of the skull in a wetland beside a wooden structure is very rare, possibly reflecting a practice of making ritual offerings in watery environments," according to Richard Brunning, an archaeologist with the South West Heritage Trust who was quoted in the agency's press release. Indeed, another Iron Age skull found in York nearly 10 years ago was also thought to have been a ritual sacrifice; that skull came with some brain tissue still intact.
One of the most noteworthy "watery environments" in which human remains are found is bogs. A body found in a bog can be remarkably well-preserved. One such sacrificed man is known as the Lindow Man. However, as The Atlantic reported, there are hundreds of others.
Despite the potentially grisly circumstances surrounding the woman's death, Environment Agency archaeologist Stephen Dean said that the discovery is "a poignant reminder that, in looking to the future, the work we do must be informed by an understanding and respect for Somerset's rich cultural and natural heritage."