PR Boss Resigns Over Drunken 'Mistake' After Prince Harry and Meghan Markle Concert
A PR boss resigned over a "public and embarrassing mistake" while drunk after a charity concert backed by Prince Harry and Meghan Markle.
Teneo chief executive Declan Kelly was first removed from the board of concert organizers, Global Citizen, before resigning his post at his own company on Tuesday, June 29.
He said in a statement he had apologized to those affected by his actions after a concert where Prince Harry was given a standing ovation for a speech about compassion and humanity.
The Duke and Duchess of Sussex were campaign chairs for the event, which saw the Foo Fighters, Selena Gomez and Jennifer Lopez perform for key workers who had spent the previous year battling coronavirus.
President Joe Biden and the first lady recorded a message of support for the concert, intended to raise private sector funding to supply vaccines for developing world countries.
However, Kelly was accused of inappropriate behavior towards a number of women and men at a cocktail party afterwards, where Global Citizen board members and guests were present, the Financial Times reported.
Kelly released a statement on Teneo's website: "On May 2nd I made an inadvertent, public and embarrassing mistake for which I took full responsibility and apologized to those directly affected, as well as my colleagues and clients.
"A campaign against the reputation of our firm has followed and may even continue in the coming days.
"However, regardless of the veracity of any such matters I do not want them to be an ongoing distraction to the running of our company.
"In order to protect the employees of Teneo and its clients, and with my family's strong support, I have decided to leave the company and resign as Chairman and CEO."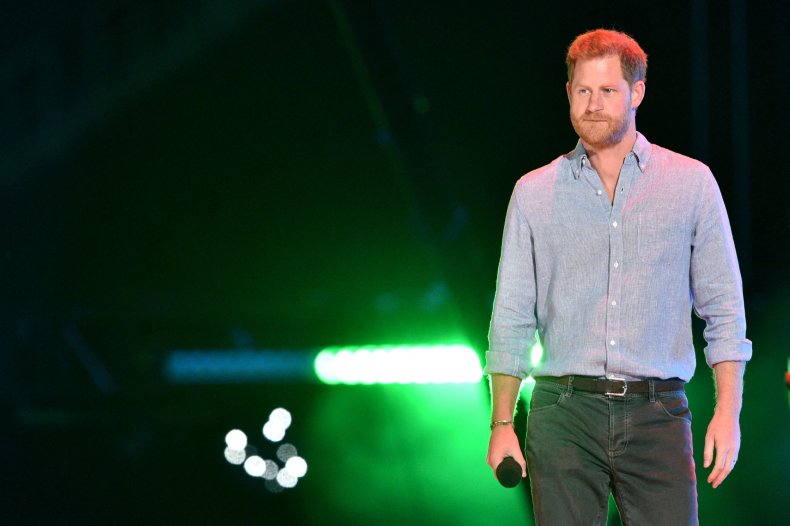 In Focus
Prince Harry, Jennifer Lopez and Selena Gomez were among star guests at the "Vax Live" fundraising concert at SoFi Stadium in Inglewood, California, on May 2, 2021. Declan Kelly resigned over a 'mistake' at a cocktail party afterwards.
Launch Slideshow

3 PHOTOS
Prince Harry's speech on the night spoke of empathy, compassion and humanity as he attempted to generate support for funding the global effort against the virus through COVAX.
The duke said: "None of us should be comfortable thinking that we could be fine when so many others are suffering. In reality, and especially with this pandemic, when any suffer, we all suffer.
"We must look beyond ourselves with empathy and compassion for those we know, and those we don't. We need to lift up all of humanity and make sure that no person or community is left behind."
Meghan, pregnant at the time, did not attend in person but filmed a message to be played alongside the recorded version of the concert, which was broadcast a week later.
Quoted by People, she said: "Women, and especially women of color, have seen a generation of economic gain wiped out. Since the pandemic began, nearly five-and-a-half million women have lost work in the U.S. And 47 million more women around the world are expected to slip into extreme poverty.
"My husband and I are thrilled to soon be welcoming a daughter. It's a feeling of joy we share with millions of other families around the world. When we think of her, we think of all the young women and girls around the globe who must be given the ability and the support to lead us forward."
Kelly was a significant enough figure in the Vax Live concert that he was personally named twice in the press release.
A spokesperson for Kelly told the Financial Times: "At a large cocktail party that evening attended by dozens of people including Global Citizen board members and guests, Mr Kelly became inebriated and behaved inappropriately towards some women and men at the event."
Update 6/30/21, 12:19 p.m. ET: This article has been updated for clarity on when the incident took place.