Newspaper boxes are ubiquitous along city streets, so it's easy to forget they're there. Sometimes made of metal, other times of plastic, some coin-operated or chained to street signs, the boxes tell a story of a changing industry in which consumers of news now carry around iPhones instead of coins and publications get thinner and thinner until they disappear.
In recent months, changes in print journalism markets hit New York City, Philadelphia and Seattle. Those cities, like others across the country, are all trying to figure out what to do with their newspaper boxes (sometimes called newspaper vending machines, newspaper racks, newsracks or honor boxes). In October, Philadelphia City Paper, which was available free of charge in orange metal boxes, went out of print. Days later, the Village Voice, which in New York City is made available in red plastic boxes, announced it had a new owner. This month, Seattle Weekly, in red metal boxes, reportedly laid off nearly a third of its employees because of costs.
Given the state of newspaper boxes in those cities, it's no surprise that publications are shifting strategy or shuttering altogether: In Philadelphia, where city code requires licenses for the boxes, there were 527 of them this year, the city says. A decade ago, the number was 1,401; In New York, where the Department of Transportation regulates the boxes, there were 10,000 registered this year, the city says. That's down from more than 12,500 registered just three years ago.
Seattle estimates it has 2,500 boxes but doesn't require licenses, which has made it easy for boxes to fall into disrepair. Responding to complaints by locals about the boxes, the city launched a web portal in September so that people can submit requests for maintenance or relocation directly to the publishers. So far there have been 59 submissions, the city says.
Print journalism insiders say the history of the boxes traces back to Kaspar Companies, founded under a different name in 1898 by August Kaspar. According to the company, August's son invented the first ever coin-operated newspaper vending machine, in the 1950s. In the decades that followed, it shipped 2 to 3 million units, the company says.
USA Today, founded in 1982, is widely credited with the newspaper box boom of the 1980s and early 1990s. The publication's white boxes, shaped like television sets, seemed to be everywhere. Kaspar Companies takes credit for manufacturing many or most of those boxes. "We were triple-shifting our factory, working around the clock. That was a wild couple of years," says CEO David Kaspar, the great-grandson of August. Business had been good before then, he adds, but USA Today "gave it a real shot in the arm."
A competing manufacturer, K-Jack Engineering Company, also takes credit for the USA Today boxes. "We couldn't get them out fast enough," says Steve Ruitenschild, sales manager at K-Jack. "It was very lucrative."
(The competition grew so heated that Kaspar Companies once sued K-Jack for patent infringement; a court ruled in favor of Kaspar Companies.)
"After USA Today launched, all the other papers started jumping on," says Kathy Kahng, owner of CityRax, which manages modular newspaper box units for business improvement districts.
Later in the 1990s, the tide turned. Newspaper box sales began dropping off and publishers cut locations. According to data collected by the Newspaper Association of America, in 1996, newspaper boxes accounted for about 46 percent of single-sale daily newspapers. In 2014, that percentage was down to 20. And in 2008, daily newspapers had on average 210 newspaper boxes. In 2014 the number was 128.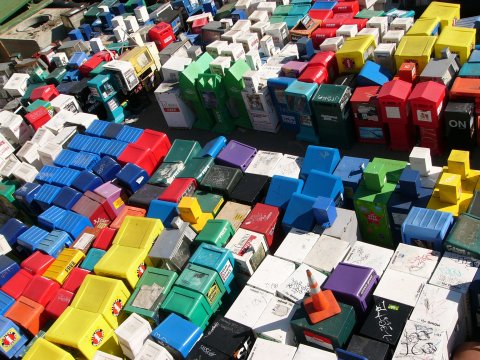 A 2009 CNN piece on the future of the boxes said The New York Times had 5,678 boxes at the time, down from 13,300 a decade earlier. Now, a spokeswoman for the Times tells Newsweek, the number in the entire country is 39. The publication has not purchased a new box in more than five years.
"It's not been a little decline," says Ruitenschild. "It's fallen off the cliff."
Publishers and box manufacturers blame different factors: the Internet and declining print readership; an increase in sales at indoor locations such as convenience stores; the recession; the rising price of single-sale newspapers. "Unless you're traveling to the laundromat, nobody walks around with eight quarters," Kahng says.
Even as recently as 2009, David Kaspar's father told CNN: "There'll be printed newspapers for years and years." But in August, Kaspar Companies abandoned the industry it had helped start half a century earlier. "It pretty much dried up...so we've moved on," David Kaspar says. "We weren't losing it to competitors, it just wasn't there anymore." Now the company, based in Shiner, Texas, focuses on metal pickup truck accessories and precious metals.
K-Jack has scaled back too. "We're lean and mean," Ruitenschild says. "We really cut it to the bone."
Some people don't feel so nostalgic for the heydey of the boxes. Community groups and city officials around the country have launched campaigns or been involved in lawsuits against publishers; at least two cases even went to the Supreme Court.
In 2011, Civitas, a nonprofit that monitors quality of life issues in New York City, drafted a petition to the city council, urging it to implement policies that would step up box maintenance and regulation. The organization's website features pictures of blighted newspaper racks.
"Most major cities really didn't even have any regulations for boxes. And cities were kind of scared of dealing with the publishers so they just kind of let it go," Kahng says. Now, however, "cities are getting more strict about having regulations and licenses."
Some cities say newspaper boxes must be of a certain color. San Francisco allows only fixed boxes and has a 20-year contract with Clear Channel Outdoor for modular units. (The Boston Globe once misidentified the resulting non-fixed newspaper box graveyard there as a sign of the recession.) In 2002, New York Mayor Michael Bloomberg called for more newspaper box regulations, which the city council passed. Last year, Seattle updated its vague regulations for where newspaper boxes could be placed and how they should be maintained.
K-Jack says metal boxes offering free papers typically cost between $200 and $400, and coin-operated ones can run $280 to $600. The costs don't end there. "Newsracks require multiple steps to maintain the delivery cycle. It begins with the delivery of newspapers each day, recording the number of daily sales and the collection of coins used by our readers to purchase the newspaper. Every layer of responsibility is an expense," Joe Schaechter, trustee of the Central States Circulation Managers Association, says by email.
John Murray, vice president of audience development at the Newspaper Association of America, says some publications have even gone "cold turkey"—that is, pulled all of their boxes. A webinar Murray organized in October on the subject of declining single-sales had "almost record attendance," he says.
Jay Sterin, general manager of Philadelphia Weekly, which acquired the intellectual property of Philadelphia City Paper, says they picked up most of the City Paper boxes and put them in storage. Others will be repurposed with the Weekly's logo.
Boxes aren't always so lucky. Tiffany Shackelford, executive director of the Association of Alternative Newsmedia, says that when a publication closes, some boxes get sold as assets or scrap. Others can be "left to languish until the city does something about them."
Because alternative newsweeklies, like the Village Voice, are typically free and don't rely on the boxes to make money, those publications see the boxes in a different, more affectionate light. "It certainly is one of the things that is great for morale," Shackelford says, of seeing the boxes along sidewalks. "In some of the smaller markets these are definitely sort of a nod and wink to those in the know that this is kind of a cool paper in town."
For other people in the journalism world, the boxes play an even more important function; as the Newseum has said, they are reminders of free speech and provide an essential way for journalists to disseminate it.