Declining Johnson & Johnson Vaccine Shots Is 'Inexplicable', Dr. Wen Tells Detroit Mayor
CNN medical analyst Dr. Leana Wen has said it would be "inexplicable" for leaders to refuse shipments of the Johnson & Johnson vaccine, after Detroit Mayor Mike Duggan suggested it was inferior to the Pfizer and Moderna versions.
During a news conference on Thursday, Duggan discussed his decision to turn down 6,200 doses of Johnson & Johnson's vaccine. He said: "So, Johnson & Johnson is a very good vaccine. Moderna and Pfizer are the best. And I am going to do everything I can to make sure the residents of the city of Detroit get the best."
Duggan has since appeared to walk back on his comment, calling all approved shots "highly effective," while the White House called the saga a "misunderstanding."
However, the mayor's initial comments were a cause of concern both for Wen and another CNN medical contributor, Dr. Jonathan Reiner.
"It's wrong," Wen said, when asked about the mayor's initial remark. "I mean, there are residents in his city who are being offered a life jacket and he's saying, I'm not gonna take these life jackets because I don't like the color. I mean, that's essentially what's happening because these are all safe and highly effective vaccines.
"I think right now the message should be: take the life jacket that you're offered. If we find out later that another life jacket is even better, take that life jacket then. But why do you let people drown in the meantime?
"Give people the option to survive now and that means getting the vaccine that we have access to right now. Johnson & Johnson has many distinct advantages, too, including being one shot and so, people who don't like needles, people who don't want the inconvenience of coming back for a second shot, people who want to be fully vaccinated sooner, there's a real advantage for them," she said.
The graphic below, provided by Statista, shows how vaccine progress has spiked optimism among Americans.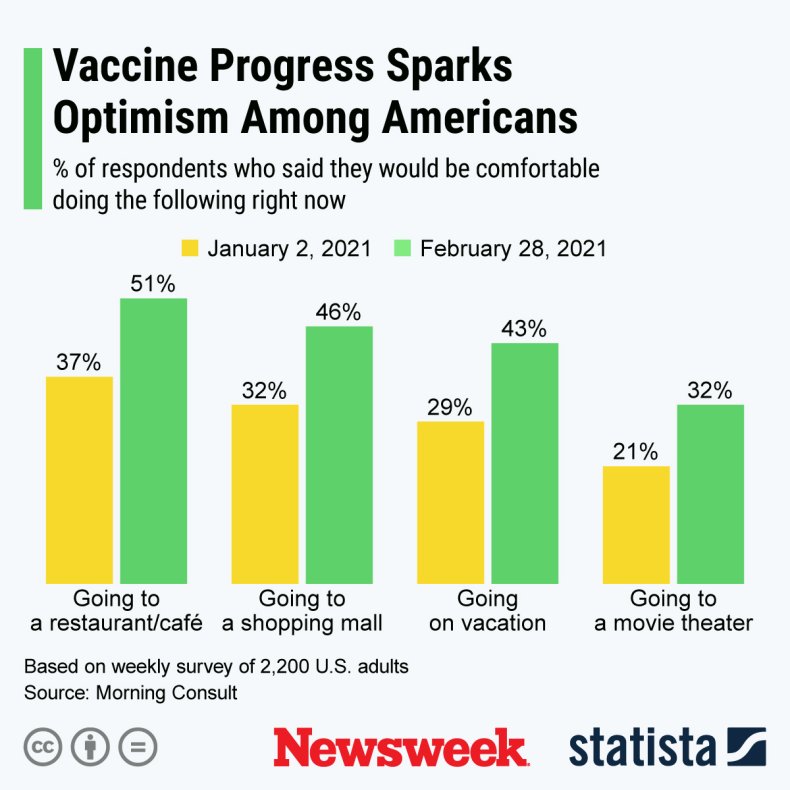 "And so, it's really inexplicable and I think irresponsible for Mayor Duggan and for others who are making that kind of decision to turn down a safe and highly effective vaccine."
Bolduan noted that Wen participated in the Johnson & Johnson trial.
In a separate discussion, Reiner also criticized Duggan's initial remarks, telling Bolduan they had been "sadly ignorant."
"The only number that people need to know about the J&J vaccine is 100. It's 100 percent effective in that clinical trial in preventing hospitalization and death," he said.
Amid the backlash, Duggan later said Detroit was "excited that there are now three highly effective vaccines that will save lives."
He added: "The data from the clinical trials is clear - the FDA, the CDC and Dr. [Anthony] Fauci all have been clear. Pfizer, Moderna and Johnson & Johnson are all highly effective at what we care about most, which is preventing hospitalizations and deaths."