Decomposing Bodies of Mexico's Drug War Victims Left to Rot on City Outskirts
Residents of Mexico's second city had complained of the smell coming from a refrigerated truck that carried the corpses of drug cartel victims.
The decade-long drug war in the country pushed its murder rate to a record high of more than 31,000 in 2017, according to the Mexican National Institute of Statistics and Geography.
In Guadalajara, the capital of Jalisco state, the morgue was so full that a trailer of 157 bodies was parked at a warehouse on the outskirts of the city, Reuters reported.
Residents complained of a bad smell coming from the trailer, which was attracting flies. The state authorities moved it to a suburb farther from the city, but this sparked even more complaints.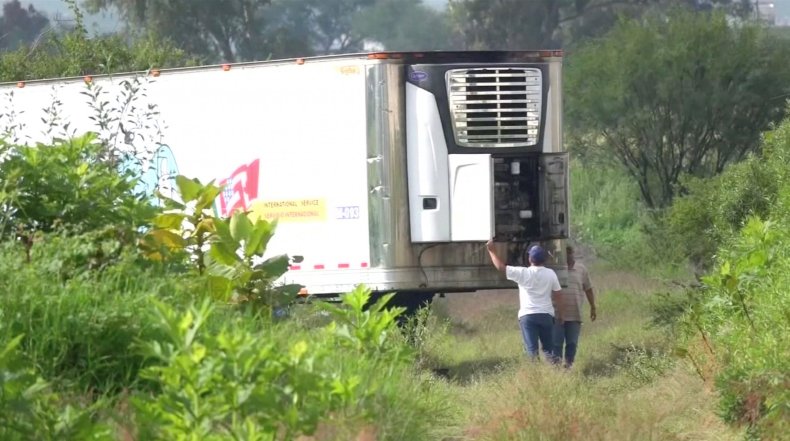 Resident Patricia Jimenez said: "This affects our kids. It smells horrible and the longer it stays it's going to stink even worse."
Guadalupe Vázquez told CNN: "The odor would come in waves. Something else that was suspicious was that patrol cars were always there guarding and at night dogs would bark and a lot of flies."
The identities of the bodies were not known, but Mexican media reported they were victims of organized crime. The trailer has now been moved close to the state's attorney general's office.
Jalisco State General Secretary Roberto López said he had opened an investigation and work was underway on a new morgue, which could initially hold 700 bodies.
"I have instructed the Jalisco State executive commission to act urgently and make sure that the rights of the victims are honored," he tweeted.
Jalisco is home to one of the country's most violent drug gangs, Jalisco New Generation Cartel. According to the Mexican government, there were 1,369 homicides last year.
The country's president-elect, Andres Manuel Lopez Obrador, has vowed to pursue a peace plan that would involve international rights groups, the United Nations and local groups.to tackle the murder rate.
Last month, the U.S. State Department issued a level two travel advisory for Mexico after a number of bodies were discovered in the beach resort city of Cancun.