Decorated U.S. Army Green Beret Charged With Murder After Admitting Killing Man in Fox News Interview
A decorated U.S. Army Green Beret has been charged with murdering an Afghan man, after admitting the killing in a Fox News interview.
U.S. Army Special Operations Command spokesman Lieutenant Colonel Loren Bymer said in a statement: "Major Matthew Golsteyn's immediate commander has determined that sufficient evidence exists to warrant the preferral of charges against him."
"Major Golsteyn is being charged with the murder of an Afghan male during his 2010 deployment to Afghanistan," Bymer wrote.
Major Golsteyn's lawyer, Phil Stackhouse, told media outlets he would be "relentless" in defending his client from the charges, which he was notified of on Thursday.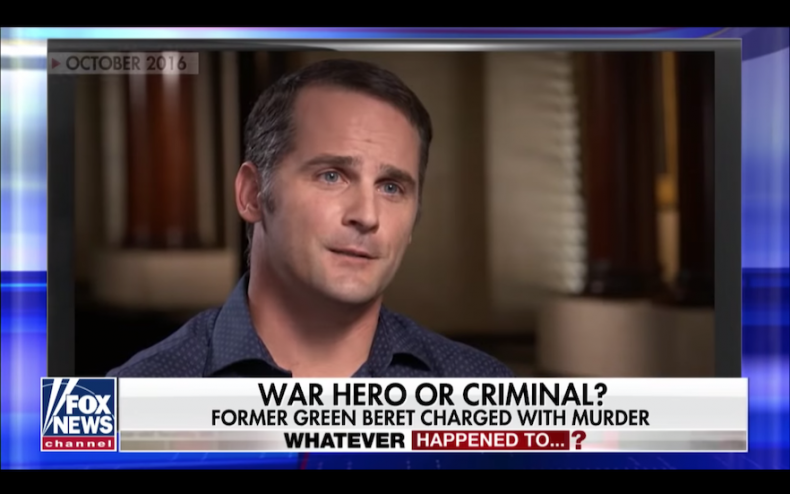 "Major Golsteyn is a humble servant-leader who saved countless lives, both American and Afghan, and has been recognized repeatedly for his valorous actions," Stackhouse said.
Golsteyn killed the man he claimed was a Taliban bomb maker during deployment to Afghanistan in 2010.
For his service Golsteyn was in 2011 awarded a Silver Star, the nation's third highest award for valor. The award was later upgraded to a Distinguished Service Cross, the nation's second highest decoration for valor.
Golsteyn admitted the killing in a 2010 interview for a job with the CIA, reported NBC News. During polygraph test, he said that with another U.S. soldier he had taken an Afghan man he described as a suspected Taliban bomb maker from a U.S. base, shot him, and buried his body.
The Army Criminal Investigation Command launched a probe into the killing in 2011, which concluded in 2014 with Golsteyn being stripped of his Special Forces tab and decorations, but with no criminal charges filed because of lack of evidence.
He discussed the killing again in a Fox New interview in 2016.
He told anchor Chris Baier during a special report entitled How We Fight that he was concerned the Afghan man would if freed provide the Taliban with information for them to kill Afghans working with the U.S.
Baier asked Golsteyn if he'd killed the man. "Yes," Golsteyn replied.
The interview led to the investigation into the killing re-opened.
In comments to NBC News, Golsteyn said he had done nothing wrong.
"I have had commanders look me in the face and tell me I have done nothing wrong," Golsteyn said.
According to the Army Times, Golsteyn was placed on leave during the investigation but has returned to active duty.
He is charged with first degree murder, which carries the death penalty.