Decreasing Number of Americans Say They're Likely to Shelter in Place, as U.S. Sees Surge in COVID Cases
A decreasing number of Americans said that they're likely to shelter in place amid COVID-19 cases increasing across the U.S., according to a new poll.
The Gallup study found only 49 percent of them said that they are very likely to stay at home for a month, if recommended by public health officials, due to rising cases of the novel coronavirus.
That number is a decrease from a previous survey—conducted from March 30 to April 5—which found 67 percent of Americans saying they were very likely to stay home for a month.
According to the poll, 18 percent said they somewhat likely to shelter in place for a month, while 33 percent said they were very or somewhat unlikely.
The percentage of Americans who said they were very or somewhat unlikely to stay home for a month is an increase from the previous poll conducted in late-March, which found only 15 percent saying the same.
Gallup surveyed 2,985 U.S. adults from October 19 to November 1, and reported a margin of error of plus or minus 3 percentage points.
The poll results come as cases of the novel virus have continued to surge in the U.S. According to data from Johns Hopkins University, the U.S. has recorded over 1.2 million new cases of the novel coronavirus since the beginning of November with daily case counts surpassing 100,000 in all but two days.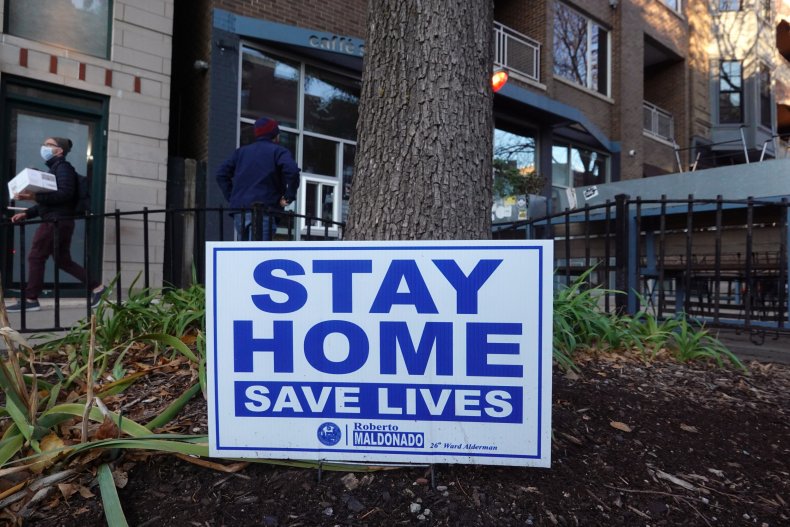 Health officials across the U.S. have warned that an increase in COVID-19 cases could cause another shutdown.
On Wednesday, New York Governor Andrew Cuomo announced new protocols to mitigate the spread of the virus—ordering all bars, gyms and restaurants to close by 10 p.m., and limiting social gatherings to 10 people.
On Tuesday, a member of Joe Biden's new coronavirus advisory board said that the U.S. should "not be at all surprised when we hit 200,000 cases a day."
Amid the increasing COVID-19 cases, the poll also found a majority of Americans—61 percent—saying that the coronavirus situation is getting worse. On the other hand, 23 percent said it is getting better.
Additionally, the poll found a declining number of Americans who said that they're engaging in extreme social distancing measures. About 38 percent reported they have remained completely or mostly isolated from others in the past 24 hours—a significant drop from the 69 percent who said the same in mid-April.
Thirty-five percent said they have isolated a little or not at all, and 27 percent said that they have remained partially isolated in the past day.
Newsweek reached out to the Department of Health and Human Services for comment, but did not receive a response in time for publication.