Dee Snider Doesn't Want Anti-Maskers Singing 'We're Not Gonna Take It'
Twisted Sister frontman Dee Snider isn't gonna take it if you're an anti-masker using his song to rebel against wearing a mask. Upon seeing a video of a group of anti-maskers in a Florida Target, Snider called them out for playing his band's 1984 hit.
The video Snider shared features a group of anti-maskers marching through the aisles of a Florida Target, calling on people to remove their masks like they're Oprah giving out cars to her studio audience. "Take your mask off! We're not doing it. Take off your mask! We're not doing it," one person in the video yells while pointing down aisles and cheering. Another woman screams, "We're not gonna take it anymore." She then proceeds to sing the melody to Twister Sister's signature song, as it plays from a speaker.
At one point someone, presumably the person filming, calls them "F**king idiots."
Snider absolutely agrees with the person filming the video. In his tweet, he said that even though "We're Not Gonna Take It" is a song about rebellion, troubling anti-mask protests aren't what he had in mind. "These selfish a******s do not have my permission or blessing to use my song for their moronic cause," he wrote, including the hashtag "#cutthes**t."
Twisted Sister founding guitarist Jay Jay French told Newsweek that people have used the song for a number of causes over the years. "The use of any group using 'We're Not Gonna Take It' is not unusual to us, going on for 35 years. It's been used by the left and the right and everything in between. It's the world's number one protest song," he said over the phone on Thursday.
Still, French said that he was upset by the people in the video using the song. "If you're asking me personally how I feel about that song being used in this particular case: I think it's sad and unfortunate. It certainly does not speak to the band's position about this," he said.
On Wednesday, Snider also quote-tweeted someone who explained why they wear a mask, which simply boils down to: if there's a chance you could spread the virus, why risk it? Snider shared the tweet to say that he agreed.
Speaking to Newsweek, French compared wearing a mask with other laws that Americans regularly follow without conflict. "I think it's sad when people conflate personal rights issues with health, and this is a health issue," he said. "It's no different than you can't smoke in a restaurant, and you have to drive 55 miles an hour, and you have to wear a seatbelt. These are things that we do to [protect] the health of Americans, and we are no different."
The guitarist criticized people for trying to politicize the virus. "It's not a political issue. It's being made to be a political issue by irresponsible politicians. That is sad. When I get people who email me, and they say things like, 'Live free or die' in relation to wearing a mask, my response is: 'Well, you can live free, and you very well may die. You're making it difficult for the rest of us to lead healthy lives, because you're being irresponsible,'" French said.
In a 2015 interview with TMZ, Snider pivoted a conversation about the then-upcoming 2016 election and said why he was okay with President Donald Trump using the song in his election campaign. "Donald Trump is a good friend and a great guy, and I support him turning the political system on its head. The song 'We're Not Gonna Take It' is a song about rebellion, and there's nothing more rebellious than what Donald Trump is doing right now. Although, Bernie Sanders could use it as well. He's turning things upside down as well," he said.
At the time, Snider also explained that he may have disagreed with Trump, but still felt it was a suitable song for his campaign, even if he wasn't necessarily supporting the campaign. "I don't necessarily agree with every single thing Donald Trump says, but I do support his spirit, his attitude. People are just—they've had all they can stand, and they're not gonna take it anymore. So 'We're Not Gonna Take It' is the perfect song," he said.
Despite initially offering his blessing, Snider said in a Rock and Roll Hall of Fame interview that, after a few months, he called Trump and asked him to stop, and he did.
French told Newsweek that even though the band did not sign off on the song first being used by Trump, it's led to an unintentional affiliation. "We don't own the rights to the song any longer, however, we are forever aligned with the song, and its use creates the impression that we support the person who is using it," he said.
It also appears that Snider's friendship with Trump may have soured. In a July Twitter thread, Snider called Trump a "commie loving traitor" and criticized his supporters.
In an August interview with Loudwire, the singer called for people to vote Trump out of office. "If it can fog a mirror, vote for it," Snider said. "This guy is not a patriot. He's a commie-sympathizer. He's anti-American."
French also said on the phone that even though he and Snider have been vocal about their opposition to Trump, it only reflects their personal opinions."In general, the band remains officially apolitical. However, Dee and I have both gone on record as opposing his re-election, and I don't mind that it's out there. However, the band itself makes no proclamation. If someone asks me, 'How do you feel about it?' I say, 'I think he's the worst thing that ever happened to the United States of America.' That's my opinion, and if our fans hate us for that, then so be it. That's the nature of choice in this world," he said.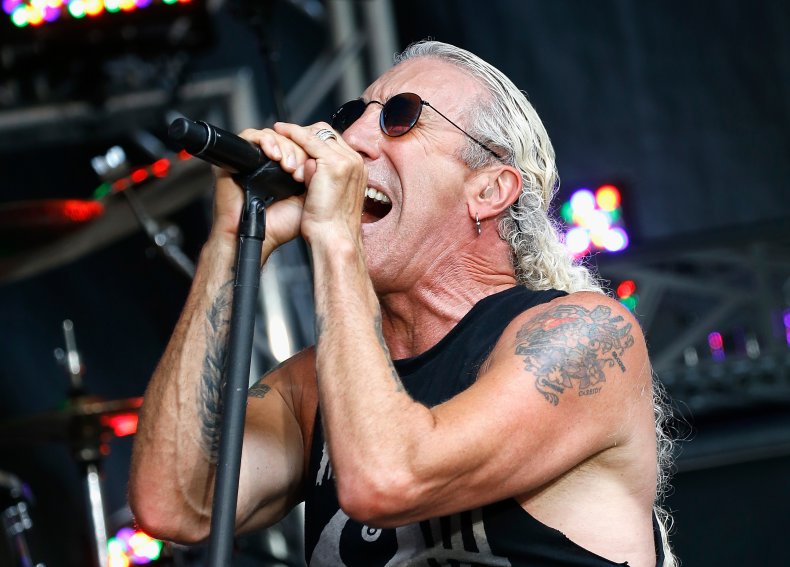 Update 9/17/20 2:01 p.m. EST: This story has been updated to include comment from Jay Jay French, which was obtained after the story originally published.