Deep Dive Jet Stream Threatens Season's First Snowstorm in Rockies, High Plains; More Heat in East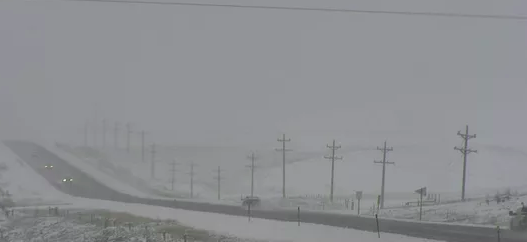 It's October so a break from the summer weather pattern is expected. But the jet stream is taking an unusually deep dive by this weekend. The result could be an early October snowstorm for the Rockies and High Plains next week as cold air from the dip mixes with moisture.
The big jet stream dip, forecast to reach from the Rockies all the way to Baja California, will also bring heavy rain and severe storms to the central U.S. while keeping temperatures above average to the East.
The jet stream is strong winds above the earth's surface that guide weather patterns. Weather expert Dr. Michael Ventrice of The Weather Company noted in a Tweet that it is "not common" for a jet stream this time of year to reach into Mexico. The deep dip will keep a ridge riding high to the east, creating a classic weather-shaping V across the U.S. starting late this week. The result will be weather extremes – a potential snowstorm in the west and heat to the east.
"When such an exaggerated north-to-south-oriented jet stream pattern takes shape during the fall, it typically results in a dichotomy of weather conditions across the United States," reported weather.com's Chris Dolce. "Temperatures are usually split between colder-than-average and warmer-than-average. In this case, above-average high temperatures are forecast late this week and into the weekend and early next week from the Southeast into the Ohio Valley and mid-Atlantic."
Already, some U.S. areas have picked up early snowfalls. For instance, it snowed 1.4 inches in Billings, Montana last week, recording the cities first measurable September snowfall in almost two decades. But this strong jet stream dip will generate something much bigger across the Rockies and High Plains, forecaster Jonathan Erdman of The Weather Channel said.
"Our forecast guidance suggests a sharp, southward plunge of the jet stream will carve out over West by this weekend," Erdman said. "As this happens, just enough cold air will ooze southward from Canada. Surface low pressure developing east of the Rockies will pump moisture northward from the Gulf of Mexico and wrap into the cold air being lifted up the slope of the High Plains."
Some light snow is expected to fall in the northern Rockies and along the U.S.-Canada border today through Friday but that's just a precursor to a larger snowstorm that could develop. Erdman said its still early to predict precisely where the heaviest snow will fall but that heavy snow is likely starting this weekend and into next week over "the higher peaks of the northern and central Rockies, from Montana and Idaho to Utah and Colorado" and that accumulating, possibly heavy snow, may fall starting Sunday "over the adjacent High Plains, from Montana and Wyoming to the western Dakotas.
"This snow may spread as far south as parts of the Plains of western Nebraska and northeastern Colorado, depending on how far south air cold enough for snow spreads," Erdman said.
if an intense snowstorm does develop, strong winds will likely combine with wet snow to threaten trees and power lines across the region.
In the East, weekend temperatures will approach 90 degrees in Atlanta, Georgia, the mid-80s in Charlotte, North Carolina, and 80 degrees in New York City. Central states facing severe weather include northern Texas, Oklahoma, and Nebraska.