A vast majority of Americans across the political spectrum not only believe a "Deep State" exists within the U.S. government, but also that it actively and secretly controls and regulates policy, according to a new poll released Monday.
Seventy-four percent of respondents stated they believed the Deep State, a term for the idea of unelected officials who allegedly manipulate the government behind the scenes, exists, the latest Monmouth University Poll showed.
Most respondents did not know what the term meant at first, but when told stated they believed it to be real. Only 27 percent stated it "definitely exists," but another 47 percent stated it "probably exists." Just 16 percent said it likely did not exist, and five percent not at all. Republicans and Independents are more likely than Democrats to believe in the Deep State.
"This is a worrisome finding. The strength of our government relies on public faith in protecting our freedoms, which is not particularly robust. And it's not a Democratic or Republican issue. These concerns span the political spectrum," director of the independent Monmouth University Polling Institute Patrick Murray said in a statement.
The poll also showed that eight in 10 Americans believe the U.S. government to be actively spying on citizens. It was conducted between March 2 and 5 and drew results from 803 U.S. adults, with a margin of error of 3.5 percentage points.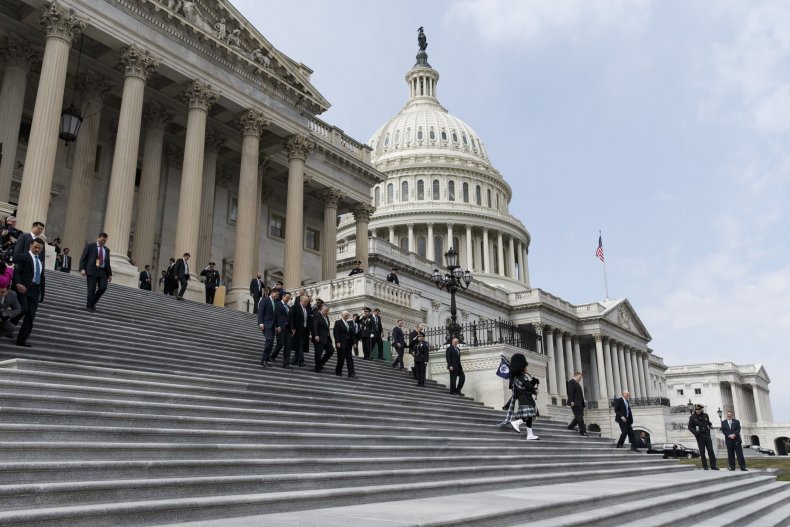 The term "Deep State" entered into the political discourse due to both politicians and the media. President Donald Trump, a Republican, has often directly used the term to attack government agencies he thinks did not fully investigate his political foe, Democrat Hillary Clinton.
"Crooked Hillary Clinton's top aid, Huma Abedin, has been accused of disregarding basic security protocols. She put Classified Passwords into the hands of foreign agents. Remember sailors pictures on submarine? Jail! Deep State Justice Dept must finally act? Also on Comey & others," Trump tweeted January 2.
Fox News host Sean Hannity, who frequently receives praise from Trump, last week accused now-former Deputy FBI Director Andrew McCabe of being a member of the Deep State over his handling of Clinton's private email server probe.
"When it comes to firing Andrew McCabe, the Attorney General should not be contemplating a decision here, because the answer is obvious, and the facts are staring Sessions right in the face," Hannity said just days before Sessions fired McCabe. "McCabe is corrupt and he's as crooked as they come. He is one of those Deep State actors that we have been telling you about and he needs to be held accountable."