'Deeply Disturbing': National Guard Officer Tears Apart Trump's Account of Lafayette Photo Op
A National Guard major who is scheduled to speak with congressional lawmakers Tuesday morning said in written testimony he found law enforcement's use of force against demonstrators in Washington, D.C.'s Lafayette Square on June 1 "deeply disturbing."
The incident, which gained widespread media coverage at the time, began at around 6:30 p.m. local time as U.S. Park Police units started forcibly clearing peaceful demonstrators from the square, according to Major Adam DeMarco's account. DeMarco said no National Guard members participated in forcibly removing any of the protesters.
Before his appearance before the House Committee on Natural Resources, DeMarco wrote that he was surprised when law enforcement began clearing the area with 40 minutes to go before the city's official 7 p.m. curfew. D.C. Mayor Muriel Bowser introduced the curfew in response to the wave of protests spreading across the nation after the death of George Floyd, a Black man who died while in Minneapolis police custody, a week earlier.
"At no time did I feel threatened by the protestors or assess them to be violent," DeMarco's testimony said, citing his past experience serving in combat deployment operations overseas.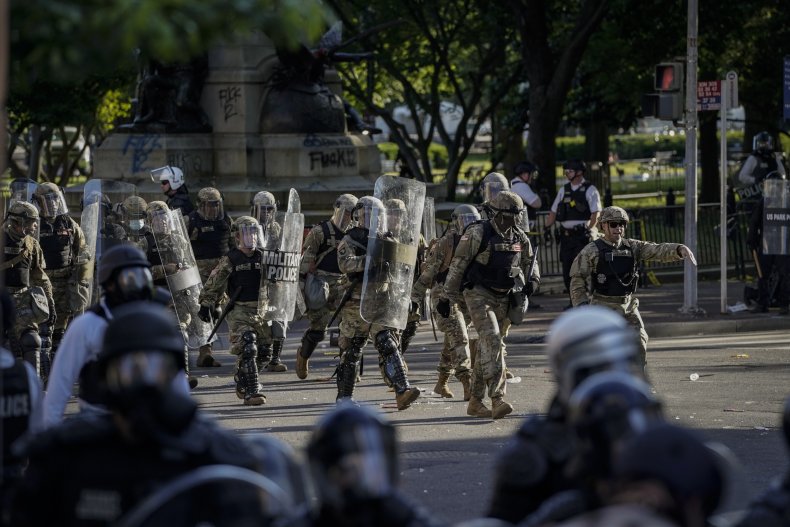 In addition to the early clearing of protesters, DeMarco said he was surprised that tear gas was used in the ensuing clash. The U.S. Secret Service and the U.S. Park Service denied using tear gas against the protesters, but DeMarco said he personally experienced the effects of tear gas while in Lafayette Square on that date. He also said he saw used tear gas canisters on the ground later that evening.
DeMarco's testimony will follow that of Acting Chief Gregory Monahan of the U.S. Park Police, who said he saw protesters throwing objects at law enforcement in Lafayette Square in the days leading up to the June 1 events. Monahan said that 50 Park Service officers were injured in clashes with protesters between May 29 and June 1 in the square, and that 11 of those individuals had to be transported to a hospital.
"The unprecedented and sustained nature of the violence and destruction associated with some of the activities in Lafayette Park and surrounding park areas immediate and adjacent to the White House required de-escalation," Monahan said in his prepared testimony.
As for the events on June 1, Monahan said the officers' actions "centered around public safety and the safety of my officers."
According to DeMarco, the warnings law enforcement gave protesters to clear the area were not loud enough for everyone to hear. About 10 minutes before officers began clearing the area, DeMarco said, a megaphone was used about 50 yards away from the protesters to tell them to leave.
"From where I was standing, approximately 20 yards from the demonstrators, the announcements were barely audible, and I saw no indication that the demonstrators were cognizant of the warnings to disperse," he said.
By 6:30 p.m., the Park Police, the Secret Service and "other law enforcement agents I was unable to identify" began forcibly clearing the space, DeMarco said. That was when DeMarco said he began noticing the effects of tear gas.
Once the curfew officially went into effect at 7 p.m., DeMarco said, he was surprised to see President Donald Trump arrive a few minutes later. "The president's arrival was a complete surprise, as we had not been briefed that he would enter our sector," DeMarco said.
The events at Lafayette Park came as Trump was addressing the American people for the first time since Floyd's death. During his address, the president threatened to use federal forces against protesters, whom he referred to as "anarchists," "rioters," "criminals" and more. After his speech, Trump walked across Lafayette Square to take a photo in front of St. John's Episcopal Church.
Though Republicans largely defended the president's actions that evening, critics questioned whether the clearing of peaceful protesters in Lafayette Square was meant to be a display of force by the president. At the beginning of Tuesday's hearing, Committee Chair Raúl Grijalva said legislators would seek more information to determine why the order to clear the nonviolent protesters was made and why.
"The events I witnessed at Lafayette Square on the evening of June 1 were deeply disturbing to me, and to fellow National Guardsmen," DeMarco said in the conclusion of his prepared testimony.
"From my observation, those demonstrators—our fellow American citizens—were engaged in the peaceful expression of their First Amendment rights. Yet they were subjected to an unprovoked escalation and excessive use of force," he said.
Newsweek reached out to the White House for comment but did not receive a response in time for publication.