Deer Dives Into a Crowd of Bicyclists in a Jaw-Dropping Video
A jaw-dropping video shows a deer diving into a pack of cyclists on the road in New Jersey.
The footage was captured by a mounted camera belonging to Keith Bratcher Jr., a cyclist participating in the Wise Choice Cycling Club's Auto-Immune Disease Awareness Ride.
The ride traveled 26 miles through Lumberton, New Jersey, to raise money for charity. The event was held on September 12, Yahoo News reported.
Three miles into the race, cyclists spotted a young deer running along the roadside. While one cyclist closest to Bratcher's camera cautiously kept his eye on the animal, another person repeatedly yelled, "Deer!"
The creature suddenly leapt into the pack of cyclists, colliding with the third cyclist behind Bratcher. The deer clipped the cyclist's front wheel, causing them to topple over near the road's shoulder. The cyclist behind the fallen biker managed to swerve and avoid a secondary crash.
The animal itself went soaring, front hooves over hind legs, through the sky, past the other bikers and a car following behind. The footage then captured the animal tumbling upside-down as it landed on the other side of the road.
The deer then rolled on the road's shoulder before tumbling into the tall grasses on the other side, disappearing from view completely.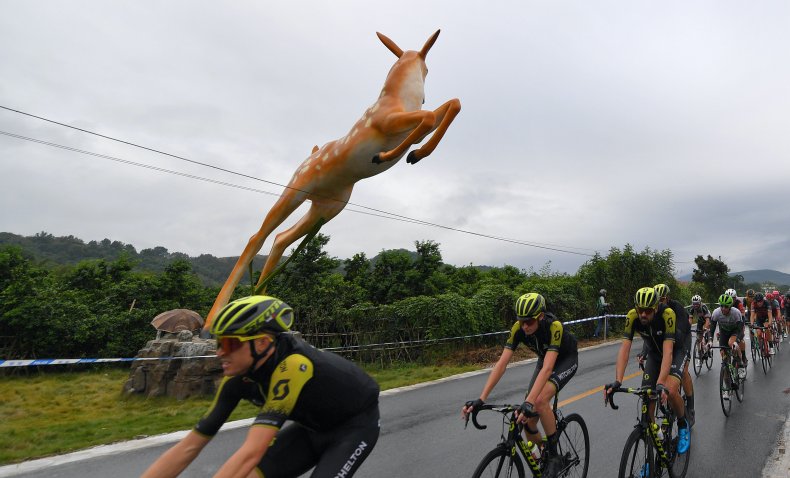 Bratcher said that the rider who fell over was uninjured and able to complete the ride. It's unclear whether the animal was injured.
Wildlife encounters while biking are common and rarely life-threatening, according to the outdoor equipment company REI. When bikers do encounter wild animals, the company suggests that riders maintain a calm mind and not do anything to excite the creatures.
"Other than some large cats, backcountry animals in North America are neither overtly aggressive, nor predatory towards people," the company wrote. "An animal's motivation for attacking a human is usually out of a perceived fear for its life or the life of its young."
Deer tend to be timid creatures that avoid humans, according to the organization Native Animal Rescue. However, deer are territorial and they sometimes stay in their usual areas, even if those areas cause them to come into contact with humans who have built roads and homes over the animal's habitat.
The organization warns people to steer clear of deer. Even one trying to escape from oncoming bikes and other vehicles can sometimes slip on the road while trying to bound away, prolonging the chance of collision, the organization said.
The Wise Choice Cycling Club will hold a Breast Cancer Awareness Ride on October 24. The ride will span 24.7 miles along the Delaware River and through Burlington Township.
Newsweek contacted the National Deer Association for comment.