Deer Plummets From 50-Foot Waterfall, Casually Swims Away
What Michigan tourists thought would be a tragic moment turned out to have a happy ending, after a deer fell from a 50-foot waterfall only to survive and swim off.
The video was taken at Tahquamenon Falls State Park and shared to TikTok six days ago. Originally, it was posted to the sound of popular "Oh No" TikTok audio, but was re-posted three days ago without the song, as per the request of viewers.
In the clip, the deer, which was confirmed to be a fawn, galloped across the waterfall top at full speed, while tourists screamed in the background. The deer stopped momentarily at the edge, but the force of the water pulled it down regardless.
The Upper Falls drop is 50 feet and has a maximum flow of over 50,000 gallons of water per second.
"Nature's a beast," said an on-looker after the fall.
Shortly after however, the deer was spotted swimming at the bottom of the waterfall, to the surprise of tourists. "I can't believe it," said one. "How did it make it," added another.
The deer managed to paddle its way to the edge, accompanied by the sounds of tourists cooing.
The video can be seen in full here.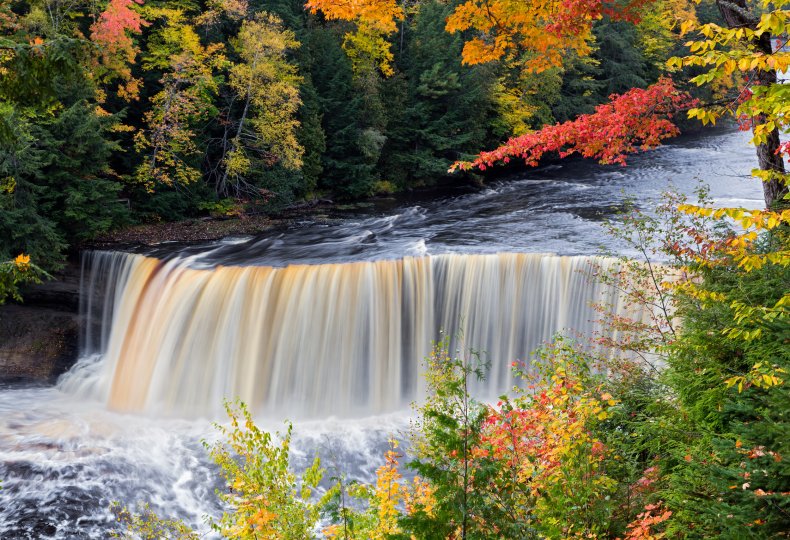 Tahquamenon Falls State Park, where the video was filmed, spans over 50,000 acres reaching 13 miles. The majority of the space is undeveloped woodland without any roads, buildings or power lines. It's the Tahquamenon River and its waterfalls that bring in the majority of tourists,
The deer fell from the Upper Falls, but just 4 miles downstream are the Lower Falls, consisting of five smaller falls surrounding an island.
In just three days, the video has gained over 3 million views, and kickstarted a long line of jokes at the sake of the deer's misfortune.
"He does that every day for the tourists and then goes and laughs with his friends #deerpranks," joked one user.
"The deer is a paid actor for the tourist board. He does this at 2pm every day, apart from Sundays," added another.
"My advice to that deer: Don't go chasing waterfalls. Stick to the rivers and the lakes that you're used to," commented one TikTok user.
It wouldn't be the first time that a deer and water didn't mix well. In June, a dog had to bravely save a fawn from drowning in a Virginia lake, as reported by Newsweek.
The dog, named Harley, jumped into the lake and herded it back onto the shoreline, before licking and caring for the fawn.
Update 8/16/21 3.11 a.m. ET: This article was updated to include a video link.