Def Leppard 2020 Vision Tour with ZZ Top: Dates, Locations, How to Buy Tickets
Def Leppard has announced that the band is touring with ZZ Top this fall. The band released the dates and locations of the Def Leppard 2020 Vision Tour on Thursday morning.
Tickets for the Def Leppard Tour 2020 will go on Rock Brigade fan presale at 10 a.m. ET on Monday, February 17, through 10 p.m. ET Thursday, February 20. Def Leppard tickets go on general sale at 10 a.m. ET on Friday, February 21.
To access the fan presale, Def Leppard fans must join the online fan club for $45, plus $12.99 for shipping. Once a member, fans will be able to purchase up to four tickets in the tour presale. However, joining the fan club does not guarantee tickets, as they could sell out quickly.
As well as access to the presale, fans will receive a 2020 Official Rock Brigade Membership T-shirt and pin when they sign up to the fan club.
Def Leppard frontman Joe Elliott said in a statement: "What a year this is going to be! First, sold-out stadiums, then we get to go on tour with the mighty ZZ Top!
"Having been an admirer of the band for a lifetime it's gonna be a real pleasure to finally do some shows together...Maybe some of us will get to go for a spin with Billy [Gibbons] in one of those fancy cars."
Def Leppard Tour Dates 2020
September 21 — Albany, NY
September 23 — Virginia Beach, VA
September 25 — Knoxville, TN
September 26 — Brandon, MS
September 28 — Orange Beach, AL
September 30 — Bossier City, LA
October 2 — Little Rock, AR
October 3 — Tulsa, OK
October 5 — Wichita, KS
October 7 — Lincoln, NE
October 9 — Grand Rapids, MI
October 10 — Des Moines, IA
October 12 —Grand Forks, ND
October 15 — Salt Lake City, UT
October 17 —Portland, OR
October 18 — Spokane, WA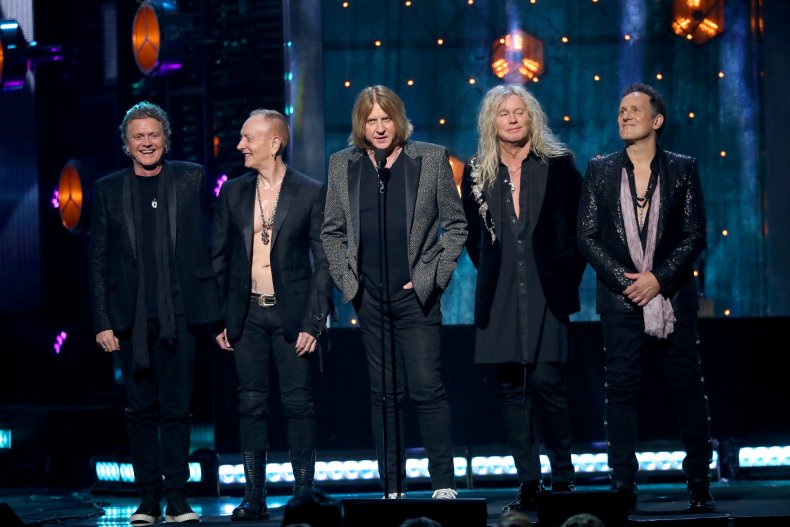 The 2020 Vision Tour will immediately follow Def Leppard's summer tour with Motley Crue and Poison, which has already sold over one million tickets. The Stadium Tour will begin on June 18 and will end on September 5. Less than three weeks later, Def Leppard will begin their tour with ZZ Top.
Ticket prices for the 2020 Vision Tour have yet to be announced but tickets for Def Leppard's summer tour are selling for a range of prices from $49.50 to more than $100, and prices vary based on location.
There are also VIP packages being sold as part of the summer tour, with various combinations of experiences including meet and greets, Q&As, a photograph with the band, exclusive merchandise and a front-row seat.
Newsweek has affiliate partnerships. If you make a purchase using our links, we may earn a share of the sale.