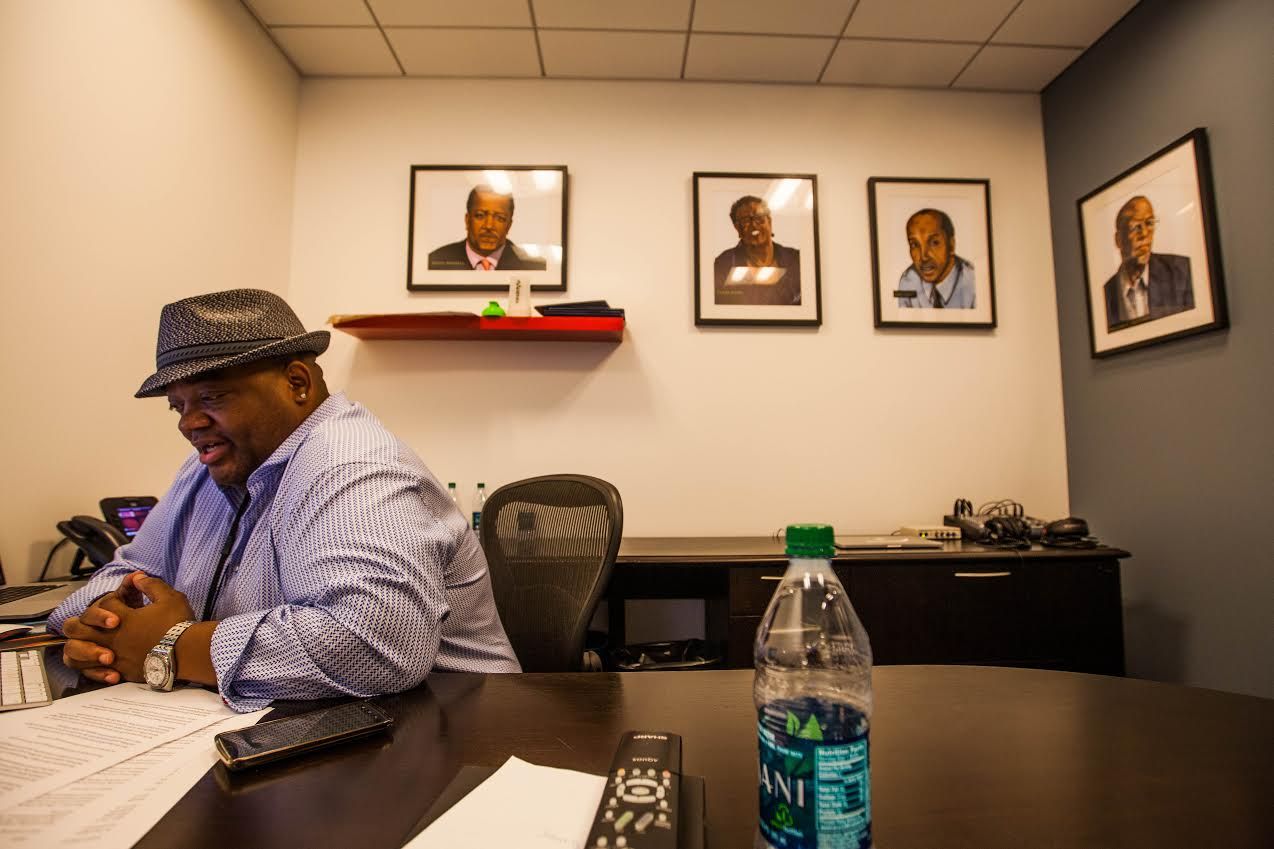 Eric Garner's last known words were "I can't breathe." He said it 11 times before he passed out on a Staten Island sidewalk while police officers arrested him for selling untaxed cigarettes. Using a cellphone, a bystander captured a white officer putting Garner, who is black, in an apparent chokehold. Garner later died at a nearby hospital, and the video went viral. When the officer, Daniel Pantaleo, was not indicted, it sparked nationwide protests about racism and police brutality.
A few days after that December 12 decision not to indict, Jason Whitlock, one of the best-known sportswriters in the country, weighed in. His ESPN.com article, "Why Black Folks Can't Breathe," was shared 20,000 times, and it's one of his most important columns on race. Whitlock pulled back the focus from the Garner case to police brutality and the systemic problem he has been writing about for several years: segregation by incarceration, an institutional conspiracy against black people carried out by the American justice system. "The people who opposed the civil rights movement and the end of segregation did not hold a news conference, concede defeat and pledge support for racial equality," wrote Whitlock. "They hatched a new strategy."
It was a passionate and personal essay. But Whitlock, who is African-American, also used his platform to pillory the rallying cry Garner's death had spawned: "I can't breathe." "There is no widespread epidemic of cops shooting and/or killing unarmed black men," he wrote. "Dumbed-down, irresponsible Twitter hashtags won't stop segregation by incarceration. They empower it. They keep the national conversation steered away from the real problem and real solutions."
Whitlock aimed this critique at all Americans. But he also implicitly criticized the black activists leading the movement, breaking a taboo among some African-Americans: Don't cut down your own. Whitlock has never subscribed to that philosophy. He has referred to Jesse Jackson and Al Sharpton as "domestic terrorists," and criticized the "swagger" of Washington Redskins quarterback Robert Griffin III. He blamed Michael Vick's penchant for dogfighting on hip-hop culture. He called Serena Williams "immature and classless" for celebrating a tennis victory with a "Crip walk." And for decades, he's been urging blacks to erase the N-word from their vocabularies. These opinions have helped elevate Whitlock to nationwide fame, but often in a polarizing way, especially among African-Americans. Some of his peers deride him as an "Uncle Tom," a writer who delivers tasty sound bites to right-wingers, bolstering their treatises on "black pathology."
Whitlock's columns are widely read, perhaps in part because he's polarizing. So two years ago, ESPN signed the 48-year-old to a five-year, multimillion-dollar contract, to create The Undefeated, an ambitious website conceived by Whitlock to discuss the intersection of race and sports in America. ESPN's television programming draws a large African-American audience, but its website doesn't. Whitlock, the thinking went, could bring new readers to ESPN.com. Yet The Undefeated was a major gamble, too; race is a delicate subject, and Jason Whitlock is anything but delicate.
The idea for the site seemed well-timed. Thanks to the Garner case and others like it, race was dominating the national conversation in a way it hadn't in decades. "Sports is the only place where there's actual diversity, the only place in America that's not segregated." Whitlock told me in May. "This presents a tremendous opportunity to discuss everything."
Yet this spring, with the site still lagging in development, Whitlock's leadership at The Undefeated began to unravel. In the second of two sprawling pieces on the rival website Deadspin, the writer Greg Howard, who is also black, accused Whitlock of "poisoning" the site with his pushiness and paranoia. "The question," Howard wrote, "is just how the hell he's heading up what should be the most important black sports and culture website in the country."
In May, I set out to answer that question, after Whitlock and ESPN granted me exclusive access to their Los Angeles-based operation. He assured me he'd be able to demonstrate a conspiracy to bring him down, a concerted effort by an unnamed cadre of haters who don't like what he has to say about race in America. But two weeks after my trip, as I was still reporting, the company announced Whitlock was no longer in charge of The Undefeated. In a risible non-statement, ESPN said: "We collectively determined that having Jason focus his time and energy solely on creating thought-provoking content—his hallmark—across various ESPN platforms will make our overall content even better."
And just like that, what should have been the apex of Jason Lee Whitlock's career had become its nadir. While The Undefeated will (apparently) live on—ESPN President John Skipper is now in talks with other journalists to salvage the project—the controversial figure who conceived it is no longer in charge.
The question is why? Was Whitlock the victim of a real conspiracy, or was he simply inept?
Eating Salmon With 'Big Sexy'
I first met Whitlock in May at his apartment a few blocks from ESPN's gleaming office in downtown Los Angeles. It has a panoramic view of the city. Fake plants and three flat-screen televisions adorn the living room. Every few seconds, the smoke detector beeped, begging for a new battery. It had been like that for weeks, Whitlock told me. For dinner that night, he had purchased several pounds of wild salmon. My college roommate and friend of Whitlock's had introduced us, and he and his girlfriend joined us. As the salmon baked, Whitlock, a massive dude who played linebacker in college and goes by the self-appointed nickname "Big Sexy," lay prone in a recliner in T-shirt and shorts, watching the Cavaliers play the Hawks.
While he studied LeBron and Al Horford, I studied his apartment. His 2004 memoir, Love Him Hate Him, lay on the coffee table, alongside the June 2008 issue of Playboy, which featured another of Whitlock's well-known articles on race. In the hallway just inside the door hung two framed copies of Kansas City Magazine, both featuring Whitlock on the cover. There was also a poster titled "Whitlock's Wire," an homage to his favorite television show, with cartoon drawings of him mingling with characters from David Simon's renowned television series.
Before we ate, Big Sexy asked that our conversation remain off the record. Despite the display of ego on the walls, Whitlock came across as a smart, curious and thoughtful person; opinionated, yes, but unpretentious, charismatic and funny. I didn't see much of the mercurial narcissist Howard described in such damning detail.
Whitlock was born in in Indianapolis in 1967, and spent his early childhood in the inner city. His parents divorced when he was 4. The split left young Jason feeling voiceless, his older brother James says. His mother, Joyce, told me her youngest son once responded to a reprimand by packing up a suitcase with a jar of Miracle Whip, a loaf of bread, bologna and cheese. He then walked out the front door and stowed away in his mother's station wagon until James found him and persuaded him to come out. "If there's something he wants, and something is standing in his way of getting it," James says, "he's willing to risk it all."
Jason didn't take well to admonition. In elementary school, his mom remembers getting a call from one of his teachers, asking her to come to the school because he had gotten in trouble. In second grade, he was tasked with writing "I will not do…" whatever he'd done wrong on the chalkboard over and over again. Mom walked in to find him seated comfortably at the teacher's desk, while three of his classmates scribbled out his sentences for him. "He had a way of manipulating other children to do things for him," Joyce says. (Jason says that didn't happen. "She's exaggerating," he told me in an email.)
Whitlock was poor without knowing it, he says, and his childhood was "idyllic." But one night a burglar tried to crawl through a window of the family apartment, and his mom decided it was time to flee the inner city. She took a second job as a cashier at a grocery store, and the family moved to the suburbs. Jason was in the third grade. The transition was rough, at first. He spent one of his first afternoons there alone on the couch, wielding a kitchen knife, waiting for his brother to get home. "I was a kid at home by myself," he says, "and I'd just moved out of the 'hood."
Eventually, he adjusted. In a year, he'd transferred from a school that was "99 percent black to one that was 99 percent white," his brother says, but he had little trouble making new friends. When the district integrated while Jason was in junior high school, the principal asked that he serve as a kind of ambassador to the black students then being bussed in from the inner city. This, his brother told me, forced Jason to choose between his black and white friends.
Jason rejected that choice, and made friends with just about everybody, even though it made him a target. One day, on a long walk to the mall with a group of white and black friends, James remembers a carload of older teenagers driving by. "They started hollering out the window, 'Nigger lovers!' and they started throwing bottles at us," James says. "I'm like 'Wow, we're just walking to the mall.'" In the end, James says having so much experience with white people gave both boys an opportunity to "teach people, 'Hey, we're not a threat. We're just like you.'"
More Than a Black Barbershop
The Undefeated was conceived as a sister site for ESPN.com, like its Fivethirtyeight (for stat-derived journalism) and Grantland (for pop culture). Whitlock's first and most important task was to put together a team. The Undefeated reportedly tried and failed to recruit the acclaimed writer Ta-Nehisi Coates. And Howard, the Deadspin writer, was also in talks to join the site. Those talks collapsed after he wrote an article suggesting Whitlock had effectively called Griffin, the Redskins quarterback, a "nigga, in this Chris Rock sense of the word." Whitlock objected to that interpretation. "Given the nature of our relationship and frequency of our communication, an honorable man and journalist would've given me a heads-up before...intentionally mischaracterizing my position on Griffin," Whitlock wrote him in an email. "It's disappointing you chose to treat someone who considered you as a friend as a foil to win the approval of others." Howard was apologetic: "I agree, that you were burned...the N-word thing was added by one of my editors," he responded. " I did, however, give it a final read, and told them to publish."
Howard didn't get the job, and he described the encounter with Whitlock much differently in one of his Deadspin articles, which made me wonder about his credibility. Yet most of his reporting was based on leaked emails from a staffer. In one of his pieces, Howard suggested that those who joined The Undefeated were journalists who either already agreed with Whitlock's worldview or would allow him to bully them into saying what he wanted them to say.
The morning I arrived at ESPN's L.A. office, I sat in on one of The Undefeated's daily meetings and met some of Whitlock's team. Among them: Brando Simeo-Starkey, the author of the book In Defense of Uncle Tom: Why Blacks Must Police Racial Loyalty; Danielle Cadet, formerly of the The Huffington Post, and Leon Carter, a longtime editor at ESPN. The meeting's main focus was to critique a series of mock columns—practice, ahead of the site's anticipated launch in a few months. As they worked through the pieces, Whitlock sat at the head of the table in a black-and-white fedora and crisp blue collared shirt. He moved the conversation along without dominating it, but without much in the way of inspiration or insight, either. Toward the end of the meeting, the team turned to an idea from Starkey, a writer Whitlock once called "the intellectual foundation" of the site, and a "goalie" who can check Whitlock's tendency to, as he put it, "say stupid things."
Starkey's column would address how often white people tend to trot out some quote about peaceful protests from Martin Luther King Jr. as a way to pacify black people when they're rioting. "I don't think MLK should be used as a big joker," he said at the meeting, "to trump all arguments and win all debates."
The big joker is the highest trump card in a variation of a spades, which is popular among African-Americans. The concern: White people might not get the reference. "My vote is not to explain it," said Whitlock. "We're targeting our core audience." "I'm against explaining jokes anyway," chimed in Justin Tinsley, a staff writer. "If you don't know how to play spades, Google is a click away." Then, a confession from Cadet: "I don't know how to play spades."
"Whoa, whoa, whoa," said Whitlock, in a booming Midwestern drawl.
"I know," she said, looking down. "I knew I'd get my black card revoked."
Blackness matters to Jason Whitlock, and with good reason. His father went into business for himself because his white supervisors at the factory where he worked complained about him reading The Autobiography of Malcolm X on his lunch break. His response, Whitlock says, was, "Ain't nobody gonna tell me what to read on my lunch break.'"
After his successful transition from nearly all black schools to nearly all white ones, Whitlock found a new place to transcend race: the gridiron. In high school and for most of college, he was a football-playing jock, not a journalist. At Ball State University, his main interests were drinking and sports, and he proudly cites his low GPA: 2.2. Whitlock majored in accounting but was terrible at math. With graduation looming and no clear career in sight, a friend reminded him how much he loved both sports and journalism—the postgame analysis, the stat-collection. During his senior year in college, the Ball State Daily News gave him a chance to learn the craft. "I was horrendous at the start," Whitlock says. But he worked hard and improved, and after graduating in 1990, landed a part-time gig at the Herald-Times in Bloomington.
In his early journalism career, Whitlock focused on sports, not race. He went from the Herald-Times to a two-week tryout at the Charlotte Observer, and parlayed that into a job covering high school sports. Soon the young writer began to pester editors in other departments to write different kinds of stories. "They didn't have anybody who could write any black stuff," he says. When 2 Live Crew came to town, the editors let Whitlock cover the concert. In another piece, he argued that MC Hammer was talentless.
After a year and a half at the Observer, the Ann Arbor News recruited Whitlock to cover Michigan's Fab Five basketball team. It was a smaller paper, but a much bigger beat. The team was all-black, and controversial for blasting hip-hop, talking trash and wearing (gasp!) baggy shorts and black socks. Soon, Whitlock found his niche: the intersection of race and sports.
Big Sexy has never been known for beautiful prose, but he's a blunt and fearless writer. His first column in Ann Arbor, for example, boldly called for the benching of Michigan quarterback Elvis Grbac. Two years later, the sports editor at the Kansas City Star offered him a plum job as columnist. He was 26 years old. After 16 years in Kansas City, Whitlock went national—to ESPN, Fox Sports and then back to ESPN for The Undefeated.
As his staff debated the big joker analogy, Whitlock took a quick poll. Did everyone know how to play spades? To a man (and everyone there but Cadet was a man), they all did; even Ryan Cortes, the only non-black person in the room (besides me) and the white guy calling in from D.C., former Washington Post columnist Mike Wise. Even ESPN Senior Deputy Editor John Hassan (who is white) played spades, Whitlock joked: "If John Hassan is blacker than you, you've got a problem."
It was a lively discussion, the kind you might hear in a black barbershop or hair salon, as Cadet told me afterwards. Later, I ran the barbershop analogy by Whitlock. He balked. He wanted the site to be more than that, he said.
It wasn't the last time he took issue with one of my questions.
Complicated, Flawed and Fucked Up
Unlike his apartment, Whitlock's office at ESPN was decorated with his heroes: portraits of his favorite writers, including Ralph Wiley, Sam Lacy and Dan Le Batard. On my first day at ESPN, I spent a half an hour or so behind a closed door in that office, catching up on The Undefeated's latest developments. The more questions I asked, the more defensive Whitlock became. When I used the word "provocative" to describe his journalism, he bristled, interpreting my query to mean he only wrote to piss off people. "Anybody who knows me knows I don't say shit I don't believe," he shot back.
Whitlock clearly felt aggrieved and misunderstood. He doesn't have an ideology, he insisted, but for most of his career, critics have called him a "conservative black journalist," a term he doesn't like. "I'm not some left-wing guy who spews left-wing ideology and I'm not some right-wing guy who spews right-wing ideology. I get attacked from both sides, and neither side is correct."
Most people defy simplistic labels, Whitlock added. To illustrate his point, he said something that surprised me: "I've got sympathy for Darren Wilson," the white police officer who killed Michael Brown, an unarmed black man, in Ferguson, Missouri. People tried to make sense of that tragic case by labeling Brown as a "thug" or Wilson as a racist cop. The truth, Whitlock suggests, is that both men are more complex, just like The Wire's Officer Roland Pryzbylewski or drug dealer Bodie Broadus. Neither character can be understood simply as a villain or victim. "People are complicated and flawed and fucked up," he said. "They're still humans."
Empathizing with killer cops and railing against hip-hop artists are controversial positions for any black journalist, in part because of the right's tendency to select what it wants to hear. Safer to stay on message and not give Fox News another soundbite. Whitlock refuses to do that, which is partly why some call him an Uncle Tom. In 2007, for example, pundits blasted shock jock Don Imus for describing the Rutgers women's basketball team as "nappy headed hoes." Whitlock wrote that the vitriol was diverting focus from "the real bad guy," which "is us…. At this time, we are our own worst enemies. We have allowed our youths to buy into a culture (hip hop) that has been perverted, corrupted and overtaken by prison culture."
Positions like that have earned Whitlock plenty of haters. After the Imus piece, sportswriter Dave Zirin called Whitlock the "Clarence Thomas" of sportswriters. "A new cadre of wealthy blacks, from Bill Cosby to Juan Williams to Whitlock, have embraced this argument," that African Americans should be more concerned about "personal pathology" than structural racism, Zirin wrote. "The 'hood looks far different depending on whether you live and work there or just drive through on the way to the airport."
Whitlock may no longer live in the 'hood, but he insists he hasn't forgotten it. In 2012, sheriff's deputies in Indianapolis tased a 28-year-old Indianapolis man named Anton Butler in an attempt to arrest him, and he wound up dead. Butler was a cousin of Whitlock's, "the greatest child my family ever produced," he wrote. Police said Butler had stuffed cocaine into his mouth as he fled, and the coroner said the resulting cardiac arrest is the reason he died. Whitlock called the death unnecessary, and has referred to the incident in several columns. His cousin's death angered him not just because it shouldn't have happened but because people wrote Butler off as soon as they learned about his rap sheet, which included various drug-related arrests. Butler was oversimplified and labeled, in the same way Michael Brown was oversimplified and labeled and in the same way Whitlock feels he's been oversimplified and labeled. "I knew the dude since he came out of the womb," Whitlock said of Butler—and then couldn't say anything else. Tears rolled down his face, and he waved his hand, as if to brush back the pain.
On my second day at the office, however, The Undefeated editor revealed a different side of himself. After sitting through a short staff meeting, Whitlock and ESPN flak Danny Chi escorted me out of the building and to a restaurant across the street for breakfast. As we decided what to order, Whitlock produced a voice recorder and began taping the rest of our conversation. He couldn't believe I wasn't taping my interviews, he explained, and this would ensure I wouldn't take him out of context. The questions I had asked the day before, he added, were "negative and shallow." Instead of asking him whether it's fair to consider him a "hothead," he said, I should have asked him what his management style is. (I am still trying to picture Jason Whitlock asking a source, "What's your management style?") Even my premise that the timing of the site was good, given the protests over Ferguson and Eric Garner, "was offensive and stupid," and revealed my "white privilege." As we waited for our food, Whitlock told me he'd spent the previous night sifting through the people I follow on Twitter. Apparently I wasn't following enough African-Americans to demonstrate sufficient interest in stories about race.
I left L.A. jarred by the conversation, wondering what the hell had just happened. Whitlock had just displayed the type of paranoia and reactivity Greg Howard had described. A couple days after I returned home to Oregon, Whitlock sent me a link to a transcript of our last conversation, with a slightly conciliatory note at the top: "Winston, I'm direct and passionate about journalism and this project. The conversation this morning was difficult. Race is one of the most difficult and important conversations in American history. Whatever my concerns are/were about your preparedness, I appreciate you making the effort to engage."
Two weeks later, Whitlock was no longer running the site.
The Wrong Person for the Job
Whitlock's removal from The Undefeated wasn't his first falling out with ESPN. In 2006, he trashed two of his colleagues in an interview with a sports blogger. Mike Lupica, he said, was "an insecure, mean-spirited busybody" and Robert "Scoop" Jackson was a "clown" whose "ghetto posturing is an insult to black intelligence." Whitlock was quickly fired, and he went on to work at Fox Sports.
When Whitlock returned to ESPN in 2013, John Skipper knew he was a risky choice, but decided to give him a shot, according to two sources at the company, who spoke on the condition of anonymity because they weren't allowed to discuss the subject publicly.
Not everyone agreed with Skipper, my sources say. Several ESPN executives were wary of working with Whitlock in any capacity, and some of those same executives didn't like the idea of a site about race, no matter who ran it. "They feigned initial support but ultimately did not want to deal with a race and culture site in their protect-the-mouse world of Disney," says my first source. The sentiment, Whitlock told me, was: "We make so much fucking money, why take a risk?'"
From the beginning, the two sources say, ESPN's front office micromanaged the launch process, undermining Whitlock's leadership. "It took eight months just to get approval to call the site "The Undefeated," the first source says. And Bristol should have realized far sooner that Whitlock would work better as a writer or idea generator for the site, not the chief executive. "That's what could have worked," the source says. "Instead, they just took the biggest name off of the site. It backfired, badly."
Whitlock also didn't have much support among other black journalists in Bristol, my first source says. "Prominent African American talent at the network, many of whom had been criticized by Whitlock over the years, constantly whispered in the ESPN president's ear for two years that he was not the 'right black man' for the job, that his criticism of other popular African-Americans would not engender support from the larger black community," my first source says. "He [Skipper] told me as much in a phone call after Jason was fired."
But Whitlock didn't help his own cause either, my second source says. His first problem was articulating a clear vision for the site. When he referred to the project as a "black Grantland" (which he later tried to walk back), it suggested that The Undefeated would be little more than a black version of the popular site. That set high, unrealistic expectations and ultimately hamstrung the project.
Whitlock's bigger problem, both ESPN sources say, was his management style. He had overseen a few journalists at Fox Sports, but had no experience as a chief executive. Whitlock admitted this deficit to me, but said he'd tried to learn on the job. "For someone who has spent their entire career telling people exactly what I believe, you become a manager and figure out it ain't worth it," Whitlock said. "Let people live in a state of delusion. Telling people the truth could cause other problems."
Even in an email praising his writers, Whitlock revealed his weakness as a boss, my second ESPN source says, citing Howard's article. In February, just after publishing a 9,000-word profile of Charles Barkley, Whitlock sent out a staff-wide email lauding several The Undefeated employees. Among them: Wise, who despite recently having a second child "refused to allow his family situation to stop him from being a big part of our debut"—the pre-launch publication of several longform articles. "That's the last thing you say as a manager," the source says. "He had a serious HR issue."
Managerial inexperience led to two of his worst decisions at The Undefeated, my first source says: hiring assistant Erin Buker and executive editor Amy DuBois Barnett. (Both declined to comment.) Barnett's role at The Undefeated should have been "making the trains run on time," says my source. Instead, she and Whitlock clashed early on. She wound up on the margins and the site suffered from chronic disorganization.
Among their fights was Whitlock's decision to hire Buker as his assistant. The two were friends but their working relationship apparently didn't mix. After Whitlock reprimanded Buker for tweets he considered ill-advised and for speaking out of turn at meetings, he asked her to resign. Buker responded by writing a 25-page letter to Whitlock, accusing him of "abusing, shaming, punishing a person who has shown you nothing but respect and patience."
"You like the coaching analogy," Buker wrote, "so tell me how berating players improves the performance of the berated player and what does it do to the rest of the team? Also, how many teams have you coached? Who or what is the check and balance to your power, and if there is such a feature to this team (which I doubt there is) is it readily apparent to all members that it exists?"
After Whitlock fired Buker in February, she complained to human resources, saying Whitlock harassed her. The company investigated the matter and upheld his decision. But in a letter, ESPN's senior director of employee relations, Robert Gallo, didn't exactly exonerate The Undefeated editor: "Jason Whitlock did not engage in unlawful harassment. However, he did not behave at all times in accordance with ESPN's conduct policy which includes an expectation to treat co-workers in a professional, courteous and respectful manner. ESPN will take appropriate action to address this issue."
After the fallout, several sources at the company say Buker leaked a trove of documents to Howard, whose article, my second source says, was "devastating." It made John Skipper aware that Whitlock's tryout had failed. "Two years is more than enough time to get his site up and running," the source says. "The reason the site is not up and running is [Whitlock's] inability to get people to work for him. It was clear he just wasn't the right person for the job."
Among the many articles I've read in the past few months by and about Whitlock, one stands out. It references a news story published in the Kansas City Star, a piece written by his colleague Wright Thompson about Whitlock's tenure at the paper. In it, he described himself as "a paranoid black man who always thinks he's one mistake away from having everything taken from me."
On that point, Jason Whitlock turned out to be right. "Jason is paranoid," my first source says. "He also had a reason to be in the end."
Another of Whitlock's former colleagues summed things up a little differently: "He's a brilliant, brilliant guy—who is his own worst enemy."