Defending the 2024 Election Starts Now. Here's How | Opinion
As we begin new terms as secretaries of state, our primary focus must be on making sure that the next election—Nov. 5, 2024—is safe, secure, and trusted.
Yes, that is more than 600 days away, but the reality is that states and localities must act now to strengthen our systems for the future. Existential threats to our democracy may have receded for the time being, but they have by no means disappeared. Former President Donald Trump and his cronies continue to falsely claim that the 2020 election was rigged, and state legislators are right now considering bills to make it easier to restrict voting rights and to allow partisan interference in elections.
Upholding democracy is not some passive venture. It doesn't happen by accident. It takes concentrated effort and eternal vigilance.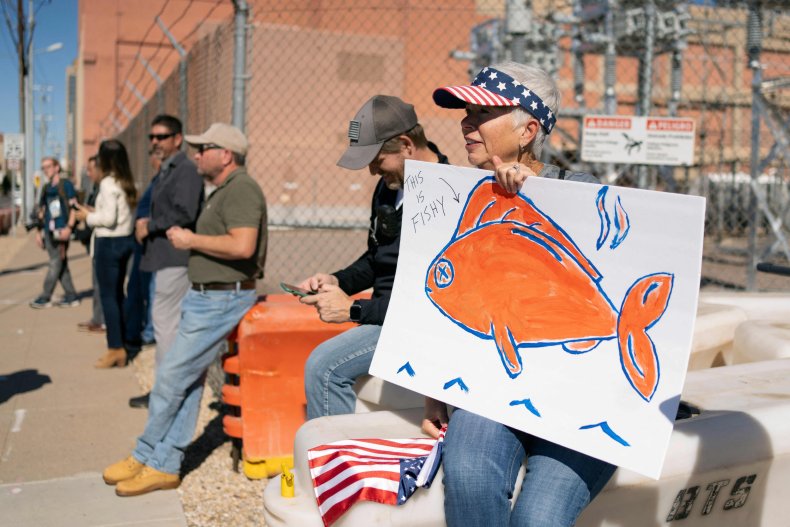 Across the country, policymakers must make preserving and strengthening our democratic processes a top priority. Many of the most important steps will happen at the state and local levels. And we don't have a moment to lose.
For example, every state in America has the technology to allow voter registration safely and securely on any day of the year—up to and including Election Day.
As of 2022, 22 states and the District of Columbia have done so without any negative repercussions. In fact, the National Conference of State Legislatures notes that same-day registration increases voter turnout up to 7 percent with no discernable advantage for any political party.
But state legislators cannot wait until October 2024 to pass laws about how, when, and where citizens can vote. State and local officials need time to implement these laws, as well as communicate changes to voters so they are informed about their rights. Legislators must act this year regarding voter registration, no-excuse voting by mail, and other pro-democracy changes.
And this is just the tip of the iceberg. Over the past 12 months, we've studied this issue, spoken with experts in the field, and met with dozens and dozens of state and local leaders to build a Democracy Playbook, an online guide that contains more than 40 specific, nonpartisan recommendations that state and local officials can implement to strengthen our democracy, including the policies and strategies mentioned above.
The playbook focuses on three key areas: Election Integrity; Voting Access; and Civic Engagement. Many of the recommendations are paired with best-practice examples from states and localities committed to safeguarding our democracy.
Even though the 2020 and 2022 elections were the most secure in American history, we recognize that some Americans still have questions. The playbook emphasizes elected leaders' responsibility to be on the forefront of transparency when it comes to election integrity. We can do that through being a pro-active resource for local and statewide journalists who are interested in reporting accurately about elections, and by identifying and working with respected community leaders. This can include inviting reporters and residents to witness the public testing of voting machines before elections. It should also include websites that lay out—in clear terms—what happens to a ballot once a citizen casts it.
Technology should be utilized as well. In many states, citizens who vote by mail can track the progress of their ballot, oftentimes receiving text updates to inform them that their vote has been counted.
While working in good faith to strengthen democracy, we also call on elected officials of all parties (and no party) to speak out against misinformation. As our colleague, Minnesota Secretary of State Steve Simon, told us recently, "The number one threat to democracy is unending misinformation." The repetition and amplification of lies about our elections only serve to undermine confidence in our nation, thus emboldening our enemies.
And rhetorical rebuttals will not solve everything. That's why states and localities must immediately pass laws that stiffen penalties against those who harm, or seek to harm, the people and systems that undergird our electoral process. That includes making it a felony to threaten election workers or officials.
In the end, people of good faith across the political spectrum want the same thing: Free, fair, and safe elections. We were heartened to see that the dam of democracy held against a wave of authoritarian forces in 2020 and 2022. Yet we cannot ignore the cracks that have formed due to the deep cynicism and dangerous decisions made by unscrupulous actors. To be successful, we must continue to innovate and adapt. We must never forget that creating a more perfect union takes continual, intentional effort. We hope the playbook's recommendations will help guide policymakers across the nation to act.
Time is of the essence.
Jocelyn Benson is the Secretary of State in Michigan. Adrian Fontes is the Secretary of State in Arizona. Both serve as co-chairs of the NewDEAL Forum's Democracy Working Group.
The views expressed in this article are the writers' own.