Defense Attorney Apologizes for Black Pastors Comment During Racially Charged Arbery Case
A defense attorney representing the men accused of killing Ahmaud Arbery made a brief apology in court on Friday after receiving national blowback for his comments seeking to ban Black pastors from the courtroom.
Speaking on the sixth day of the trial, attorney Kevin Gough, who is representing William "Roddy" Bryan, called his Thursday remarks "overly broad" and clarified that he would be putting forward a "more specific motion" next week.
"I will let the court note that if my statements yesterday were overly broad, I will follow up with a more specific motion on Monday, putting those concerns in the proper context. And my apologies to anyone who might have inadvertently been offended," Gough said.
Gough added that he was not asked by the court to make the statement.
Gough is facing national criticism after he raised an issue with the number of Black pastors accompanying the Arbery family in court.
"The idea that we're going to be serially bringing these people in to sit with the victim's family, one after another," Gough said. "Obviously, there's only so many pastors they can have."
"If their pastor is Al Sharpton right now, that's fine, but then that's it," he continued. "We don't want any more Black pastors coming in here or other—Jesse Jackson, whoever was in here earlier this week sitting with the victim's family—trying to influence a jury in this case."
The attorney went on to accuse the pastors of attending the trial in their own "political interests."
Even Gough's co-counsels appeared to be shocked at his statements.
On Thursday, Superior Court Judge Timothy Walmsley cut Gough off to say he would not issue blanket exclusions against people going to court.
The jury was not in the courtroom when Gough made his remarks.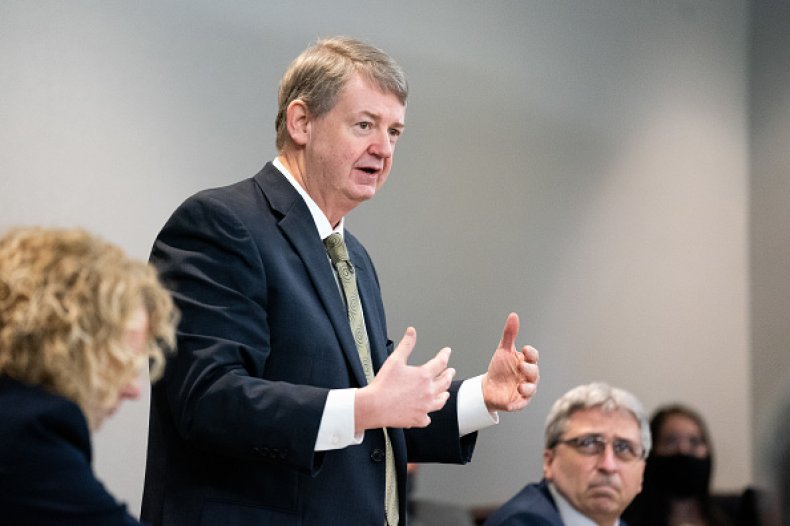 In response to the defense's comments, Sharpton said that while he respects Gough's position as Bryan's attorney, "this is beyond defending your client, it is insulting the family of the victim."
"My attendance yesterday and in the days to come is not disruptive in any way and was at the invitation of the family of Ahmaud Arbery who have stated that publicly," Sharpton said in a statement.
"This objection was clearly pointed at me and a disregard to the fact that a mother (and) father sitting in a courtroom with three men that murdered their son do not deserve the right to have someone present to give spiritual strength to bear this pain," Sharpton continued. "This is pouring salt into their wounds."
Race has taken center stage in the Georgia case.
On February 23, 2020, Arbery, a 25-year-old Black man, was chased and fatally shot after three men—Bryan, along with father and son Greg and Travis McMichael—allegedly spotted him running in their neighborhood near Brunswick.
The defendants' legal team have argued the men were protecting themselves against Arbery while trying to make a citizen's arrest.
Sharpton has called the killing a "lynching in the 21st century."
The high-profile case also drew controversy last week after the final jury, consisting of 11 white jurors and one Black juror, was chosen.
Prosecutor Linda Dunikoski argued that the defense struck eight Black potential jurors due to their race, something which defense counsel denied.
The judge agreed with the prosecution that there appeared to be "intentional discrimination" in the selection, but said Georgia law limited his authority to intervene.