Defense Attorneys in Arbery Trial Announce Plans to Appeal
The jury in the trial of the fatal shooting of Ahmaud Arbery found all three defendants guilty of murder and several other charges on Wednesday. Soon after the verdict was read, defense attorneys announced plans to appeal.
Attorneys for Gregory McMichael were the first to publicly declare they would appeal the decision. Later, an attorney for Travis McMichael also announced he would do the same.
Franklin and Laura Hogue, who defended Gregory McMichael, announced they would seek an appeal soon after the verdicts were announced, but they can only begin the process once sentencing is done.
Laura Hogue said she was "very disappointed" in the outcome of the trial.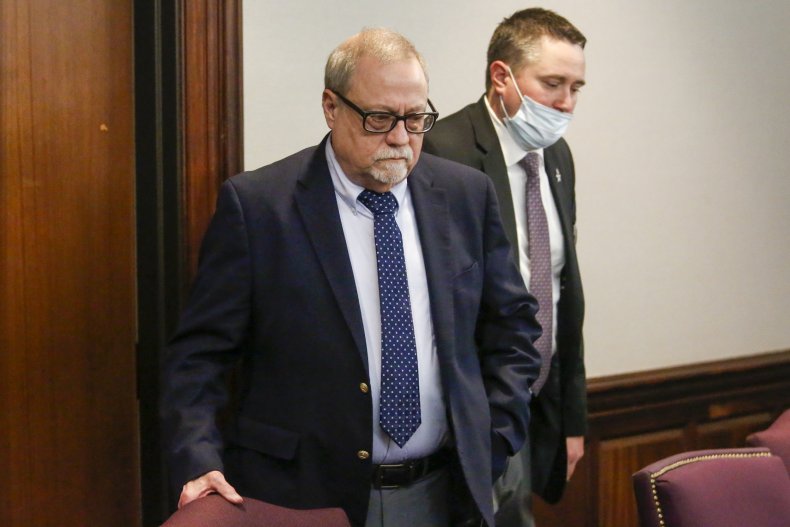 Travis McMichael, who shot and killed Arbery, was found guilty on all nine counts against him. His father, Gregory, was found guilty of all but one count—malice murder. The third defendant, William "Roddie" Bryan Jr., was convicted on six of the nine charges that he faced.
All three men face the possibility of life in prison when they are sentenced.
Jason Sheffield, an attorney for Travis McMichael, also told reporters he is planning to appeal the jury's guilty verdict.
"This is a very difficult day for Travis McMichael and Greg McMichael," Sheffield said to reporters outside the courthouse in Brunswick, Georgia. "These are two men who honestly believed that what they were doing was the right thing to do. However, a Glynn County jury has spoken. They have found them guilty. They will be sentenced."
Olga Izmaylova, a criminal defense lawyer from Georgia, indicated to Newsweek that she believed the jury had probably made up their minds early on in the trial. She also felt the defense will have a hard time having the decision overturned in an appeal.
"In this case, it's likely that most of the jurors were leaning toward conviction shortly after they began deliberations, which just means that they were convinced, beyond a reasonable doubt, that the defendants were guilty and the jurors didn't believe any of the explanations the defense presented, which is why their deliberations didn't take very long," Izmaylova said.
"While self-defense is a legal defense in Georgia, the factual circumstances in this case do not amount to self-defense," Izmaylova added. "And the defense did not present any other reasonable explanations for the murder of Mr. Arbery. Based on those reasons, I believe the jury reached a legally correct verdict, which is highly unlikely to be overturned on appeal."