Defense Bill Released Without Section 230 Repeal, Despite Trump's Threats to Veto
Bipartisan lawmakers are moving forward with a version of the National Defense Authorization Act (NDAA) that does not include a repeal of key protections for tech companies, despite President Donald Trump's threat to veto a bill without the provision.
A final draft of the NDAA revealed on Thursday does not include a repeal of Section 230 of the Communications Decency Act of 1996, a law that allows tech companies to engage in good-faith moderation of third party content online while shielding them from legal liabilities related to the content.
Prior to Trump threatening to veto the defense bill if his demand for a repeal of the unrelated provision is not met, the president and his allies had repeatedly called for Section 230 to be repealed, alleging that it allows social media platforms to discriminate against conservatives.
Twitter and Facebook have censored or labelled posts by Trump for spreading false or misleading information this year, notably including those focused on the president's evidence-free claims that mail-in ballots are rife with fraud.
"If the very dangerous & unfair Section 230 is not completely terminated as part of the National Defense Authorization Act (NDAA), I will be forced to unequivocally VETO the Bill when sent to the very beautiful Resolute desk," Trump tweeted on Tuesday.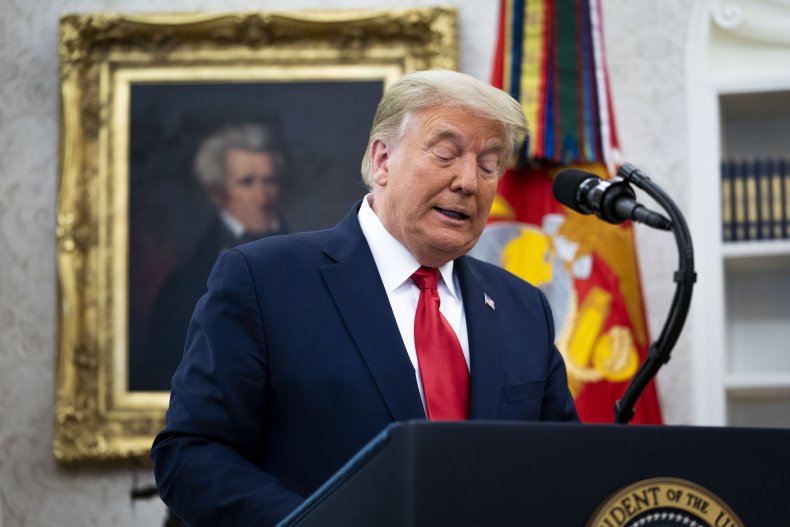 The $740 billion bill, a version of which has been passed for each of the past 59 years, largely contains routine funding authorizations for programs that allow the military to function. In addition to potential national security implications, blocking the bill would also halt pay raises for military service members, along with provisions to protect service members and their families from COVID-19.
On Wednesday, bipartisan leaders in Congress indicated that they would move forward with legislation that does not include a Section 230 repeal, with some prominent Republicans pushing back on the president's demands.
"First of all, 230 has nothing to do with the military," Sen. Jim Inhofe (R-Okla.), chairman of the Senate Armed Services Committee, told reporters. "I agree with his sentiments. We ought to do away with 230, but you can't do it in this bill. That's not a part of the bill."
Trump reacted to the Republican pushback with anger while doubling down on his demands on Thursday, shortly before the bipartisan legislation was officially unveiled.
"Looks like certain Republican Senators are getting cold feet with respect to the termination of Big Tech's Section 230, a National Security and Election Integrity MUST," Trump tweeted. "For years, all talk, no action. Termination must be put in Defense Bill!!!"
The bill also includes a provision establishing a commission "concerning the removal of names, symbols, displays, monuments, and paraphernalia that honor or commemorate the Confederate States of America" within three years.
Trump previously threatened to veto any version of the bill that dismantles tributes to the Confederacy, despite the provision having the support of military leadership and lawmakers of both parties.
If the NDAA is passed and then vetoed by Trump, Congress could potentially override the president's veto.
Newsweek reached out to the White House for comment.