Defense Budget for 2022 is First Test of Biden Administration on China | Opinion
President Joe Biden has talked the talk about pushing back on Chinese aggression, but the real marker of whether his administration is serious about competition with China will be its proposed defense budget.
Our budget must match our strategy; that's budgeting 101. This should be straightforward—so why is the Biden administration proposing to cut or flatline the defense budget?
China gets it. Beijing also talked a big game at the first bilateral showdown in Anchorage two weeks ago—but has backed that talk up by increasing the PLA defense budget by 6.8 percent this year. If the United States responds with a budget cut instead of a corresponding investment, it would send a terrible signal to Beijing.
Yet this is the direction the Biden administration seems to be going. President Biden's preliminary budget proposes a real cut to military spending—the result of a budget that doesn't even keep up with inflation. It's a far cry from the bipartisan National Defense Strategy (NDS) Commission recommendation to resource the strategy with sustained growth of at least three to five percent a year—roughly $75 to $125 billion per year over a flat budget.
The Department of Defense's goals and priorities have been on the books for several years now—the 2018 NDS made them clear. President Biden's Pentagon team agrees that the commission largely hit the mark. Deputy Secretary of Defense Kath Hicks said the 2018 recommendation is "a remarkable reflection of strong bipartisan consensus around the growing challenges presented by China in particular, and also the opportunistic challenges presented by Russia." Defense Secretary Lloyd Austin said, "Much of the document is absolutely on track for today's challenges" and that China is the "pacing threat currently, and...it will remain so going forward."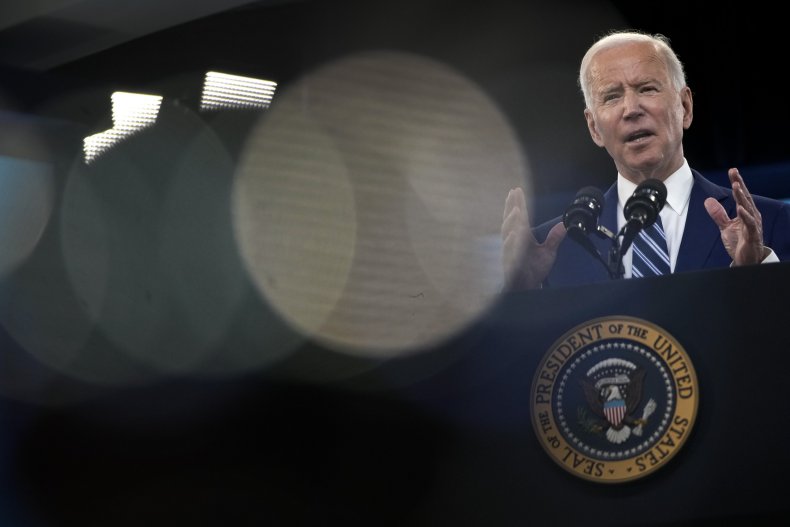 Matching the budget to this strategy means sustaining growth to prepare our military for great-power competition (especially pushing back on Chinese aggression), resource our military personnel and invest in key modernization that has been deferred for too long.
The reality is, the United States military is playing catch-up to our strategic competitors. If we had done the bare minimum and increased defense spending at the rate of inflation over the past decade, the U.S. military would have invested an additional $400 billion in deferred modernization—money we wouldn't need to be spending today. Instead, the Obama administration cut defense spending by more than 20 percent over five years. Over the same period, the Chinese military added at least $200 billion to its defense budget—a growth of 83 percent.
That's why we find ourselves in the current situation, with the Chinese military on a modernization sprint and the U.S. military crawling forward. We can't spend our way out of the problem, but we can spend too little to give ourselves a chance. When it comes to China in particular, if we don't get military deterrence right, it's hard to see how any of our efforts in the diplomatic, economic or technological spheres will succeed.
I also understand that the president is under pressure from progressives to cut the budget by 10 percent. But his own deputy secretary of defense wrote last year that a 10 percent cut would render the U.S. a regional power, increase nuclear proliferation and break our bonds with allies and partners. That is unacceptable—not to mention that it makes conflict more likely, not less.
So instead of matching resources to the National Defense Strategy, this administration is only talking about adding more missions and resource demands to the Department of Defense—namely, in the area of climate change. We already have a strategy-resources mismatch, and these new and expanded missions will only make it worse. Just last year, my colleague the chairman of the House Armed Services Committee said that "in too many cases, we are asking people serving in the military to do things that we don't have the resources to do." I wholeheartedly agree—because we hear the same thing from service members day in and day out. Five percent real growth would completely close the gap between U.S. and Chinese defense spending over the past decade and give our brave men and women the tools and training they need to do their jobs. Anything less will force us to choose between being ready for the challenges of today and for those of tomorrow—a choice the Obama administration made with dire readiness consequences.
President Biden should take this opportunity to send a strong message to our adversaries and partners alike by keeping our military fully resourced and focused on its core missions. This is a test of our nation's resolve to defend democracy, preserve peace and protect our place in the world.
Jim Inhofe, a Republican, is the senior U.S. senator from Oklahoma and ranking member of the Senate Armed Services Committee.
The views expressed in this article are the writer's own.