Defense Secretary Esper Confirms 750 Soldiers Will Be Deployed to Iraq 'Immediately' to Deal With U.S. Embassy Protests
In a Tuesday night tweet, Secretary of Defense Dr. Mark T. Esper announced the deployment of 750 soldiers to Iraq as an "appropriate and precautionary" military move after Iran-backed protesters attempted to storm the U.S. Embassy in Baghdad, Iraq.
"At the direction of the Commander in Chief @POTUS," Esper tweeted, "I have authorized the deployment of an infantry battalion from the Immediate Response Force (IRF) of the @82ndABNDiv to the @CENTCOM area of operations in response to recent events in Iraq."
"Approximately 750 #Soldiers will deploy to the region immediately & additional forces from the IRF are prepared to deploy over the next several days," Esper continued. "This deployment is an appropriate and precautionary action taken in response to increased threat levels against U.S. personnel and facilities, such as we witnessed in Baghdad today."
"The United States will protect our people and interests anywhere they are found around the world," Esper added.
As Newsweek previously reported, approximately 100 Marines were deployed to the Embassy Tuesday as reinforcements in the wake of the protest, which decried U.S. led airstrikes on Sunday which destroyed military sites in Iraq and Syria held by militia forces backed by Iran. Those airstrikes, which killed 25 people, were in response to the death of an American contractor in an attack on an Iraqi base on Friday.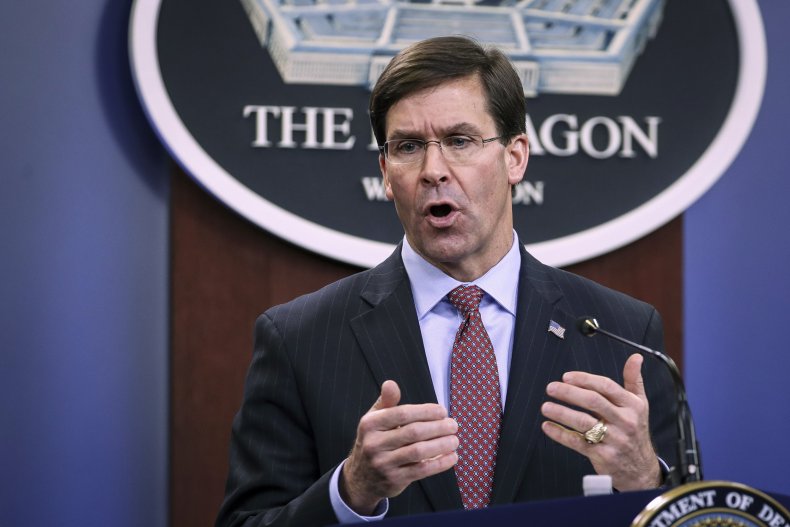 White House officials have placed the blame for unrest in the region squarely at the feet of Iran and the militia group Kataib Hezbollah which the Trump administration claims is funded and trained by Iran, but Iran sees the attacks by the U.S. as "terrorism."
"The surprising audacity of American officials is so much that after killing at least 25... and violating the country's sovereignty and territorial integrity, that now... they attribute the Iraqi people's protest against their cruel acts to the Islamic Republic of Iran," Iranian foreign ministry spokesman Abbas Mousavi said in a Tuesday statement published by The Straits Times.
Trump himself tweeted a "threat" to Iran Tuesday, saying "Iran will be held fully responsible for lives lost, or damage incurred, at any of our facilities. They will pay a very BIG PRICE! This is not a Warning, it is a Threat. Happy New Year!"
In an email provided to Newsweek, a State Department spokesperson said, "The Iranian backed demonstrations in front of the U.S. Embassy should not be confused with the Iraqi protestors who have been in the streets since October to decry the corruption exported to Iraq by the Iranian regime."
"We have made clear the United States will protect and defend its people, who are there to support a sovereign and independent Iraq," the email continued. "We are closely monitoring the situation in Iraq and call on the Government of Iraq to protect our diplomatic facilities per their obligations."