Defense Secretary Esper Urges Iran to Be A 'Normal Country' After Its Leader Says Trump 'Can't Do Anything' to Them
Speaking with Andrea Mitchell Thursday on her MSNBC show Andrea Mitchell Reports, Secretary of Defense Dr. Mark T. Esper said that Iran has been engaging in "bad behavior" for around 40 years and that the country needs to become "normal."
Military tensions between the U.S. and Iran were heightened recently when protesters backed by Iran attempted to storm the U.S. embassy in Baghdad, Iraq. American soldiers were deployed to the area in order to restore order.
"I think it's important at this point in time to not make this a United States versus Iran issue," Esper said. "It's really Iran versus the world."
"Iran needs to become a normal country."
Esper did not clarify the statement or give his definition of the phrase "normal country." Newsweek reached out to the Department of Defense for comment but did not receive a response in time for publication.
"It's Iranian bad behavior that has been going on now for nearly 40 years," Esper continued. "Again, it's their support of proxy groups all the way from Africa, Lebanon, Yemen, Iraq, Afghanistan. You go around the world and you will find Iran is either directing, resourcing, supporting, providing their own soldiers or special operators to do this kind of bad behavior. And that's not to mention whether it's hostage-taking or ballistic missiles or the pursuit of nuclear weapons."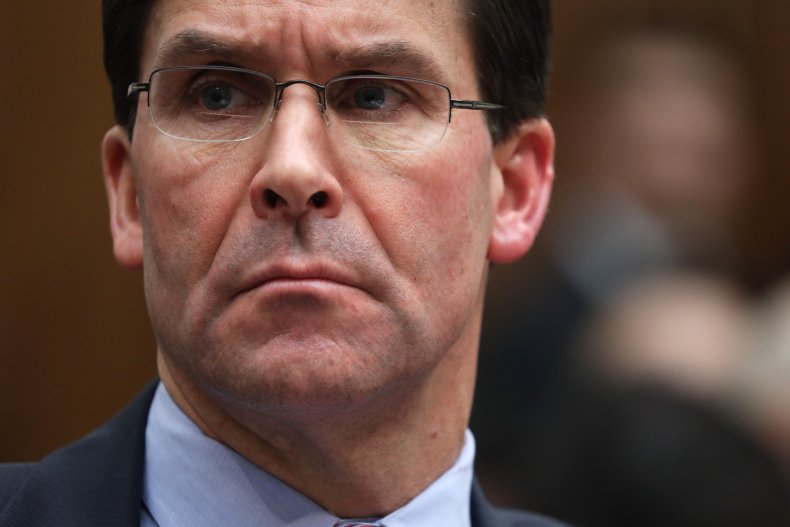 Esper also addressed the current movement within Iraq to have all U.S. troops removed from within its borders.
"There's nothing on the table right now and we are there at the invitation of the Iraqi government," Esper said. "We work closely with them. They recognize the importance of our relationship to ensure not only the enduring defeat of ISIS but to ensure the integrity of their country and make sure we help professionalize their armed forces so they can remain a sovereign state. Hopefully, the goal would be to be one free of foreign influence which is what is happening from Tehran."
In a Thursday news statement, Esper warned Iran against continuing with its "malign activities."
"Let me speak directly to Iran and to our partners and allies," read the statement. "To Iran and its proxy militias: we will not accept continued attacks against our personnel and forces in the region. Attacks against us will be met with responses in the time, manner, and place of our choosing. We urge the Iranian regime to end their malign activities."
Esper also said the U.S. and its allies are committed to a "sovereign democratic Iraq" while decrying the "Iranians who continue to meddle in Iraq's internal affairs and seek to use corruption to further Tehran's malign influence."
President Donald Trump has held Iran responsible for recent attacks that have killed at least one American, claiming on Twitter that Iran "will pay a very BIG PRICE! This is not a Warning, it is a Threat."
Iran's Supreme Leader Ayatollah Ali Khamenei responded to Trump Wednesday, tweeting "You can't do anything. If you were logical- which you're not- you'd see that your crimes in Iraq, Afghanistan... have made nations hate you."
"If the Islamic Republic decides to challenge & fight," Khamenei added, "it will do so unequivocally. We're not after wars, but we strongly defend the Iranian nation's interests, dignity and glory. If anyone threatens that, we will unhesitatingly confront & strike them."