Defense Secretary Mark Esper Said He Had No Intention of Quitting, Report Says
In a November 4 interview with the Military Times, Defense Secretary Mark Esper confirmed he had no intention of quitting unless something "really big" happened.
"Yeah, look, I mean―my soldiers don't get to quit," he told the publication. "So if I'm going to quit, it better be over something really, really big. And otherwise, look, I'm going to do what I've always done, which is try and shape it the best I can."
Rumors about Esper's potential resignation circulated earlier this month following an NBC News report on November 5 stating the defense secretary wrote a resignation letter.
Jonathan Hoffman, Esper's assistant secretary for public affairs, then told Newsweek that Esper had no plans to resign.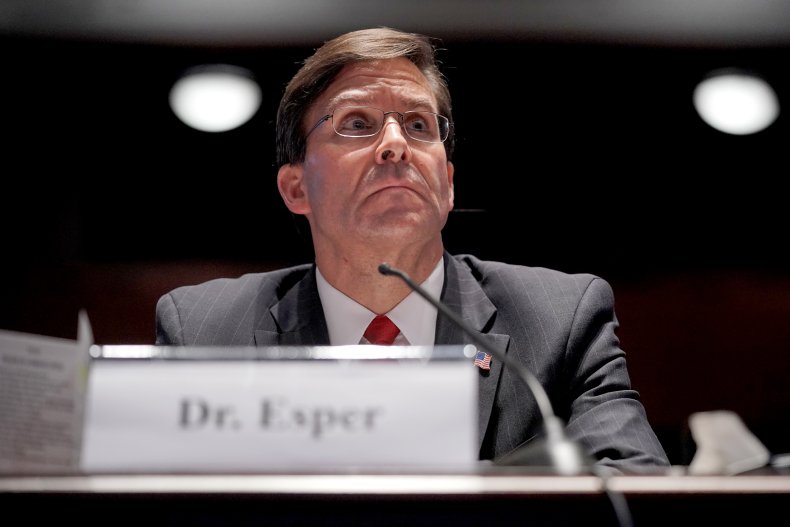 "Secretary of Defense Esper has no plans to resign, nor has he been asked to submit a letter of resignation," Hoffman said. "The speculation about potential resignations of cabinet officials is a tiresome, well-worn, DC-insider, post-election parlor game."
President Donald Trump fired Esper on Monday and announced the news over Twitter, two days after major news outlets called the 2020 presidential race for Joe Biden.
He said that his director of the National Counterterrorism Center, Christopher Miller, will be the acting defense secretary "effective immediately."
"Chris will do a GREAT job!" Trump tweeted. "Mark Esper has been terminated. I would like to thank him for his service."
Esper was Trump's second defense secretary and was sworn in on July 23, 2019. He served for almost 16 months. Miller has been the counterterrorism head since August 10.
James Mattis, Trump's first defense secretary, resigned in 2018 amid tensions over U.S. troop withdrawals from Syria and Afghanistan.
Like Mattis, Esper has been increasingly at odds with the president, offering statements that at times contradicted the official line coming from the White House.
In June, Esper defied Trump's threats to call in U.S. troops to counter nationwide protests in the wake of civilian George Floyd's death while under police custody in Minneapolis. Esper said he didn't believe such a move would be necessary.
Another split occurred in August after Trump tweeted that he "totally rejected" a cost-saving Pentagon plan to cut military health care by $2.2 billion, as reported by Politico. Esper later said that he never approved the cuts in the first place.
A third pull between Esper and Trump happened earlier this month when NBC News reported that Esper was in the process of working with lawmakers to add language to the National Defense Authorization Act with the aim to rename bases named after Confederate leaders. Trump has strongly opposed this effort.