Defense Secretary Says Trump Won't Attack Iranian Cultural Sites, U.S. Military Will 'Obey the Laws of Armed Conflict'
During a Tuesday morning press conference, Defense Secretary Mark Esper maintains that he is certain that President Donald Trump won't ask America's military to intentionally target Iran's cultural centers should Iran attack American property or interests in retaliation for the airstrike which killed General Qassem Soleimani.
Attacking cultural centers is considered a war crime under article 4 of The Hague Convention for the Protection of Cultural Property in the Event of an Armed Conflict of 1954. The article states that only military necessity will allow for the destruction of cultural property during a conflict, and that all parties in war must "respect cultural property."
"I am fully confident that the president, the commander in chief, will not give us an illegal order," Esper said. "As I said, the United States military will, as it always has, obey the laws of armed conflict."
On Tuesday, President Trump said during a White House meeting with Greek Prime Minister Kyriakos Mitsotakis in regard to the respect of cultural property in Iran, "If that's what the law is, I like to obey the law. But think of it: They kill our people. They blow up our people and then we have to be very gentle with their cultural institutions. But I'm OK with it. It's OK with me."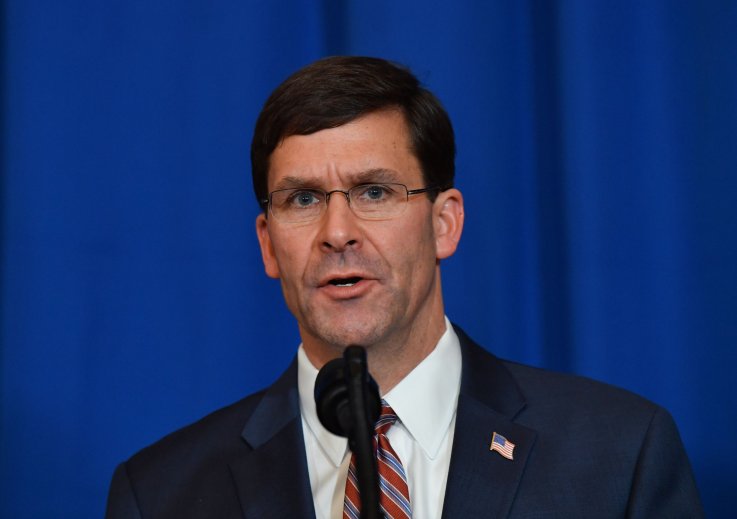 This contradicts the heavily criticized remarks the president made to the press on January 5 while traveling on Air Force One to the White House from Mar-a-Lago. "They're allowed to kill our people. They're allowed to torture and maim our people. They're allowed to use roadside bombs and blow up our people. And we're not allowed to touch their cultural site? It doesn't work that way."
The president also tweeted on January 4, "Let this serve as a WARNING that if Iran strikes any Americans, or American assets, we have targeted 52 Iranian sites (representing the 52 American hostages taken by Iran many years ago), some at a very high level & important to Iran & the Iranian culture, and those targets, and Iran itself, WILL BE HIT VERY FAST AND VERY HARD. The USA wants no more threats!" drawing international censure, including from various GOP politicians.
The conflict between Iran and the United States has been intensifying since a rocket attack allegedly launched by members of the Kataib Hezbollah militia on an Iraqi military base in Kirkuk on December 27. That assault killed one American, a civil contractor, and wounded several U.S. soldiers. A spokesperson for Kataib Hezbollah denied involvement in the attack, according to The New York Times.
On December 29, the U.S. launched airstrikes which killed 24 Kataib Hezbollah combatants.
In response, a large group of Iraqi protesters forced its way past security forces and into the U.S.'s embassy in Baghdad on December 31.
Armed with rocks and chanting "Death to America," they marked the interior walls of the embassy with graffiti, set fires, destroyed property, broke windows and announced their demands—a complete withdrawal of U.S. troops from Iraq.
According to a statement from the Pentagon, the resultant strike against Soleimani was "aimed at deterring future Iranian attack plans."
"We do not seek regime change," Trump said during a Friday afternoon press briefing. "The future belongs to the people of Iran... We took action to stop a war, we did not take action to start a war."
Newsweek reached out to the White House for comment but did not hear back at press time.
Defense Secretary Says Trump Won't Attack Iranian Cultural Sites, U.S. Military Will 'Obey the Laws of Armed Conflict' | Politics